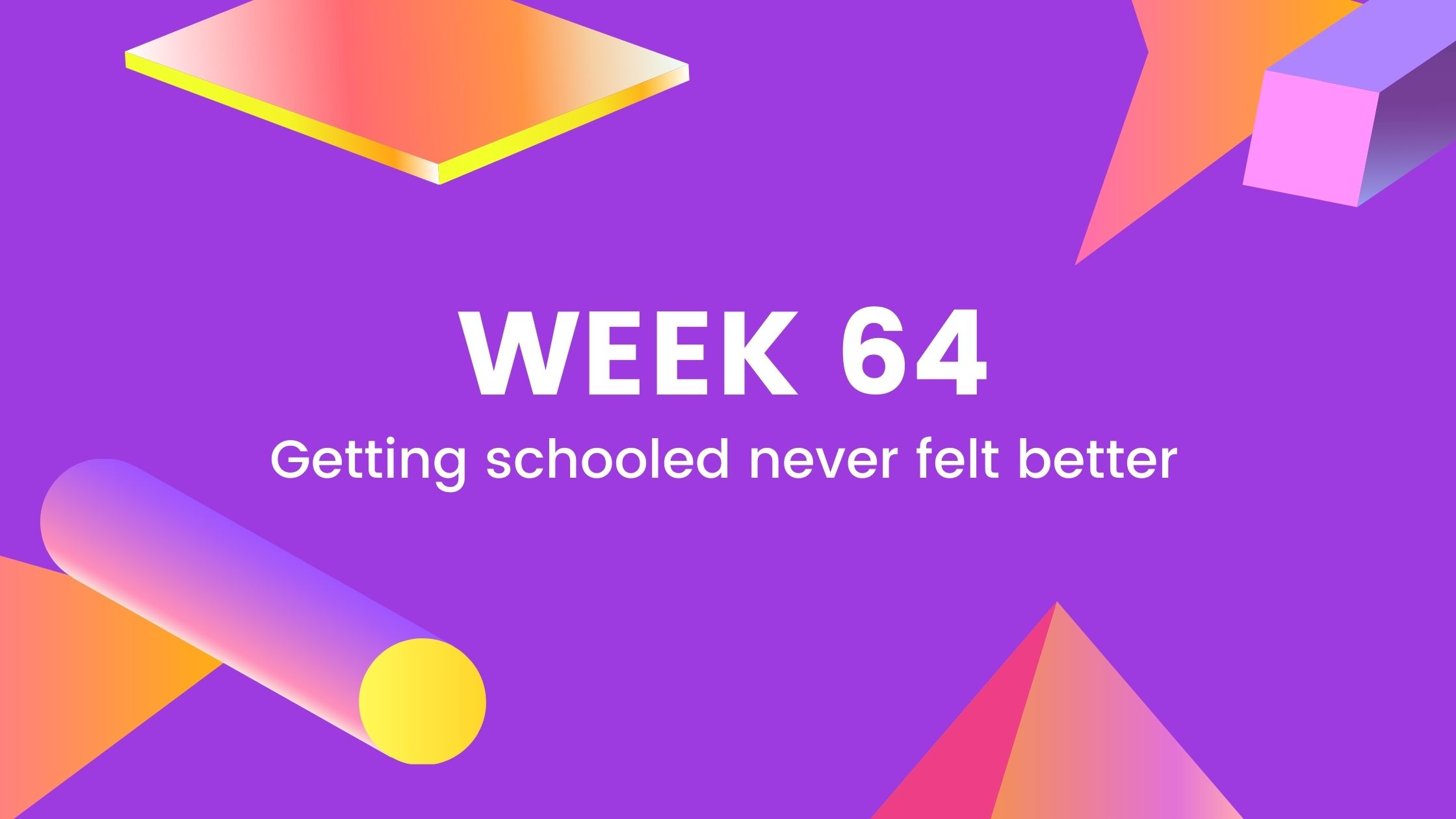 The last week feels a bit short, maybe because I published my last blog just 3 days ago 😀

Anyway, I am on time this week and that is all that matters.
Personal Highlights
So this week, I don't have a lot to share, but I do have interesting stuff to share, and what is that you might ask 😼
Well Well Well!
Last week I didn't remember if I mentioned it or not that I put out a tweet to which some guy replied and we connected on DM only to find out that he wanted to mentor me and few of my friends.
DM me @teeaarbee

— Harlaksh Singh 🌏 (@HarlakshS) September 10, 2021
To which I agreed and we started with the call on Thursday and it was amazing.
Maybe because there are only 4 of us but regardless he was able to share the stuff which I haven't heard anywhere else and do keep in mind that I have consumed a lot of freelancing stuff in the past but still, what he said was very to the point with whatever I have been thinking about the stuff.
Clearly, he has a lot of experience, and years of freelancing have made him a very good speaker as well. However, it is kinda crazy that he has such a small following on social media.
He can be like the next Varun Mayya easily. I hope he doesn't read all these and gets offended or something 😥💀
But all in all, I very much needed the mentorship and the feedback from him and it's going to continue for 5 more days. Let's see how valuable his feedbacks are going to be 🤲
Just did a 3hours long zoom call with @HarlakshS guiding a few of my online friends and boy was he good.

Great session wouldn't hesitate to promote any of his stuff in the future 👌

— TRB (@teeaarbee) September 16, 2021
Business Updates
Regarding the meeting and feedback from Harklash, I will be changing a lot of things and Octalancer might take a bit longer to function the way I want it to.
By the way, this week I was in another meeting with a Crypto startup founder from the US, and even though I wasn't able to directly sell to him, I hope I can do something for him in the future.
It was my first time talking to someone from the US and also he was quite old and experienced 🤐 So I was a bit nervous too, but you know I have this shield of overconfidence which protects me from such scenarios 😎
---
Thoughts from the past week
The podcast returns after it went missing for a week
In this episode, I talk about my pov on Deep Conversation
Listen to it on all audio streaming platforms from here
Bonus Thought : Here is small twitter thread that I wrote today about my current phase in life
I very much like the phase of life that I am in right now

— TRB (@teeaarbee) September 18, 2021
Opinions
'Never' is almost never true.

— TRB (@teeaarbee) September 18, 2021
Social Media updates
No update. I was very less active this week.
My Favourites from the Week
Blogs/Articles 📑
Did not read.
Twitter Threads 🧵
Did not come across.
Book Highlights📚
Did not read as I am already consuming a lot from the freelance thingy and I don't like flooding my brain with a lot of information.
VIDEOS 📼
Movies 🎥
I re-watched the entire
Iron Man Franchise from 1 to 3

Because I wanted to refresh some of my memory before What If's episode ft. Iron Man comes out. So, I watched Iron Man 1 before that and rest of the movies afterwards.
Series 📺
What If S1E6


It was such a crappy episode that I had to watch the old Iron Man movies to not only refresh but also wipe this episode from my mind 🤮
Tech Tip 🧙‍♂‍
Create Zoom and Meet custom virtual background using Canva instead of using the default ones, if you use them.
Songs 🎶
Eiffel 65 - Blue
Can't believe they used this song at the starting of Iron man 3.
Podcast(s) 🎙
Memes/Edits from the last week 🐒
---
Goal(s) for the next week 🥅
Make an offer page for any particular service
[which will happen anyway, thanks to the regular calls from the freelance challenge 😌]

Talk to more experienced people to learn more.
I have been fortunate enough to talk to like 4 high net worth people this week and I absolutely loved talking to them.

It's crazy how much we can learn from networking with people who are higher up in the game of life 🤯

"Networking, so far, has been pleasantly surprising". I did not expect what popular YouTubers say is just common sense for most of them XD
---
Quote(s) from the week📃
Ideas without action aren't really ideas. They're regrets. - Jeff Haden
---
Thanks for reading this week's blog.
I hope you found something of value from it.
To leave a comment signup to disqus OR comment as a guest using any random email.
How to Get notified every time I post here?
Join my community on
(Enter your favourite Email below)
Subscribe to get a new email from me every week, along with the link to that week's blog