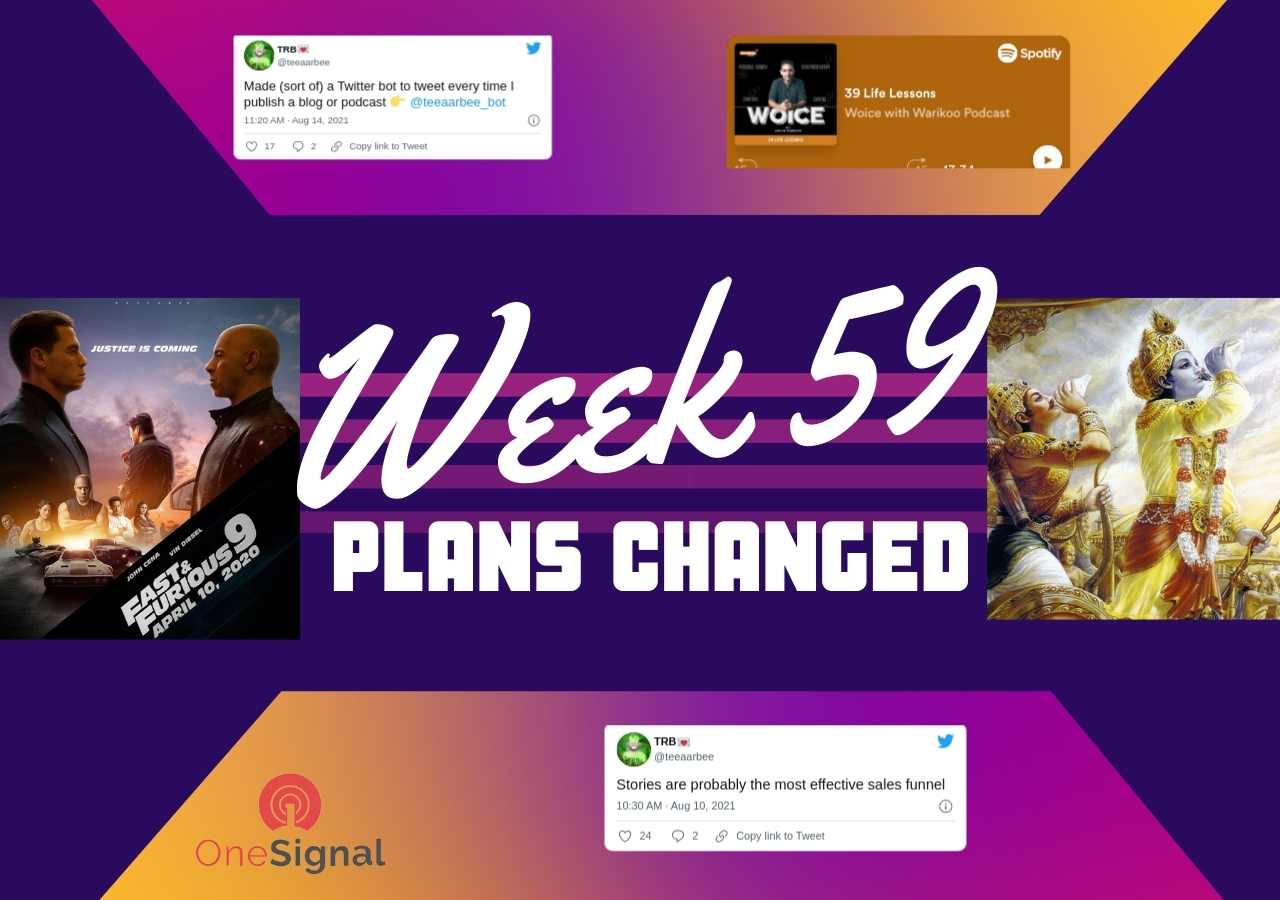 Happy Independence Day everyone 😌🙏
This last week was one of those weeks where I didn't do any of habit yet it was very productive and got real work done.
Personal Highlights
But just because I had a productive week doesn't mean it was my ideal week.
Yes, I was happy. Yes, I was motivated.
But I didn't do any of my habits and it makes me kinda sad🤧
It did not make me sad throughout the week though but now that I think about it, I feel like I should have done.
For most people it is fine to work day and night on something and not worry about habits and stuff and I think its even perceived as being much more cool but I don't see it that way🤒
Not that I am against working all day, I am not and neither am I an advocate for work life balance but I still think atleast working out along with some other basic habits should be done regularly 🥶
Business Updates
Talking about work, I did a lot of things this week related to octalancer, for one I decided to change our course and focus on content creation for the next few weeks before we start approaching clients.
And this decision wasn't very random but wasn't very thought out either it was just a part of branding the business properly so that we could be more confident during sales.
Other than that I also brought in a bunch of new people with solid portfolio so that we can showcase everything nicely on our site.
There's a lot of site building to be done before we can confidently approach clients I just hope others are as confident as me about this new strategy.
It doesn't matter if the strategy sucks what matters is we put in the efforts and learn new skills 🤧 since everyone is young and new to this world.
---
Thoughts from the past week
Here is this week's episode on motivation and I just realised that I don't exactly know the source of my motivation this week, maybe it was the tutorial that I was watching and I must've felt inspired from Michael janda's freelance journey smh 🤠
Listen to it on all audio streaming platforms from here
Opinions
If you are good at something then don't do it for anyone but yourself

— TRB (@teeaarbee) August 11, 2021
Social Media updates
Made (sort of) a Twitter bot to tweet every time I publish a blog or podcast 👉 @teeaarbee_bot

— TRB (@teeaarbee) August 14, 2021
New feature
I installed a system to send push notifications on chrome everytime I publish a blog here
Click on the button below and click allow to receive a notification on your device
PS: If you can't see the button above then your browser must be blocking it
My Favourites from the Week
Blogs/Articles 📑
Book Highlights📚
Since I have been watching so many tutorials I decided to skip reading in order to not over flood my brain with information 🥶
But I guess I should read for atleast a few mins daily 🤒
VIDEOS 📼
Movies 🎥
Fast and furious 9 - F9

Probably the worst movie that I have seen in a while.
It was like hollywood's race 3 but worse because they tried making it funny ☠
Also I think this was the worst F&F movie idk I wacthed the last movie back in 2015 before I had any sense of judging movie but still it felt wack so idk if this one is the worse
But I loved every single instance of john cena's presence on the screen🥰 #jabrafan
Tech Tip 🧙‍♂‍
Don't take crypto advice from kids just because they understand the technology behind it.
Songs 🎶
Podcast(s) 🎙
Good1 Not that I agree with every point but still not bad



I haven't been getting time to listen to Huberman lab as I am still binging on
"The stories of Mahabharata" podcast, I will finish it by next week and then continue binging on Huberman lab 😌
Memes/Edits from the last week 🐒
---
Goal(s) for the next week 🥅
Work atleast 4 hours everyday for octalancer
Get back to working out
---
Quote(s) from the week📃
"Happiness is simply the absence of desire…It arrives when you have no urge to feel differently. Happiness is the state you enter when you no longer want to change your state."

–@JamesClear

— Tiago Forte (@fortelabs) August 9, 2021
---
Thanks for reading this week's blog.
I hope you found something of value from it.
To leave a comment signup to disqus OR comment as a guest using any random email.
How to Get notified every time I post here?
Join my community on
(Enter your favourite Email below)
Subscribe to get a new email from me every week, along with the link to that week's blog