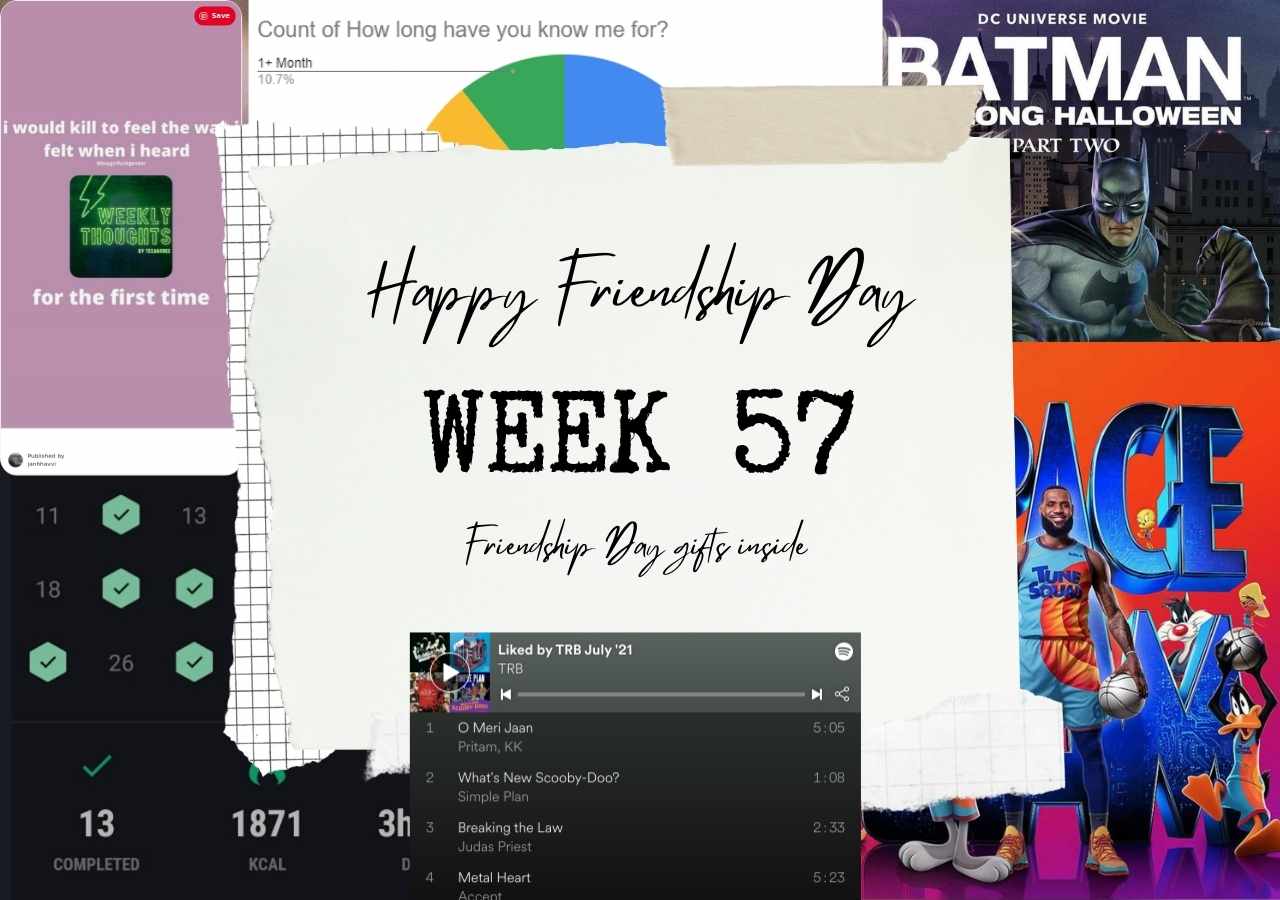 Happy Friendship Day 😁 to everyone reading this on the 1st of August😌 Rest of you HFD, I guess 🙄
Personal Highlights
So, this week was quite good too in terms of me keeping up with basics 📿
A few small things happened this week which I can't exactly remember because I think I forgot to note them down 😴 But I will try and share them below as they come in my mind
READING UPDATE
I did read almost everyday and made a bunch of highlights which I will share below.
The book that I have been reading is ReWork: Change the Way You Work Forever and I have finished almost 50% of it already.
Check reading progress of Rework here
Oh btw I got paid by Amazon this week 🥳 for sharing links on my blog
I got paid a total of ₹1086/- 😎
This is the first time that I got paid for affiliate linking, so yeah 1 year ka mehnat 🤧
FITNESS UPDATE
I did work out for longer durations of time this week, almost 30+ minutues everyday except yesterday. I wasn't feeling like it so I did only 15mins 🏋️‍♀‍ Stil,l I think it is not bad as long as I don't break my schedule.

SLEEP UPDATE
For the first half of the week, I tried waking up early and it sorta worked but in the 2nd half of the week I shifted to walking up late 🥶
Idk why its easier for sleep schedule to be delayed than it is for it to be ummm is their any Antonym for delay?
What I mean is that it's easier for me to switch to sleeping late and waking up late than to sleep early and wake up early.
But waking up early makes me feel 10x better.So, I guess I will try and change my sleep schedule.
Business Updates
The Good
The best thing about this week was perhaps everyday after waking up I had this one goal of working on stuff for octalancer, somedays I was able to do what I wanted to and somedays I failed but just having something to look forward to once you wake up is itself very rewarding and makes me happy.
The Bad
We have been making very slow progress and I am the only one on the team who doesn't have any other thing to worry about, just this. So, despite having other members who are good at other things, I feel like I should be the one doing a lot of their stuff for now 🥶
The ugly
Bank account about to go blank 💀 if we don't find clients this coming week….
---
Thoughts from the past week
So, I published the 5th episode of my podcast yesterday making it the 5th episode for the month of July 📆

In this episode I talked about … well you can listen yourself and find out ….

Btw remember I wrote about making a separate automated website for my blogs and Guess what [@Rohit](https://grohit.com) helped me make it. By help, I mean he did all the coding stuff and even got on call to explain to me how everything is implemented.

So, a big thanks to him and from now on you can find all the episodes along with links of popular streaming platforms on
Opinions
Prakhar ne galat jagah haath maar dea isbaar smh 🥶

— TRB (@teeaarbee) July 28, 2021
Social Media updates
So I started podcasting earlier this month and decided to upload an episode every week

And guess what?! I just published the 5th episode of my podcast 😳

Kinda epic feeling ngl

— TRB (@teeaarbee) July 31, 2021
My Favourites from the Week
Book Highlights📚
I made a lot of highlights and so a bit confused with which to share 😥
I think, I should prolly link the Goodreads highlights part 😌 Perks of using a kindle.
Here you go: TRB's Kindle Notes & Highlights for ReWork: Change the Way You Work Forever | Goodreads
VIDEOS 📼
Movies 🎥
Space Jam: A New Legacy

So, like I said last week I watched Space jam last Sunday and finished it on Monday night ig. Anyway it was decent, the acting was far better than the one done by Michael Jordan in the first part.
It's crazy how much tech has changed in the last 25 years and how much better this movie is visually.
Also, I liked the fact that they replaced a hole in the ground with a server room XD
I don't have anything else to say, it's a decent watch if you want to watch this type movie. I wouldn't recommended to anyone tbh 😝
Yes they released the 2nd part and @ansu_here reminded me to watch it 🥟
I liked the ending of the movie thanks to the director for making it a 2 part series instead of stuffing everything in a single movie, the movie gave nice and slow 80s vibe 👌
Watch if you are a Batman fan.
App(s) 📱
Chrome extension to switch between gmail accounts
So, I made a public playlist of all my liked songs in a new spotify account and so I used this to bring playlist from my real acc to this newer one
If you want to backup everything in your spotify then this might be a nice site 👇
Export Kindle Highlights to Notion
I once shared a python script which could do the same, well someone forked a chomr extension out of it.
Songs 🎶
Liked a lot of songs this week. You can check the first 10-15 songs from this playlist which also happens to be my first official spotify public playlist 😳
Here's the link for it if you want to open it in the app
Podcast(s) 🎙
Aur nhi sun rha "The psychology podcast" bahut saare ads daal dete hain 🤒





My first ever listen to carpool critics 😳 and I liked it v much 😌 They are not comic book nerds so, they did not go in depth but they did talk about story telling, writing and technical stuff, which I liked a lot.


Episode should be have been titled as stomach brain connection.

Lmao. They did not get a lot of the things in the movie but I still liked their take and almost honest comparison
Memes/Edits from the last week 🐒
---
Goal(s) for the next week 🥅
Again, I don't have any goal. I just hope we get some clients 🥶😅
Warna bankruptcy moment 🤕
---
Quote(s) from the week📃
"Do not seek to follow in the footsteps of the wise; seek what they sought" – Matsuo Bashō
---
Last week's poll

Did not expect it to get so many votes 😳 I hope kisine bot wot na lagaya ho 🤧
Update: Looks like someone messed with the poll 😤but detective TRB 🕵️‍♂‍ ne pakad lia
And deleted the fake entries and so here is the the updated result
The results are still the same tho so its nice to see that most of yall who read these blogs know me for a long time 😌🤝
Thanks for reading this week's blog.
I hope you found something of value from it.
To leave a comment signup or comment as a guest using any random email.
How to Get notified every time I post here?
Join my community on
(Enter your favourite Email below)
Subscribe to get a new email from me every week, along with the link to that week's blog