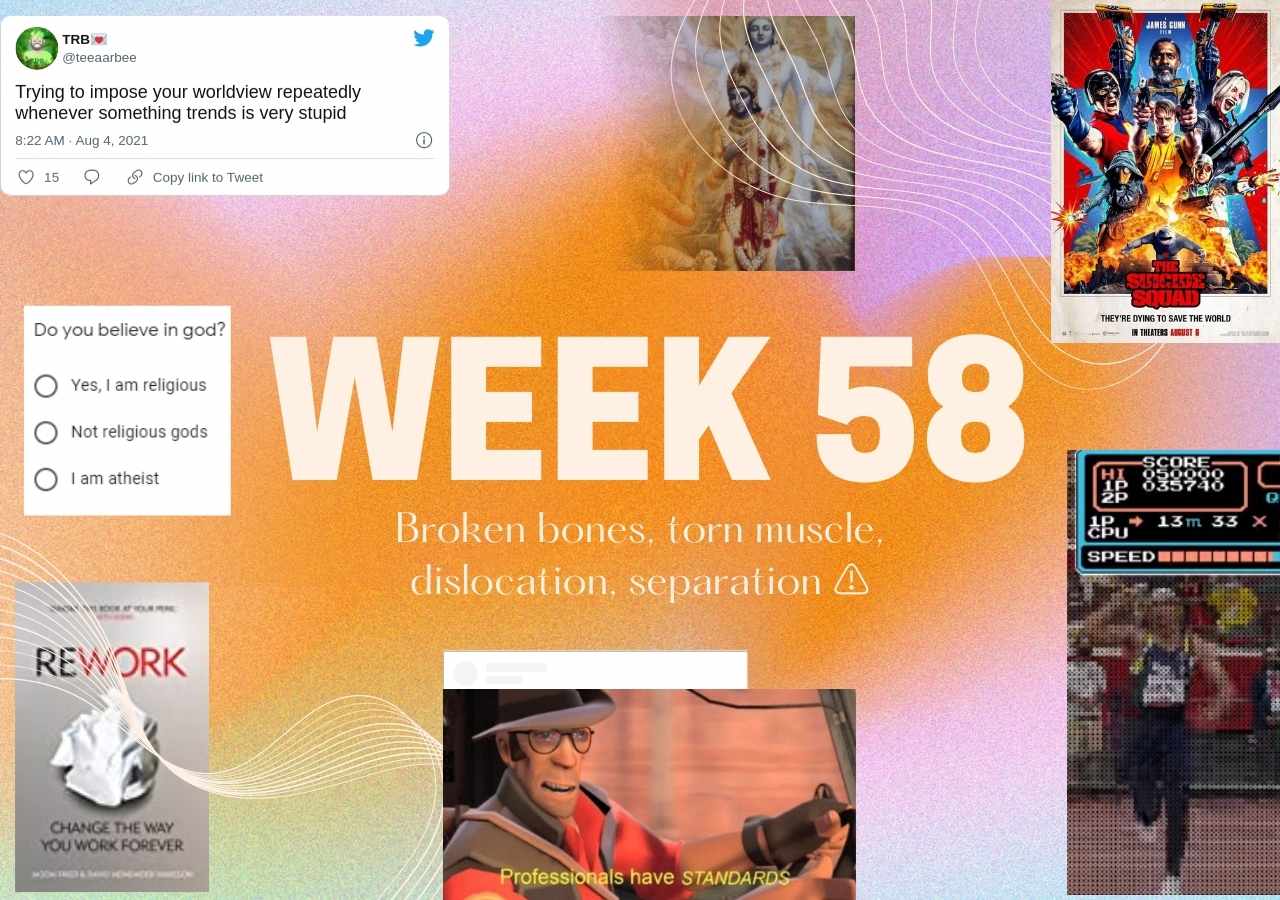 So, after staying consistent for a month, I managed to finally delay a blog again 😓

Well, I made a video for my main page today though and that is the reason why I wasn't able to publish it today (08-08-2021)

And you know it's not everyday that TRB makes a meme video for his main page 😳
Personal Highlights
Anyway coming to the updates from the last week
FITNESS UPDATE
Had an intense session on Monday and injured my legs while doing lunges 😃
Absolutely hate workout injuries🤧
Anyway, after the injury, I kinda got very low fever the next day 🤒 idk why that happened it wasn't a serious injury but took like 4 days for the pain to go away completely but I decided to take the week off just for the sake of precaution.
I will get back to working out from tomorrow, I guess.
READING UPDATE
I finished reading ReWork: Change the Way You Work Forever
ReWork: Change the Way You Work Forever by Jason Fried

My rating: 4 of 5 stars


Good book! Given that it was written in 2010,
I see a lot of businesses following the things that are mentioned in the book no wonder it works.

Some of the things mentioned in the books resulted in me changing my approach to my new business.
The biggest of them was "Don't hire someone to do the work which you can't do"
Now, it is obviously not the first time that I heard this quote but given my position in life and work this is something that hit hard.
Business Updates
I decided to stop thinking about delegation and actually spend time and lot of energy to do things of my business by my own despite having a team, because it is such a great time to learn lot of those things.
Now, I understand it's going to result in delayed start and the starting isn't like how we expected it to be and that is because all of my team members are new to this world.
I might have been editing for the last 4 years but I lack lot of crucial business insights as I never had to DM or cold email anyone before.
Most of the work that I have gotten were via referrals and now I am transitioning to a phase in my freelance career where I no longer want to work for low ticket referral clients and instead target high ticket international client.
This transition isn't smooth there is a lot to learn and as much as I would love to delegate the process to others to make things happen quickly, I don't think that way I will be able to learn as much as I will learn by doing a lot of the things my own self.
I wish others in my team also learn and do things on their own instead of me telling them what to do but I am not sure how to motivate them enough to do it maybe after we get a few clients they will automatically adjust + I will learn to communicate better with the team but till then, I guess, I will watch a bunch of new tutorials next week on different things and try to slowly implement those 👨‍🔬
---
Thoughts from the past week
Listen to it on all audio streaming platforms from here
Opinions
Trying to impose your worldview repeatedly whenever something trends is very stupid

— TRB (@teeaarbee) August 4, 2021
Social Media updates
Here is the post that I made on the day the blog was supposed to be published

I wish, I could make stuffs like these regularly but that would require a huge investment of my time and energy 🥲
Maybe someday in the future 😩
My Favourites from the Week
Twitter Threads 🧵
Here's the secret behind all of this.

I transcribed every word Naval's publicly said,
and curated every word he's written,
and put it into a searchable database.

This let me learn quickly.

If you'd like the database for free, watch this explainer videohttps://t.co/VA4BLnphyK

— Andrew Kirby (@IAmAndrewKirby) August 5, 2021
Great work by Andrew Kirby on making the obsidian thingy out of Naval's public content 👌
Book Highlights📚

More 👇
TRB's Kindle Notes & Highlights for ReWork: Change the Way You Work Forever | Goodreads
VIDEOS 📼
Movies 🎥

The Suicide Squad 2021
Fav DC movie in recent time! All thanks to James Gun
I would have liked the movie even if it sucked because John cena😍🤧


Check the

linked review

by comic verse above if you wana know more


Favorite character has to be Peacemaker 😭
Series 📺
I started watching Jack Ryan S2
I remember liking the first season when it came out back in 2018
But this season isn't enjoyable at all so far 😷
App(s) 📱
Izotope (Plugin for Adobe Audition)
For advance audio repair and professional stuff 😳🤐
Watch this video maybe to learn more about it 👇
My Complete Audio Editing & Setup Revealed! - Piximperfect

Tech Tip 🧙‍♂‍
Assign shortcuts for chrome extensions
Songs 🎶
Podcast(s) 🎙
Here comes one of the biggest part of the week.
So, last Monday after I finished listening to Thomas Frank's last podcast there wasn't anything else to listen to and I was browsing google podcast's explore section when I discovered a podcast called "The stories of Mahabharata".
I clicked on the first episode to check it out and was blown away by the quality and the fact that the first episode was published on 2014 🤯
There are a total of 60 episodes [It's not completed yet] each ep of around 20mins.
I enjoyed the first ep so much that I decided to binge-listen to it and guess how many eps I listened to? 😎

30 Episodes 😳

I listened to at 2x speed though like I do with all podcasts
And tbh it doesn't destroy the experince for me 😌
Check out the podcast on
Spotify | Amazon | iTunes | Google podcast

Few episodes might be slow to load because it is hosted in crappy Internet archive servers so I recommend downloading a handful episodes whenever you can.
Other than this I also listned to these two

It was the Last episode of the Inforium 😭

Got the podcast ka recomendation from tom in the last ep of his podcast and decided to check it out. This was good with v nice sound design and dialogue but lot of annoying and useless ads in between.
Memes/Edits from the last week 🐒
---
Goal(s) for the next week 🥅
Watch bunch of tutorials on freelancing, pricing, getting clients, web dev and more 😇😱
Send few more cold emails and try to avoid sending it to scammers like this week 😭
---
Quote from the week📃
There is a difference between moving fast and rushing.

You can move fast and be thoughtful. When you rush, you sacrifice thoughtfulness.

Conversely, when you are thoughtful but not moving fast, you are overthinking it. Procrastination in disguise.

Don't rush, but don't wait.

— James Clear (@JamesClear) August 6, 2021
---
Poll of the week❎
Thanks for reading this week's blog.
I hope you found something of value from it.
To leave a comment signup to disqus OR comment as a guest using any random email.
How to Get notified every time I post here?
Join my community on
(Enter your favourite Email below)
Subscribe to get a new email from me every week, along with the link to that week's blog