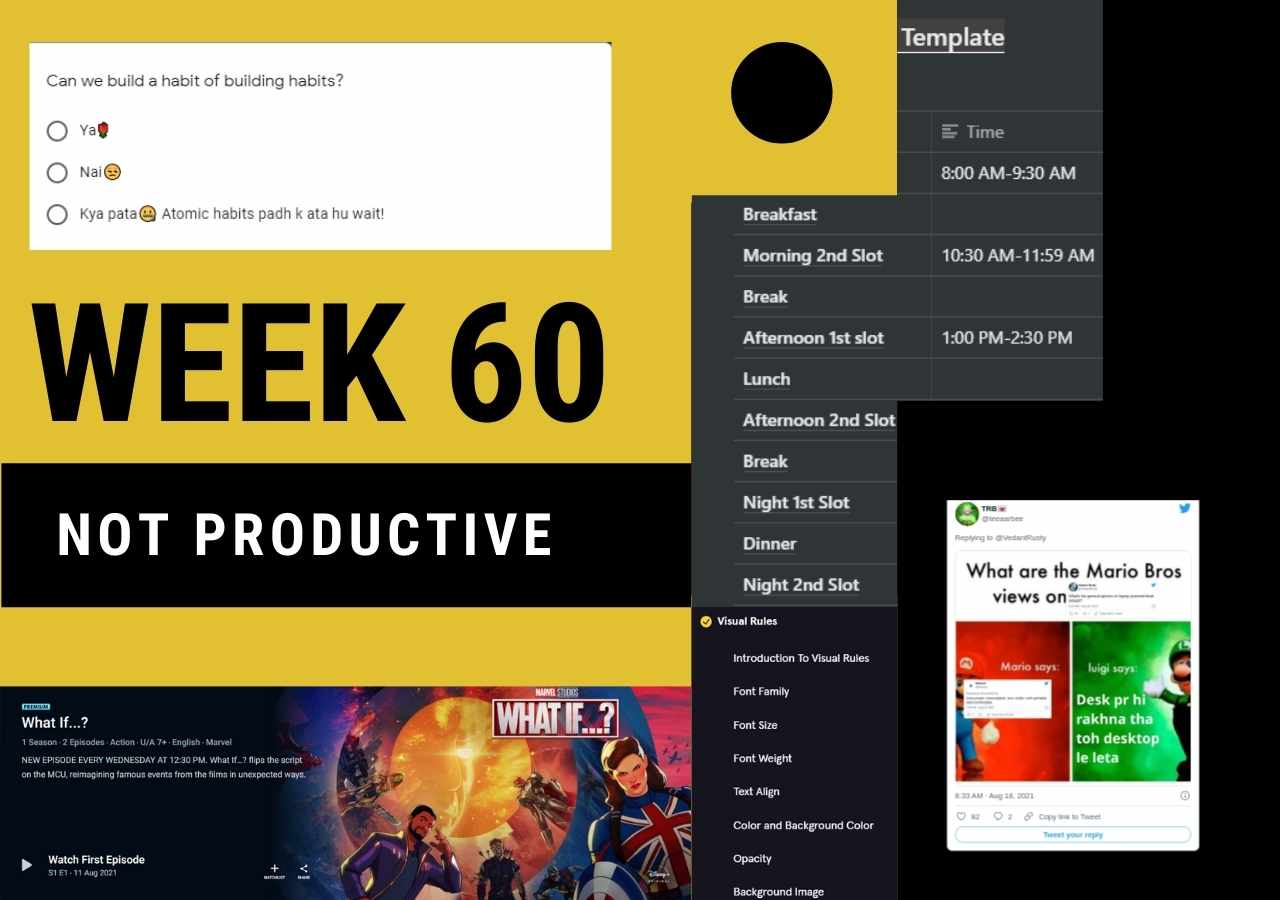 This week wasn't that great. Despite getting motivated last week, I wasn't able to create anything this week.
I also don't remember how this week passed so quick its like I lost track of time by doing nothing.
Personal Highlights
In terms of keeping up with my habits this week was just like last week and I failed at most of my habits.
I did do a few stuff here and there like resuming reading The Unfair Advantage and learning css.
LEARNING UPDATE
I tried out a course on Udemy called 50 days 50 projects and figured that I should probably finish my css course on codecademy before continuing with it and so I did that
I will finish this by next week hopefully and then get back to the 50 days 50 project thing.
Business Updates
Very sloppy, not just from my side but everyone seemed to be busy with their own thing this week. So, we did not make any measurable progress this week except a social media post which we had made beforehand.
Also, we made our blog site live as promised in last week's newsletter, and the craziest thing is I was the one delaying the launch because of a few bugs on the site which I had delegated to other members but in the end I had do all of it myself.
This wasn't just with the bugs but the entire site launching process. At first, I had delegated it to the ones who know but they were busy with their own thing and I had to do all of it myself.
Which makes me wonder had I not relied on others to finish it we could have launched the site way earlier and saved a lot of energy too.
---
Thoughts from the past week
Listen to it on all audio streaming platforms from here
Opinions
Creativity without context is dumbness

— TRB (@teeaarbee) August 19, 2021
Social Media updates
August 18, 2021



We also posted our first post on octalancer

Link to the post
My Favourites from the Week
Blogs/Articles 📑
What I Learned From Writing 100 Articles In 100 Days
by Anne-Laure Le Cunff | Medium

I read this today[Saturday] and it has somewhat inspired me to start writing everyday and given that I have to write content for octalancer I might as well turn it into a habit.

But, Idk how to read scientific papers tho🤧 Maybe it is something that I will learn in the coming months.
Twitter Threads 🧵
Who's got the best "zoom call" setup in tech?

here are a few contenders..

— Shaan Puri (@ShaanVP) August 18, 2021
A set of 20 books, to understand the world.

A thread...

— Ankur Warikoo (@warikoo) August 20, 2021
Book Highlights📚
VIDEOS 📼
Movies 🎥
Don't remember watching any!
Series 📺
What if S1E2

I liked the 2nd ep of What if over the first one maybe because it was more unexpected than the first one.
I just went to twitter and tweeted a thought about alternate reality.
Which means if an alternative reality exists then the changes in their timeline will be because of something that happened in the primordial phase of life in that reality

— TRB (@teeaarbee) August 22, 2021
ok now back to writing the blog.
So, as I was saying I enjoyed the 2nd ep more and also felt emotional at the end when I realized this is the last time that we are hearing the voice of Sir Chadwick Boseman 😔
Creators 🤹🏻
Alyssa X


Well not exactly a creator but she is more of a dev and entrepreneur, I guess, but the tools which she has made are open source and great.
App(s) 📱
Watch movies on @Netflix without being spooked 👻

I love horror movies, but I can't stand the jumpscares 😰 So I built Jumpskip, a Chrome extension to skip, mute, or get a warning when a jumpscare is coming up.

✨ @github https://t.co/nGKxfpq5in
👉 https://t.co/8snRSKQLpl pic.twitter.com/jMmBm3c7mT

— Alyssa X (@alyssaxuu) August 20, 2021
Tech Tip 🧙‍♂‍
Always look for open-source alternatives before Installing a paid/freemium software in PC
Songs 🎶
My Top 3 Favs from Bo Burnham: Inside
Podcast(s) 🎙
I finally finished listening to the 60 episodes of The stories of Mahabharata
But after that did not listen to anything.
Memes/Edits from the last week 🐒
---
Goal(s) for the next week 🥅
You might have noticed this week was really crappy for me mainly because I did not keep the track of my time.
The reason why I haven't been tracking my time lately is because of the natural motivation which I am getting from running octalancer but I think if I track my time and block slots for working I will be able to produce more work.
So, I have decided that I will track my time everyday starting tomorrow and my time blocks will look something like this.

The reason I am going with 90mins block of time is because of something that Huberman said in his podcast which I don't remember 😝 But, I remember the number 90. So, I will be using that, also, I won't just work in these time blocks but occasionally have fun too 😌
But anyway I am excited about trying out this new time blocks for both my personal and professional life… as if they haven't mixed up already.
Poll of the week❎
Quote(s) from the week📃
However, a temporary stage of Nihilism is necessary to see the value attached to the values you valued. And only then you'd able to accept it within the boundaries of it's limitations.

— thinkingbat 🧠⚡ (@thethinkingbat) August 16, 2021
---
Thanks for reading this week's blog.
I hope you found something of value from it.
To leave a comment signup to disqus OR comment as a guest using any random email.
How to Get notified every time I post here?
Join my community on
(Enter your favourite Email below)
Subscribe to get a new email from me every week, along with the link to that week's blog