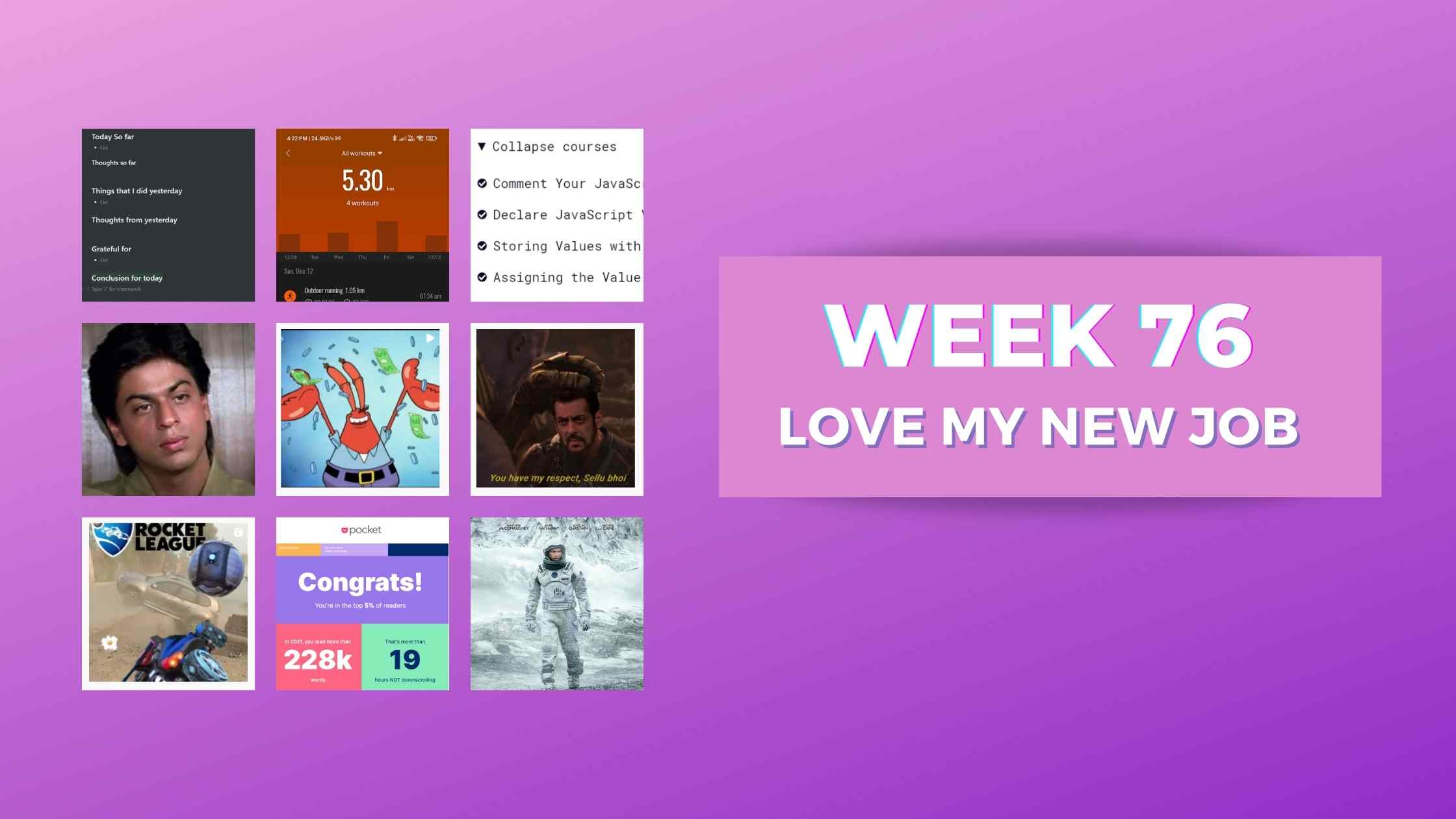 On-time today 😎
The first line of the blog is irrelevant to you if you are reading this in the future, but I don't know any other way to start a blog other than giving a meta-comment about it.
I have already tried writing 2-3 different first lines for the blog and I think I should just focus on writing the body of the blog T_T🙏
Personal Highlights
So this week was a happy week for me, but I was not very successful with all my habits to-do list this week, which sort of shows how hitting a perfect to-do list is not directly linked with happiness, but that sure can be a strong factor.
Mindfulness
Journaling
Journaling was going great as usual and so I decided to take it up a notch and write not only more but in a more structured way and so I made a new morning journaling template which looks like

Prior to this, I used to free write on a blank page. While it was great and refreshing, I wasn't writing as much and since I am already doing the hard work of writing every day, why not write a bit more.
Meditation
This is where I struggled this week because by the time I was done showering and freshening up in the morning, my house got a bit noisy, which is not the ideal condition for me to meditate.
I don't know when to meditate because I don't feel like doing it first thing after waking up because I feel a bit sleepy and at that time my mind isn't optimal to focus on just breathing.
I will see what I can do with the timing of meditation next week 😥 Till then, keep taking deep breaths. 🧘‍♂️😤
Fitness
Morning Run

In the days when I did not run, I tried taking a walk in the morning instead.
Yoga
Yes! It's a new addition to the list 😏
I started doing yoga 2 days ago in the evening in the form of stretching because I felt like my body needed some stretching after long hours of sitting.
Learning
Optimization and Organization
In terms of optimization, I did not do much other than making the new journaling template. I also made some progress with arranging bookmarks in the subfolder.
However, I have realized that the biggest organization hack is not to make it messy in the first place.
Will expand more on this in the future.
Job Updates
Here comes the happy part of the blog. Well, yes, you read that right. 😳
I have been feeling very grateful about this new job not only because the work is something I have experience in, but also because it is a sort of relief to not worry about from where the money for your next month's bill is going to come from and just focus on doing other things and most importantly being able to say 'NO' to a bad offer.
Well, these are a few of the many reasons why I am grateful for having a job and if I want to point out precisely why I like this job only, then it will be because it is a lot lighter than my last job 😛
And also because I realized that I like editing very short-form content over minutes long content like YouTube videos or IGTV, which btw now supports very short content as well.
Business Updates
I don't think I did anything in terms of business development this week 🤐
But I will start sending cold emails from the next week and maybe I will use this week to refine my existing email templates.
---
Thoughts from the past week
Wanted to record but did not get the chance.. and other lies I like to tell my audience😈
Opinions
Whenever you feel like telling someone, "Why would you do something like this?" Take the easier route and answer it yourself.
Learning psychology not only helps you do it better but can also give you better more optimistic reasons, that is if you were looking for them in the first place.
Social Media updates
Posted a few memes on Insta this week, all thanks to my new job.
And also, this tweet which got over 100 Likes hehe.
Mfw I see 17yo kids on Twitter build Machine learning SaaS startups in Public while I sit at home and practise basic HTML and CSS. pic.twitter.com/WGvbqXYdBB

— TRB (@teeaarbee) December 7, 2021
My Favourites from the Week ⭐
Blogs/Articles 📑
I started reading A Short Guide to Setting and Achieving Goals by ****RescueTime.
Lmao
VIDEOS 📼
The last and the 2nd last one are the best 😤👆 Please check them out or add them to your watch later 🤧
Movies 🎥
Interstellar 2014
So I re-watched Interstellar this week because it has been a long time since I last watched the movie back in 2014. I remember having to watch YouTube theory videos to understand some parts of the movie 🔬 despite being a wannabe science nerd🤪
But hey, I got the ending back then and still do😤🙏
My experience of watching the movie did not change at all. It's just that this time I noticed a lot more details and understood a lot of the struggles portrayed in the movie.
Series 📺
Watched the new ep of Hawkeye.
Did not like it 🤐
I was expecting a plot twist where the swordman and Hawkeye would have been jaan pehchan ka!
Because in comics, he is Hawkeye's teacher 🏹🤺
App(s) 📱
PS: You don't need a paid creative cloud plan to get this just get the zxp of the app
And Install the zxp-file with https://install.anastasiy.com/ or http://zxpinstaller.com/
Songs 🎶
My 2021 Spotify Wrapped Playlist: Here
Podcast(s) 🎙
Memes/Edits from the last week 🐒
---
Coming up next week🥅
Spiderman No way home 🤩
Super excited for this one. It is one and the only thing that I was looking forward to this year and it's finally happening. I am still not sure with whom I will be going to watch the movie, most probably it will be my 2 of my school friends.
But it doesn't matter with who I go. I can even go alone😎
But since I am such a nice dude, I will give my friends the opportunity to come with me. 😌
I will be writing about the movie next week. It will mostly be positive since I have such high expectations from this. If it doesn't hit the mark, I will artificially make it hit the mark in my head😎👌
---
Quote from the week📃
"Everything is an oversimplification. Reality is messy and complex.
The question is whether it is a useful simplification.
Know the limitations of an idea and you can apply it to great effect—despite the messiness of reality." - James Clear
---
Thanks for reading this week's blog.
I hope you found something of value from it.
To leave a comment signup to disqus OR comment as a guest using any random email.
How to Get notified every time I post here?
Join my community on
(Enter your favourite Email below)
Subscribe to get a new email from me every week, along with the link to that week's blog