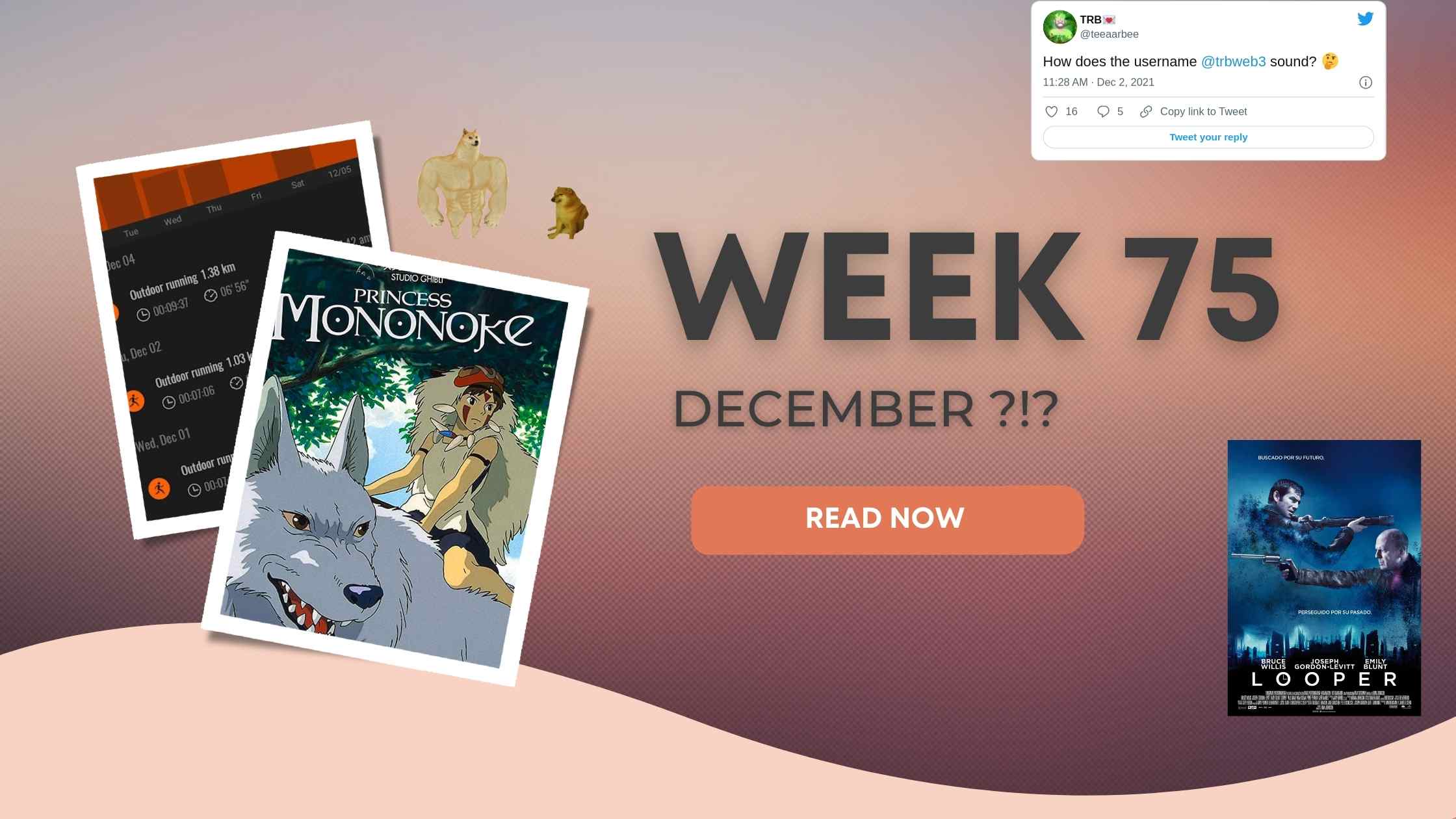 Just a day late this week 🥶
Wouldn't have happened if I wasn't greedy about taking on new work, but Laxmi ko kon mana kr sakta hain 😈🤲
Anyway, this week was short. Despite the fact that I published my last blog on Sunday morning, this week felt very short, and here is a quick rundown of my week.
Personal Highlights
Mindfulness

Meditated everyday for 10mins except yesterday 🙂🔫
I need to start meditating early on because by the time I am done showering in the morning, the environment around me gets noisy.
Journaling happened regularly too, but the entries were very short this week because I felt hungry while writing them almost every day.

Fitness


Idk if you were keeping track of my running, but the total distance that I have been running every week has increased. 🏃‍♂️

Learning
Finished reading Atomic Habits for the 2nd time. However, I did not write about it anywhere as I had planned. I loved the book though, but it's just that I don't have any twitter posting schedule, and so I missed writing it, but I will surely write about it more by the end of this year and probably also give a more in-depth review.

Organization
80% chrome bookmarks sorted, everything is inside a folder in chrome. Now I will have to arrange them inside the folders by creating subfolders 🤪
And then, I will start organizing my files and folders on PC.

Optimization
The last chapter of atomic habits was very inspirational in terms of optimizing and reviewing my progress in depth once in a while, and so from now on, I will take a more serious approach to reviewing rather than just writing about it on the blog.
Job Update
Yo! The part which you have been waiting for …..
so…….. It was my first week at work ……….. and …………
It's not much work so far. 😌
And also, it's mostly creative work.
Very different from Avalon days and I like this job more than my last one for sure 😌
However, if the volume of work increases, my opinion might change. 🤥
So stay tuned for next week's blog to learn more about it🐄.
Business Updates
Like I said last week, I was going to get a new domain and that I did.
Welcome octalancer.email !!!
I will be using this to send cold emails instead of the .com domain because
I don't want that to be marked as spam permanently by google.
I think it has already been marked as spam because all emails sent from that email are going to spam folders. 😭
---
Thoughts from the past week
Opinions
Judge a man by his demons.

— TRB (@teeaarbee) December 1, 2021
Social Media updates
So I made a new Twitter account this week inspired by all the web3 stuff I listened to in a Tim Ferriss podcast ft. Naval and Chris Dixon (linked below in podcast section)
How does the username @trbweb3 sound? 🤔

— TRB (@teeaarbee) December 2, 2021
But I am not sure about the username, and I feel like changing it to something a bit more evergreen and not just something tied to a buzzword.
Let me know if you have any suggestions
My Favourites from the Week ⭐
Blogs/Articles 📑
Currently reading A Short Guide to Finding Focus and Overcoming Distractions by RescueTime,
It's not exactly a blog, more like a very short book sort of, and that is why it's more in-depth, but at the same time, unlike a book, the same concept is not repeated 100 times with examples.
Book Highlights📚
From Atomic Habits
VIDEOS 📼
Movies 🎥
Looper 2012
Good movie, the movie doesn't take the butterfly effect into consideration till the very end, and that is something unique and at the same time not very natural, but then again time travel is not real, so it doesn't matter.
I had downloaded this in the Prime Video app on my phone a few months back and decided to finally watch this when there was a power cut, but when I tried to continue the movie from my PC I realized that the video was no longer available on Prime videos, thankfully I hadn't connected my phone to the wifi yet, and so I decided to keep my phone offline while finishing the rest of the movie and only after that open the app with internet on.
Princess Mononoke 1997
Another beautiful Ghibli movie 🌄
This movie gave me a lot of Ramayana: The Legend of Prince Rama because even that was made in Japan too in the 90s.
The movie is from 1997 (before my birth), and it still looks so stunning and has an animation standard that the Indian or even the American media industry hasn't been able to touch in the last 25 years.
Series 📺
Dhindhora 2021
Finished watching the final episode of Dhindhora, and unlike the previous episode, this one felt a bit misplaced and a bit too happy. However, the cliffhanger ending was a nice way to end the first season.
Songs 🎶
Spotify Wrapped came out this week and even though I spent like 5 out of 11 months this year on YT music, I did still listen most of my songs in spotify and here is my wrapped
Spotify Wrapped 2021 
PS: Idgaf about my or anyone's music taste, anyone can develop almost any music taste with the right amount of conditioning, so yeah that should a good enough defense for my basic music taste 🤪
Podcast(s) 🎙
Memes/Edits from the last week 🐒
---
Coming up next week🥅
Very unsure about the week, but I will be working on more meme-related stuff since that is my job now, so I might end up making a few for my page too. 😌
Other than that, I have no idea what the coming week will bring forth. 🚦
---
Quote from the week📃
"Being poor is not having too little, it is wanting more." - Seneca
---
Thanks for reading this week's blog.
I hope you found something of value from it.
To leave a comment signup to disqus OR comment as a guest using any random email.
How to Get notified every time I post here?
Join my community on
(Enter your favourite Email below)
Subscribe to get a new email from me every week, along with the link to that week's blog