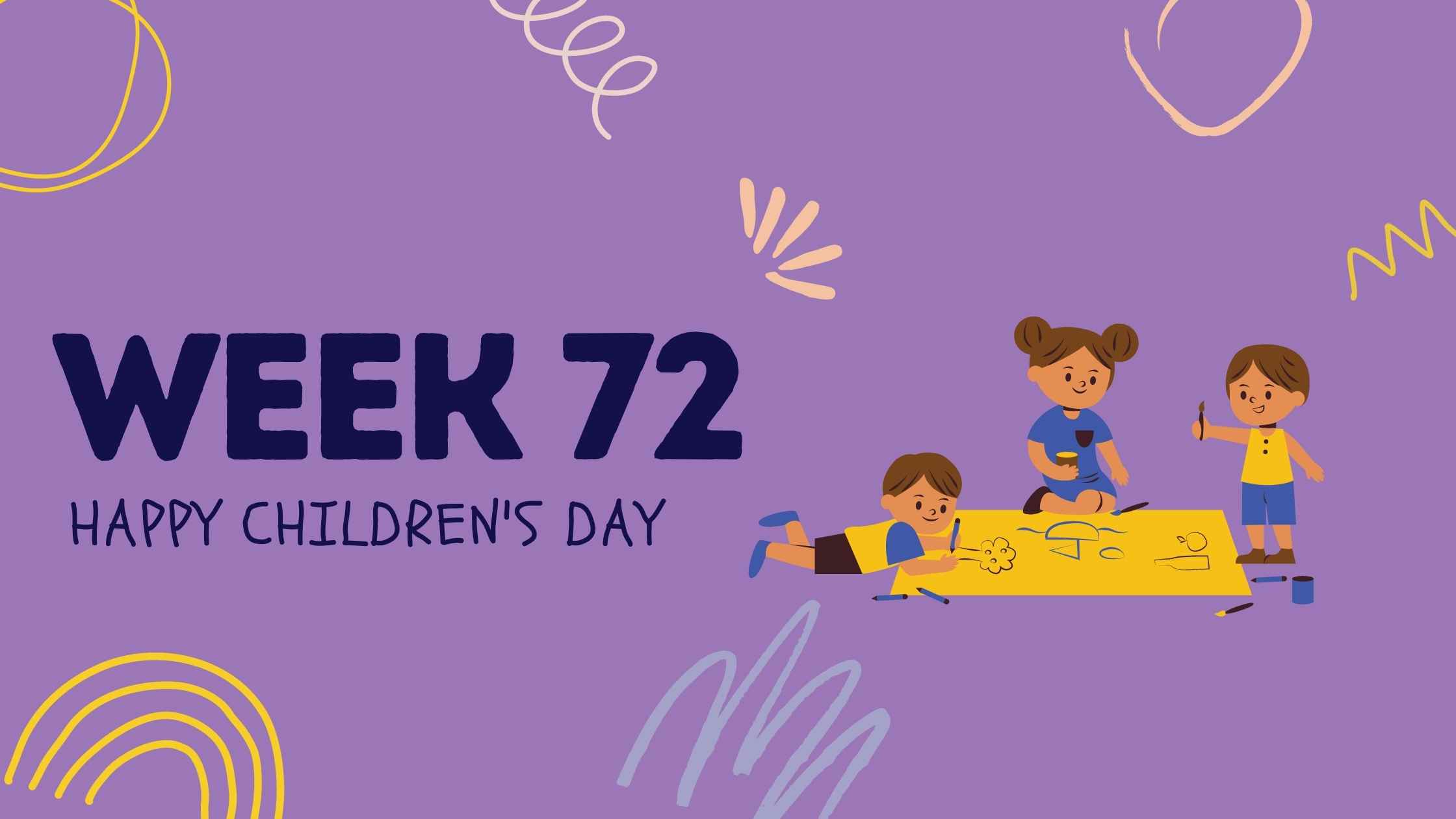 Hey!!!! Happy children's day 😌
Even though you are probably not a kid anymore and quite possibly the day holds no value to you.
But it does hold value to me, If you want to know why, continue reading 🧾
I don't feel like writing the blog today but I am kind of forcing myself as it is a special day and also because I want to be on time with the blogs.
Personal Highlights
This week wasn't as good in terms of me keeping up with all my new small habits but I still managed to make progress in a few
Mindfulness
Journaled every day without fail and it wasn't hard at all. Infact, it has started happening naturally now in the mornings. The only problem is that I get distracted midway while writing and check other sites and stuff and then come back to writing 🤐
I will start meditating from tomorrow onwards 🧘‍♀️
Fitness
I went out in the morning everyday this week. For the second half of the week I had to start going alone because the kid who used to come with me for walks got cough and cold 🥶
And so I was able to upgrade my morning walks to runs, the first day was hard as I struggled to finish a kilometer without feeling out of breath but from the next day on it became a lot easy 🏃‍♂️

Did not run every day though, here is a screenshot ⬆
Learning
Halfway through Atomic habits been loving it is the least that I could say as I try to implement more and more things that I am re-learning from the book.
Optimization and Organization
This is the field in which I kinda struggled this week as I realized there isn't much to optimize once we get set with a new system, last week there were things to optimize every day because the habit tracker was new and needed changes but now that I am comfortable with it. I found it difficult to keep optimizing my system, I still did organize a few files and folders in my PC though and will probably continue doing the same the next week as I branch the two together in my habit tracker because I don't want to be investing a lot in optimizing.
Business Updates
Did not make any significant improvement with my emailing thing, as I spent most of my time watching tutorials rather than practicing, and counted watching tutorials as progress, which it is not.

So, for the next week, I have decided to send at least 10 emails/ messages before I watch any course video related to that, The mindset behind this decision being action > planning.



In another business update…
Left a big opportunity
This week wasn't that great in terms of me finishing my daily tasks, I felt overwhelmed with the work that I had taken, and on top of that none of them were yielding measurable output, which made me sort of tired and so I decided to cut down work from my daily agendas.
It led to me saying 'no' to a few opportunities and the biggest among them was probably the company that I was building with my friend, in which I was the co-founder but most of the work was being done by the friend or others and I wasn't being able to give unbroken chunks of my time because I was preoccupied with a lot of other things. Also since I did not have any solid investment in it, I did not enjoy the work I was doing there and so I decided to quit.
My founder friend was very sad about it and he saw it as a breach of trust and promise 😹😹😹👏
XDD sorry ….. I don't see it that way and will never see it because
It is bizness

Ankur warikoo ne brainwash kar rakha hain mujhe bhay.
I know being unapologetic in a situation is very selfish and will probably make the other side feel worse but I am of no good to a business if I don't enjoy it or that is what I believe for now.
---
Thoughts from the past week
Yo here is the children's day special podcast episode, where I share a small story from my childhood… more like pre-teen year but ok 👶
Listen to it on all audio streaming platforms from here
Opinions
Treat everyone like a kid👶

— TRB (@teeaarbee) November 14, 2021
Children's day special opinion ⛹️‍♀️
Social Media updates
Check my 2nd Insta to take a closer look
My Favourites from the Week ⭐
Twitter Threads 🧵
Read the entire thread 👇 lmfao
Tweet unavaible as of 21st feb 2022
Old link: https://twitter.com/firr/status/1456324664628846599
You can do it, only if you know how to.

A thread...

— Ankur Warikoo (@warikoo) November 12, 2021
Book Highlights📚
From Atomic Habits
VIDEOS 📼
Movies 🎥
Currently watching Shangchi
Will share one liner review next week 😈
Series 📺
Wanda Vision
Amidst all chaos, I don't know how I was able to find time to finish this series and I gotta say I liked it quite a lot, maybe because I went in with very less expectations :P
The first few eps were kinda boring to me but then as the series progressed I found myself enjoying it more and more.
App 📱
Check your newsletter or email's spam score and quality.
Tech Tip 🧙‍♂️
If your domain gets blacklisted and all mails from it enter spam then just buy a similar-looking domain for sending emails.
Songs 🎶
Lukas Graham - Mama Said [Official Music Video] - YouTube
Podcast(s) 🎙
Finally was able to listen to a few of my fav. podcasts 🎧
Memes/Edits from the last week 🐒
---
Poll of the week❎
Coming up next week🥅
Not sure. I will continue sending emails and messages to product hunt pages for work .
---
Quote from the week📃
Ones who continue to grow in life are not the ones who make the best decisions.

Instead, they are quick to change their decisions, once they stop growing.

— Ankur Warikoo (@warikoo) November 10, 2021
---
Thanks for reading this week's blog.
I hope you found something of value from it.
To leave a comment signup to disqus OR comment as a guest using any random email.
How to Get notified every time I post here?
Join my community on
(Enter your favourite Email below)
Subscribe to get a new email from me every week, along with the link to that week's blog