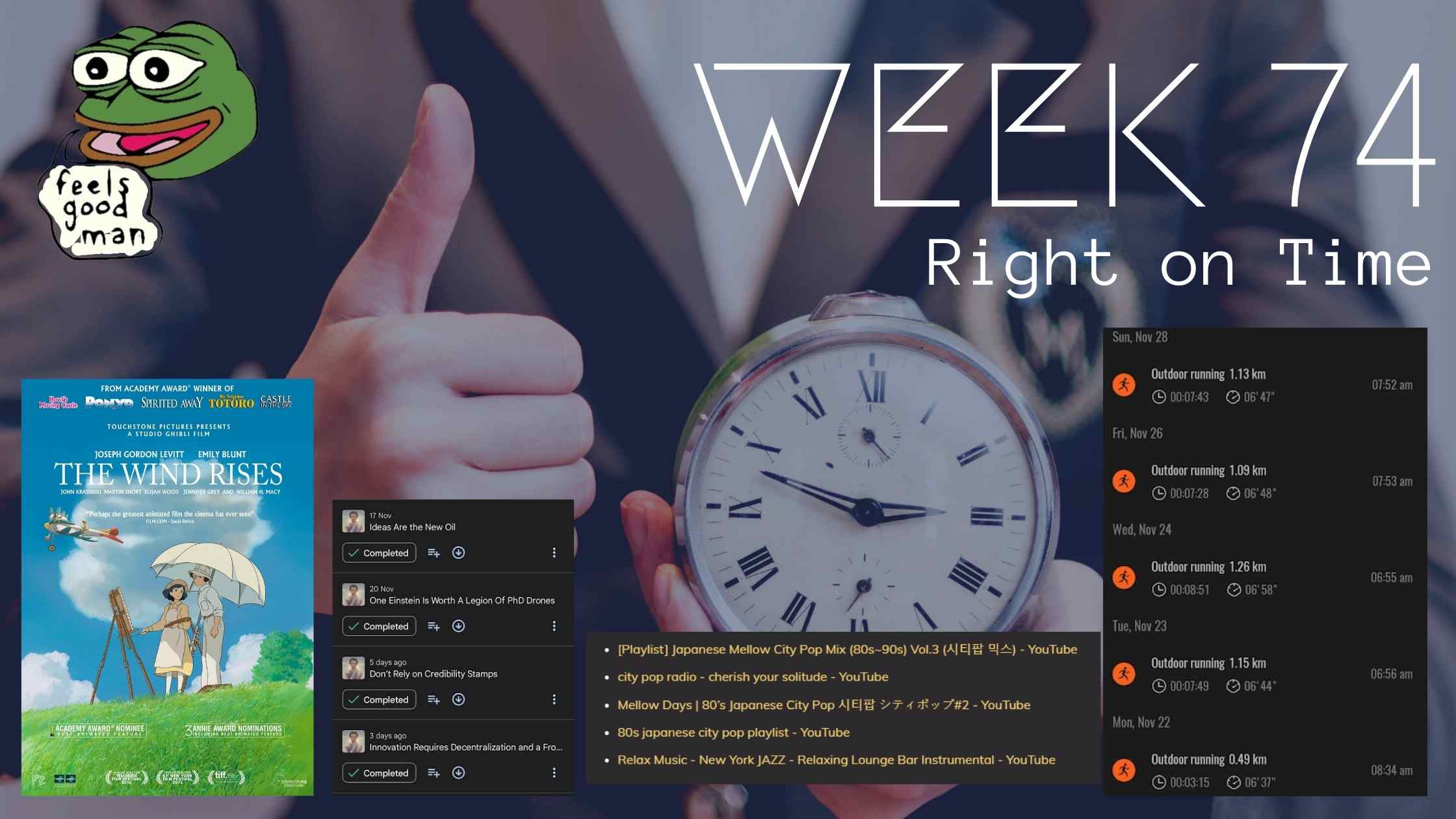 I am writing this blog on time. Thanks to my commitment statement in last week's newsletter, which by the way, if you did not read, stated that if I don't finish my blog and newsletter by Sunday 11:30 AM, I will have to give away ₹50/- to 5 people (₹250/- in total. The pain of losing that amount of money is certainly more than the pain of writing the blog on time. So, I will be sticking to this routine no matter how busy I get.
Personal Highlights
Anyway, this week was quite free in terms of workload, but I still failed to make any content for myself. 😷
Most of the week was spent on learning and following the morning routine, with a bit of distraction combined. Also, I just remembered that I published my last blog only 3 days ago, and maybe that is why I see this week as very short, lmao.
Mindfulness
Journaling went as usual. I did not have any impactful thing to write this week, but I still maintained the routine of writing first thing in the morning after turning on my PC.
Also, I meditated every day in the morning 🧘‍♂️ using the Calm app's guided meditation.

Fitness


Went out every morning except on Saturday.

Learning
I set this goal of learning web dev every day. No matter how little I learn, it's just an everyday habit for me now, and once I am done with web dev, I will move to coding.

This week I decided to revise a few CSS concepts and realized I had forgotten a lot of them, went through them, and accidentally stumbled upon w3 school's exercises to practice and so I started with the HTML one. I will hopefully finish HTML and CSS by next week and then move on to learn Javascript.

Optimization and Organization
In terms of optimizing, I made a few changes with the habits that I have been following every day like I removed reading books in the morning to afternoon because I wanted to give time to learn web dev.

I also made a rule to shift a few habits like Organizing files and folders morning to night and in the morning focusing only on stuff that requires more brainpower.

Other than that, I spent a little less time on communication apps (Whatsapp) ever since I took notice of spending too much time on the platform last week.

I wonder how much impact will taking notice of time have on my overall time spending.
Job Update
So this is going to be a thing for the next couple of weeks… maybe….
My joining date is from the 1st of December, and honestly, I am actually quite excited because this is unlike other jobs that I have done in the past, as this requires a lot more creativity going in, or that is what I have been told.
A major part of my work will include curating and creating meme ideas for the marketing of brands and companies. That's the stuff that the company I am in does.
I even got a company email ID this week. 😳
Avalon did not give me my own email 🤧 … this company is better than Avalon confirmed!!!
The company is called Stonks Studio btw. They don't have a website yet. Maybe I should offer them one via Octalancer, talking of which ..
Business Updates
I did not make a lot of progress with anything Octalancer-related and the client about whom I wrote about last week did not give any reply even after following up 😔
One thing that I got to know this week is that all my cold emails are going to the spam folder and I need to fix it somehow. If I can't fix that, I will have to get another domain and warm it up first before sending out cold emails.
---
Thoughts from the past week
Poll results from last week suggested me to continue with podcasting.
But I still haven't recorded any eps 🤐
Aaaah, need to do something to fix my habit of not recording the podcast.
Maybe I will have to batch record and get it done with, but idk that would feel more like making content and less like me trying to improve on a weekly basis.
Opinions
The more you label others negatively, the more you fall into the trap of insecurity.

— TRB (@teeaarbee) November 25, 2021
Social Media updates
Will post a small video meme today after I am done writing this 🤸‍♂️
And if my job includes making memes every day, well then, I will have something to share every week, I guess 🥶
My Favourites from the Week ⭐
Blogs/Articles 📑
YouTube's Attempt To Solve The Paradox of Choice
Book Highlights📚
From Atomic Habits
VIDEOS 📼
Movies 🎥
The wind rises
Expected the movie to be a love story, it was 🤧 but a sad one 😿
As had mentioned before I will be watching more Ghibli movies in the coming weeks, and so I did and loved it tbh.
It was a more career-driven story about an airplane engineer who helped build the Mitsubishi A6M Zero fighter planes during WWII.
I noticed that Ghibli movies are not structured and paced like the American movies and sometimes even halfway through the movie it keeps us wondering what's the bigger plot of the movie.
Series 📺
Hawkeye 2021
Just like everyone, I had low expectations from this, and it banged in the first two episodes at least.
I don't know how the rest of the series is going to be, but I am pretty sure they won't disappoint.
Also, I forgot to mention that I absolutely love the New York Christmas vibe of the show. Everything looks so beautiful. 😩
It made my love for NY come back 🗽🌚
App(s) 📱
In case you upgraded to Windows 11, this video might help you
We Fixed Windows 11 For You - YouTube
Tech Tip 🧙‍♂️
Use WinDirStat to see which files are taking up space in your drive and clean your folders.
Songs 🎶
Podcast(s) 🎙
These 4 episodes from Nav.al are GOLD
Do give them a listen. They are short and to the point.
Memes/Edits from the last week 🐒
---
Poll of the week❎
Coming up next week🥅
The only big thing about next week will probably be my
New job 💼😎
Next week's blog will be very interesting IMO, as I will share what I feel about the new job. It will be something slightly different from the regular blogs unless my job is super boring 😪
---
Quote from the week📃
Inspiration is more important than scale
Inspiration unlocks the future
Technology eventually catches up
From The Wind Rises 2013
---
Thanks for reading this week's blog.
I hope you found something of value from it.
To leave a comment signup to disqus OR comment as a guest using any random email.
How to Get notified every time I post here?
Join my community on
(Enter your favourite Email below)
Subscribe to get a new email from me every week, along with the link to that week's blog