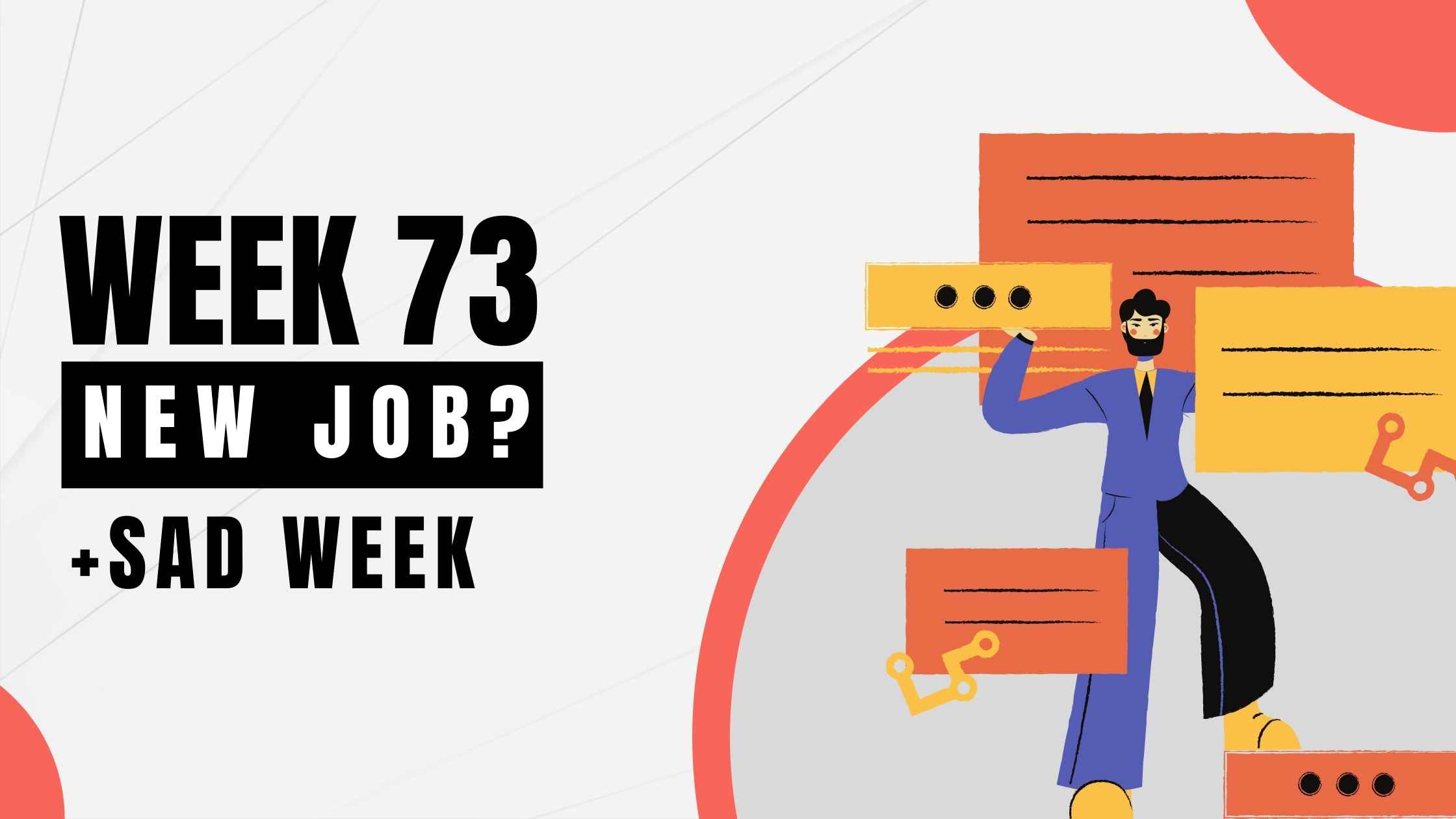 Yeah well IDK what my catchphrase is but I hope it is something jolly because my week wasn't, the beginning of the week surely wasn't, but as I spent more time with myself and focused on keeping up with my morning routine I was able to dial back to being ok, if not great.
And I remember thinking if I had not published my blog on time last Sunday, it probably would have been delayed by a few days just like this blog 🙂
Which reminds me that I made an epic announcement in my newsletter this week, go read that once you are done reading the blog.
Personal Highlights
Despite all my sadness, I was able to keep up with most, if not all, of my habits this week.
Mindfulness
Journaling went very hard this week. Please don't feel free to steal my data, Dear Notion.
I started guided meditation like last year using the Calm app. So far I have found myself more distracted during meditation than I usually was, something which the instructions promise will go away with more practice.

Fitness
Ran almost daily but not for very long, will gradually increase the distance. 🥵
I mean, I know it's a mental block, and if I want, I can increase my running distance much quicker but am I gonna?🐼

Learning
About to finish Atomic habits and the 'make it easy' chapter in atomic habits motivated me to finish CSS basics this week. 🥵
Something which wouldn't have happened if I did not see small steps as progress and discarded them.

Optimization and Organization
Not a lot of progress was made in this but I decided to actively keep an eye on my rescuetime dashboard and optimize the apps and sites accordingly.
And I will probably share my stats here too, IDK I am very confident about it but will see.
Business Updates
November 19, 2021
Finally got a reply to a cold email. Well it was our second reply… the first one ghosted me after I made a trial edit 💔 but we might end up closing this one, not very sure about it but what I am sure about is getting some money by the end of December because I got a new job.
🤫Won't reveal more🤫
Next week is topic ko milk jo krna hain 🤪
---
Thoughts from the past week
I was actually planning to end the podcasting thing and take a long break from it but then I read Atomic habits' chapter where he writes about how the days when we don't feel like are more important than the ones we feel great and it made me realize that quitting might not be great.
It still wasn't able to convince me to record though and so no episode this week.
Opinions
Can never accept any knowledge worker dancing in a reel to communicate their ideas 👎

— TRB (@teeaarbee) November 19, 2021
Social Media updates
Skipped posting memes for a day on insta and spiraled into not posting anything for the rest of the week 🙂
My Favourites from the Week ⭐
Blogs/Articles 📑
Came across an amazing blog
Read two from it and loved them both
Book Highlights📚
From Atomic Habits by James Clear
VIDEOS 📼
Movies 🎥
From Up on Poppy Hill
Watched it with a friend on a nice relaxing Saturday afternoon 😌

Ghibli movie art style is love and I will watch more of them in the coming weeks for sure 🤸‍♀️
Can't say anything about the movie tho cuz it can be spoiled easily 🥶
Shang chi 2021
Finished watching it on 14th Nov

Full Asian daddy issues vibes 😶
The action scenes were great and well-choreographed.
Yes, they were copied from other movies but overall I think this movie was better than Eternals.
Game 🎮
Grand Theft Auto Def. Edition
Installed it for nostalgia, will uninstall it for the glitches.
I know the entire world is mad at the game but I still liked playing it just because everything feels very nostalgic and also because I haven't played any games in a long time.
Btw, I installed Forza Horizon 5 last week and played it for 2 days only and I forgot to mention it here.
App(s) 📱
I remember sharing an extension called trove, which saved highlights from a webpage to a notion page but sadly that extension stopped working (at least for me) and so I had to switch to using this.
Here is a great video on how to use it: The BEST Way to Capture and Organize Web Content in Notion! - YouTube
Tech Tip 🧙‍♂️
Set a weekly reminder for cleaning your Desk, PC, and Phone both from outside and inside.
Songs 🎶
Podcast(s) 🎙
Memes/Edits from the last week 🐒
---
Poll of the week❎
Coming up next week🥅
More info about my new job 💼
The fate of Octalancer.
Did I get the client from the cold email?
---
Quote from the week📃
Civilization advances by extending the number of operations we can perform without thinking about them - Alfred North
---
Thanks for reading this week's blog.
I hope you found something of value from it.
To leave a comment signup to disqus OR comment as a guest using any random email.
How to Get notified every time I post here?
Join my community on
(Enter your favourite Email below)
Subscribe to get a new email from me every week, along with the link to that week's blog