So this week was idk very fast and I didn't have any work to do and was neither very productive
But still, in terms of learning this week was great and I will be sharing some of my insights below

Also, I will be keeping this blog short as I am already very late this time

There are a lot of things to write about but I am already very late 😣
Personal Highlights
First off dopamine media detox

Spoiler: it was a very bad idea
And I even posted a story on it out of desperation as soon as the detox ended but then quickly deleted it as it was getting me a lot of attention which I kinda didn't like
This was the story btw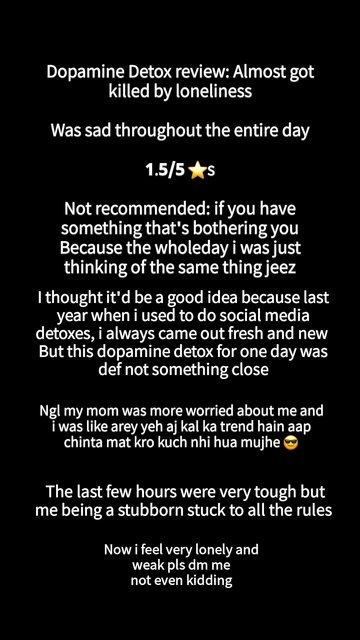 Ik very pathetic and cringe and well that is how you behave once you completely isolate yourself in every way possible while there are some thoughts going in your head.
Writing was the only thing that kept me going and I wrote a long sadly I can't share those
Ok so bottom line: if you want to do a detox then do a social media detox but not a dopamine detox,
Social media detoxes are very important and needed tbh but dopamine detoxes are not worth it
I wrote a blog earlier this week on book recommendation and I added few amazon affiliate links and well people actually clicked on those and bought the books and I ended up making a very small amount of money XD

Thoughts from the past week
There were a lot of them but since I am short on time this week, I will share them later on or maybe write separate blogs on them.
I will quickly phrase a few of the titles or maybe idk like bullet points of a few of my thoughts
Why we act toxic sometimes [not related to memes/communities]
Why communities based on jokes need to be small
Meme pages and communities
generational gap in memes XD
How the meme ecosystem got ruined but …. Only for a few peeps
As you can see these topics are very complicated and will require a lot of time and effort to explain properly
And it's not like I have all the answer to these topics or something it's just that these were the things that I was thinking about and I did come to some small conclusions but they are sort of temporary and not very helpful so as I gain more experience and expand my spectrum of knowledge I will surely write about them in future.
Social Media updates
Was about to post that baka mita meme but then later opted out as I saw many other pages posting it and it was nothing unique I tried it with a diff song tho made vasu sing it for me on camera but .. umm he doesn't open his mouth big enough while singing so the deep fakes that came out weren't looking natural 🤧 so I decided to discard it in the last moment
And Now Finally Time For
My Favourites from the Week
Blog(s)/Article(s)
None this week, didn't get time to read
Was busy reading homo deus
VIDEOS
Again this week I ended up watching a lot of shit old movies mainly the ones from DC
I won't give a review or anything just quickly list down their names
-man of steel
-Batman v superman
-Suicide squad
Also, I watched this movie called Me before you,

It was nice tbh a v sad movie tho still beautiful
And now some youtube videos from this week

This is perhaps my fav. from this week and not to mention this channel is now one of my fav channel idk why i didnt discover him earlier on

His videos are so neat and well explained i watched a lot of his videos this week,

including this one on copytight too, by far the best video on copyright guidelines

idk if i have shared his videos before but he is one of my fac among current indian youtubers




and then there's this



tman never disappoints

App recommendation 🤪
Ok so I got a few messages of people asking me for this, so this week I tried this app called
F-droid [Andorid only]
So it's like Xposed and has a lot of small modules which don't require root
not very sure tbh but that is what I think of it thus far
and there's a repo in it called DNS66 which basically acts as adblocker in android
Install f-droid then search for it inside the app
MUSIC 🎶🎵

Kinna addicted to weekend these days


sad noises


Ik i shared it last week, but i kept listening to it anyway so here it is again


XD
Now few Memes/Edits 😄
best one tbh

Good page

---
So in conclusion this week was me tryna rush the blog to the end line because I am late…
Also to my surprise, I got a few peeps asking me about this week's blog in my insta dms and tbh it was overwhelming ngl 😌
Aight I guess that's about it for this week, see you again next week. Thank you for reading this, maybe try and interact with the reactions below 😈
PS: you don't have to signup to comment just use any random email and name, the Plugin doesn't cross-check.
Also Subscribe to get these blogs delivered to you email inbox