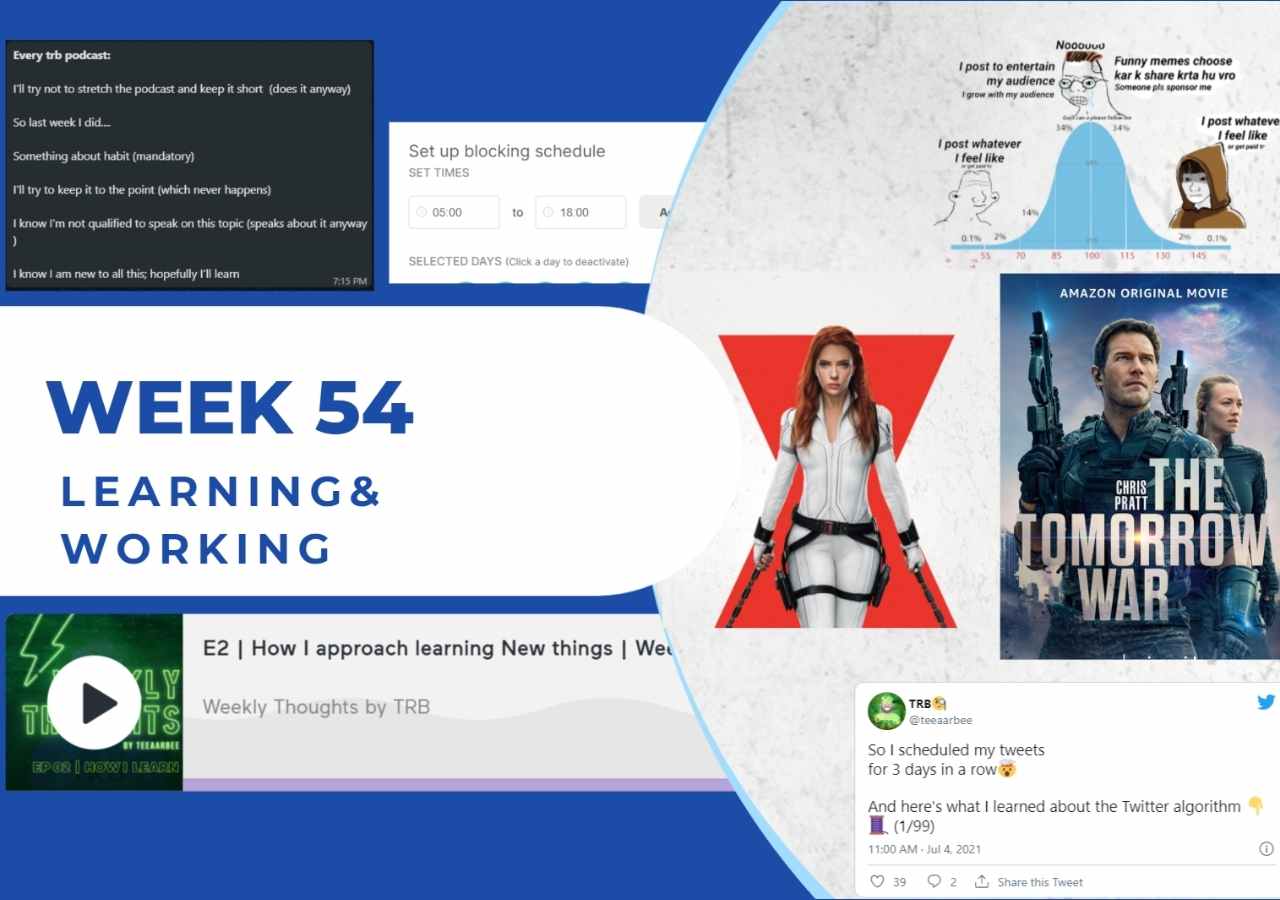 Aight so I am on time again 😎
It's Saturday, we are in the middle of 2021, the lockdown is hopefully going to end very soon and I have even recorded and published the podcast episode for this week, tomorrow is Sunday but I will work on finishing the website for the new business that I am starting, life is good 😌
And I don't feel bad for ignoring all the bad that is going on in the world because I haven't recently been exposed to any of those news as I mostly stayed away from social media and news this week.
Personal Highlights
Enough of sharing feel good vibe we back at sharing week's update 😤
Before I begin, did you know if you want you can share your week's update with me?
Just reply to any of my weekly email newsletters and I will read it 🤲
Now coming back to the updates, so this week I learnt a lot of HTML and CSS and that too without watching any tutorials all on my own while experimenting/building the new website for Octalancer.
We are still working on the main website but if you click on this link before Monday [12th July ] you can see an alternative version of the site one which I have set-up temporarily.
Now coming to what else I did this week? Well, I just realized I did nothing other than working on the site day and night except in the starting I wasted a day trying to figure out a way to set up a static website for my podcast but unfortunately wasn't able to find any free automatic solution 🤒
But hopefully my quest will end soon, after I learn a bit more about setting up websites and stuff.
I think last week I said our site will be live by the time I publish my next blog as you might have guessed it's not complete yet
But it will be complete soon maybe by Monday you can check the above link later in the week or I will re-share the link with you next week 😌 Along with our social media handles 😾oh and also reveal the team then only 😌
But if you want spoilers then check after 12th July.
---
Thoughts from the past week
Aight now coming to the thoughts as you might know I have recently replaced this section with a link to my podcast and so here is this week's podcast
I recommend you listen to it at 1.5x speed, it's gonna save you a lot of time ⌛
Listen to it on all audio streaming platforms from here
There is one thing which I missed to share in this week's podcast and that was knowing the limitations when it comes to trial-and-error learning.
What I mean by limitations is when you are trying to figure out how to do something and if you know that it's possible then you will probably try harder unlike if you were unsure about it.
And so, I think that is where tutorials and guide come in rescue, they can often show us the possibilities and it is then up to us to try and figure out the way.
Opinions
Zomato and Swiggy should bring an option for the delivery boys to rate customers
Customers with good ratings should get some special discounts and freebies
This way we can promote overall goodwill of the society 😳 What Say?

— TRB (@teeaarbee) July 8, 2021
I posted this without knowledge becuase I dont use those apps, apparently there is already a feature like that but it is under utilized hmmmm
Social Media updates
So I scheduled my tweets
for 3 days in a row🤯

And here's what I learned about the Twitter algorithm 👇🧵 (1/99)

— TRB (@teeaarbee) July 4, 2021
I posted one tweet every day this week at exact 6:00 pm everyday and all of them were automated obviously.
But in between I felt like stopping after I saw the tweets not performing very well but then Prakhar retweeted one of my tweets 👇 and I got my confidence back XD 😎
Oh, what a tragedy! 🥱 pic.twitter.com/YpGarB4g2s

— TRB (@teeaarbee) July 7, 2021
For next week though, I am not very sure 😐 I kinda wanted to post one tweet everyday this month but sometimes they feel a bit too generic, I think. So, I might stop tweeting or I might not. I'm not sure so keep checking my twitter to find out, jk, I will share about it here next week and also write a convincing reason because we humans are very good at reasoning no matter which option we choose 🛩
My Favorites from the Week
Twitter Threads 🧵
Saw something like this today on Twitter, let's try it in a different context:

Send me a screenshot of your community (whatsapp group, discord, slack, etc) as a comment and I'll tell you how you can double the # of users fast.

— Varun Mayya (@VarunMayya) July 8, 2021
If you plan to run something for the masses in the future then you might find this very helpful 🙇‍♂‍
Book Highlights📚
Uh Well 😅 I did not read a lot this week as I was mostly busy working 😅
VIDEOS 📼
Movies 🎥
Series 📺
Very excited for the final episode of Loki, But I am tired of watching a cliffhanger at the end of every fucking episode💢 I hope they don't leave it with a cliffhanger making the whole season worth nothing 😣
App(s) 📱
These are the 2 site blocking extensions that I am familiar with. I used them earlier but haven't used them for a while now but now I think I will re-experiment and for the next week I will block all distracting sites during the day so that atleast I don't somehow get distracted during my work hours.
Oh, and btw I will implement the same technique on my mobile using Digital wellbeing for android and block all social media sites from morning till noon so that I don't browse social media immediately after I wake up.
Let's see if it works or not 🤒
Songs 🎶
Podcast(s) 🎙
This made me miss from morning routine from earlier this year 😣 Damn haven't had one such morning since end of April 😭
Memes/Edits from the last week 🐒
---
Goal(s) for the next week 🥅
Get the website up and running for Octalancer
And probably work on redesigning www.teeaarbee.com 😳
---
Quote(s) from the week📃
The students won't cheat in exams if they value their learning more than we value their grades. 🧠

— Prof. Feynman (@ProfFeynman) July 6, 2021
---
Thanks for reading this week's blog.
I hope you found something of value from it.
To leave a comment signup or comment as a guest using any random email.
How to Get notified every time I post here?
Join my community on
(Enter your favourite Email below)
Subscribe to get a new email from me every week, along with the link to that week's blog


Receive these emails in your gmail primary tab,
Android and ios: Download this file on your phone and select the email id using which you've subscribed
PC: Just drag and drop it from Promotion to Primary tab.