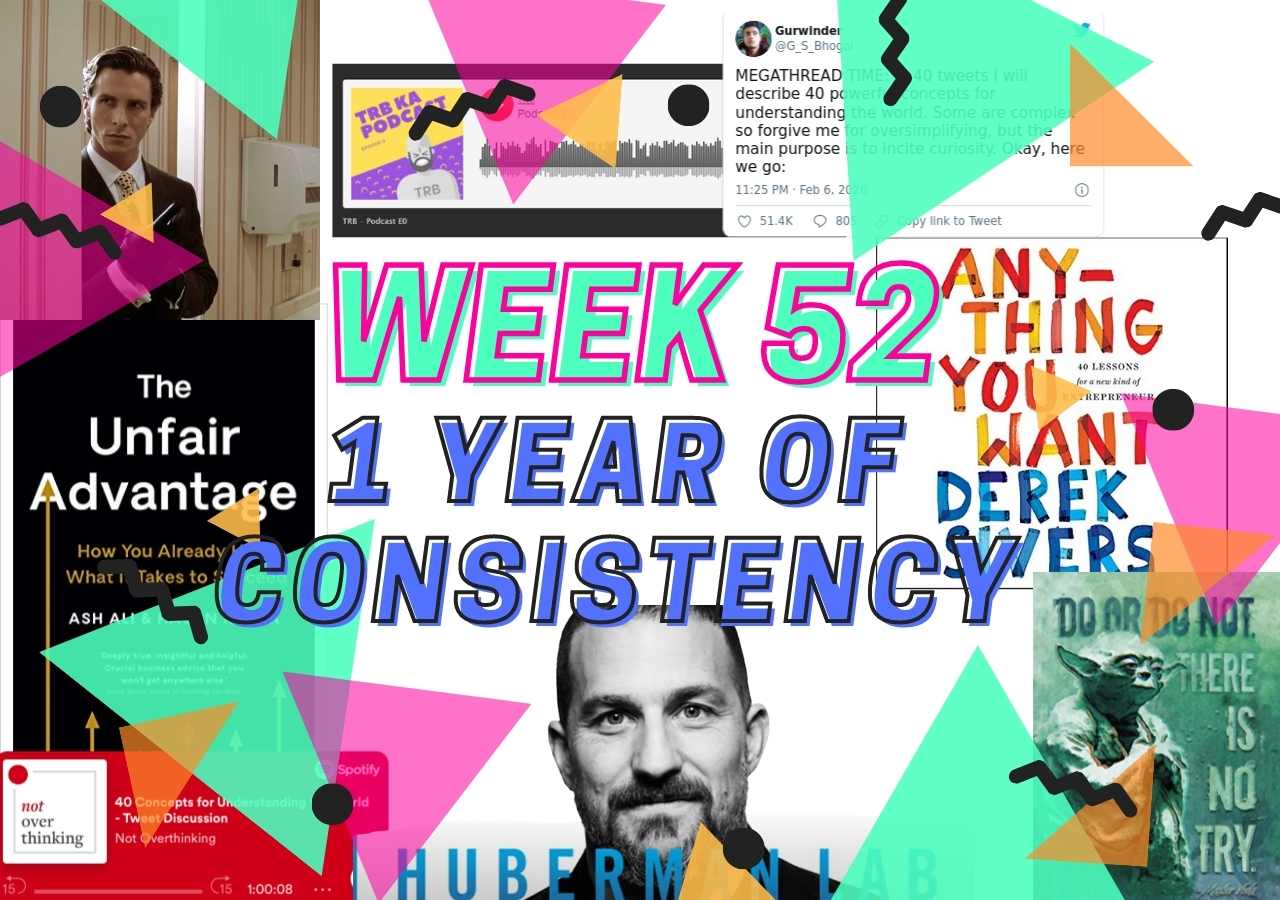 52 CONSECUTIVE BLOGS 😳 SAY WHAT!!! 🎉
Yes, that's right 😎.
I have been writing here for almost a year now!
And despite all those dramatic lines, it's not something very surprising because I have plans of continuing this for a long time!
So much that, I have sort of hired a friend as a proof-reader and I will try and delegate him more tasks slowly, so, that it gets easier for me to publish these blogs and I don't think about it a lot 👨‍💼
Anyway, this is my anniversary blog so I thought why not make it a bit different from other regular blogs and so here are
6 Fun-Facts about me 🤹‍♀‍
I haven't read any of my blogs from top to bottom after publishing it.
The same goes for my voiceover video / podcasts but on the other hand I can watch any of my old meme / edit over 1000 times and still be in love with it.
I was the biggest computer geek of my school back in class 9 & 10. Almost everyone [Class 4+] in the school knew me for it.
I have studied in 6 different schools.
I once performed a magic show in the biggest auditorium of the town, I was in, back in 2012.
I once won 1st prize in essay competition back in 2011 and I think it was the only time I won 1st place in something XD :(
I ran 10km[nonstop] 3 times in total so far and I consider running as one of my biggest achievements because it is something which I started after my school life ended and I happen to learn it naturally without watching any YouTube video or anything XD.
Personal Highlights
Since, this is a special edition so I will just ditch the regular format and quickly give a short summary of what I was up to this week
This week was sort of a rest week for me.

I did work on some outside projects but not anything major.

I also took a short break from Instagram this week!

Allowing myself to use it for only 15mins and I have to admit I am not a huge fan of this method of detoxing!
Like Yoda said

So, it's either you uninstall the app or you use it normally, both of which are scary to most people nowadays!

But anyway, the method worked for like only 4-5 days given that I started it on Tuesday. I think it's alright and also my usage will automatically decline once I start this new freelancing company, for which I am both scared and nervous at the same time.

Talking about the company, we had a hard time this week deciding the name of the company. At the time of writing this, the name still hasn't been decided but it will be decided next week 😌

So, don't miss next week's blog 😤 Subscribe to the email newsletter now !!!!!
Sorry for the weird promotion in between which I usually don't do, which also reminds me of something I don't usually do and that is record an episode of podcast! I did one trial recording of my upcoming solo podcast this week.
I will link it below somewhere 🥶
Btw, I got a new pair of speakers with subwoofer for my desktop.
Before this, I had never owned a speaker with subwoofer, so it is a nice new upgrade for me 🥳
---
Thoughts from the past week
Opinions
Calling yourself funny is just sad very very sad!

— TRB (@teeaarbee) June 25, 2021
Social Media updates
I scheduled a lot of tweets this week, and I absolutely loved it! I used a service called publer.io.
Scheduling tweets is awesome!

PS: Almost all my tweets this week were scheduled, including this one :D

— TRB (@teeaarbee) June 26, 2021
I think 'Scheduling' promotes more content production because sometimes when you feel like writing and don't write it, you either forget it or lose the motivation to write about it later on.
My Favourites from the Week
Twitter Threads 🧵
So, I finally read the epic GS Bhogal tweet thread, and all thanks to Ali Abdaal for it.
MEGATHREAD TIME: In 40 tweets I will describe 40 powerful concepts for understanding the world. Some are complex so forgive me for oversimplifying, but the main purpose is to incite curiosity. Okay, here we go:

— Gurwinder (@G_S_Bhogal) February 6, 2020
I don't think I could have simply read the entire thing and understood all the tweets in it but reading it alongside Ali and Taimur podcast and hearing their opinion on it was v. intellectually stimulating 😈
Book Highlights 📚
I started reading The Unfair Advantage this week and so far it has been quite good 👨
From The Unfair Advantage by Ash Hasan & Ali Kubba
AudioBook 🎧📔
After almost five months, I listened to another audiobook called
Anything you want By Derek Sivers .
I am a Derek Sivers fan for a while now, esp after hearing his bit in Tools of Titans: Audiobook
I liked this audiobook too, esp because he was the one who narrated it, but I think the title of the book isn't quite right.
It's more like the lessons he has learned from his entrepreneurial journey, but anyway, it's a very short good listen of about 2 hours only.
Most audiobooks are somewhere in the 5-10 hours range!
VIDEOS 📼
Movies 🎥
Yes, I watched the movie for the memes.
Not this, the 'Sigma male' wala meme 🙏
I did not expect the ending to be like that XD. I was expecting a normal ending, but then again, the movie wasn't normal anyway 🤐
Series 📺
Rick and Morty S5E1
Yay, new season of Rick and Morty just dropped last week🥳
Time to feel good about IQ, ahahaha.

Loki S1E3
I wish they released all episodes at once but then again it wouldn't be that fun to watch, I think!
Waiting for a new ep every week, in the fun old traditional way, kinda feels nice for some reason😌
Creators 🤹🏻
Huberman Lab Podcast

Thanks to @thinkingbat on Twitter for recommending me this podcast!
I am in love with the episodes and the knowledge that Dr. Andrew Huberman shares in every episode 🙏🙏🙏
Listening to something like this is so much better than listening to motivational journey and shit lol, but I think we like different things in different phases. So, no calling out Beerbiceps' podcast 🤭🤐🤫
App(s) 📱
I have been a 'Photoshop user' since 2014 and nothing hurts me more than seeing people make tons of money using basic apps like Canva😭
I used to be among the set of people who hated Canva but I decided to grow beyond that and I myself started using it for simple graphics stuff like making the thumbnail for these blogs, as it's much faster and easier to collaborate compared to photoshop😓
Still, in terms of sheer raw power and functionality photoshop is 1000 steps ahead but canva is just more convenient and faster 🙏
So, I use them both without any complaints 🤐
Songs 🎶
Podcast(s) 🎙
Memes/Edits from the last week 🐒
I was off Instagram this week, so, no memes 😁
---
Goal(s) for the next week 🥅
I totally forgot my goal of this week, which was to create a video portfolio of my editing for the new company!
Maybe, because we didn't decide the name of the company but anyway I will keep a much clearer goal for next week which will be to
Learn CSS and hopefully get done with the basics, so, I can move on to advanced stuff for the new website 🙏
---
Quote(s) from the week📃
"In this world there are only two tragedies. One is not getting what one wants, and the other is getting it." — Oscar Wilde

— Tim Ferriss (@tferriss) June 7, 2021
---
Alright, so that was all for the anniversary blog!
Once again it feels sort of unreal and pleasant at the same time because I have invested a lot of my time in writing these blogs without much growth in terms of audience but that is not something I am aiming for anytime soon!
So, I am all good with however it's going in terms of growth but I will continue my part of improving the blogs in everyway possible. Slowly and effectively 🙏
---
Thanks for reading this week's blog.
I hope you found something of value from it.
To leave a comment signup or comment as a guest using any random email.
How to Get notified every time I post here?
Join my community on
(Enter your favourite Email below)
Subscribe to get a new email from me every week, along with the link to that week's blog


Receive these emails in your gmail primary tab,
Android and ios: Download this file on your phone and select the email id using which you've subscribed
Download from Google Drive
PC: Just drag and drop it from Promotion to Primary tab.