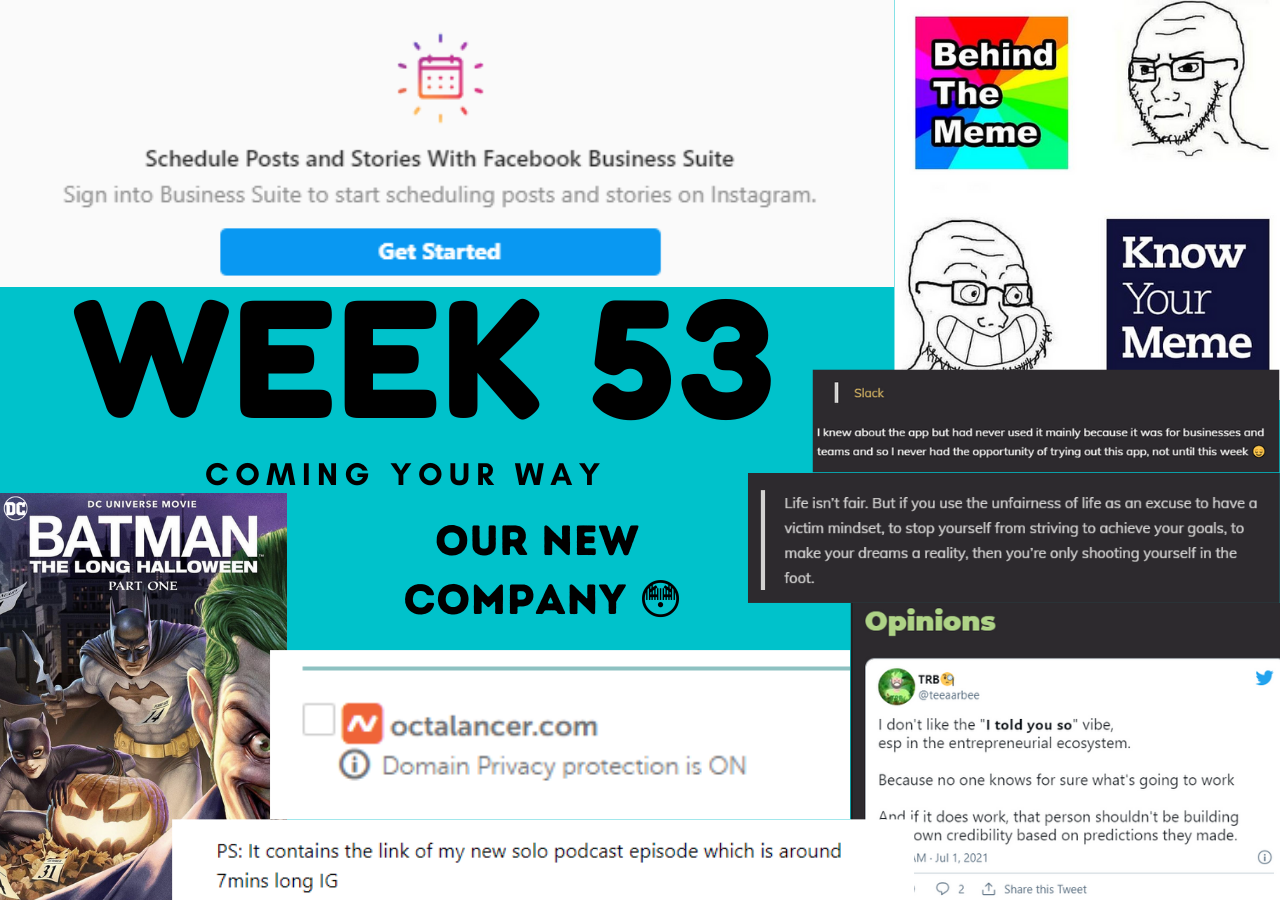 Happy American Independence day sabhi ko 🇺🇸🤭
We finally decided a name for our business and we decided to go with the name drum roll
"Octalancer"
Now idk how that name sounds to you but to me it sounds that it could attract chote mote clients easily 🤭
And so, we decided to go with the name and I bought the domain and claimed the username on social media sites 🥶
Business Update
I spent a lot of my time this week researching and learning quite a bit about business team management and software subscriptions for emails and stuff. I also realized how lucrative it is to spend money on services online 🤑 Ngl lowkey want that G Suite premium unlimited plan 🤤
And so, this week was more of a research week!!!
But this coming week will be very task oriented as we will be making our website and announcing it publicly on social media sites 🥶
Well, that was about it for my business-related update now coming to
Personal Highlights
I did read almost every day but not a lot 📕
I did however listen to a lot of podcasts this week after audible kept declining my card 🤧
I also spent some amount of time organizing my bookmarks and few folders on pc but I am far from getting done with those. As organizing everything the way I want them to be will literally take months😷
Talking about things not happening
For some reason I struggled with working out and learning this week ☹
Need to get back to my old routine 😷
Let's see how things change next week as I take on more and more work thingy to do for the company 👨‍🔬
---
Thoughts from the past week
So I decided to ditech the writing and convert my thought section into audio format and here is the very first episode of the podcast
Listen to it on all audio streaming platforms from here
PS: Will automatically be made available on apple and google podcast in a couple of days
Opinions
I don't like the "𝗜 𝘁𝗼𝗹𝗱 𝘆𝗼𝘂 𝘀𝗼" vibe,
esp in the entrepreneurial ecosystem.

Because no one knows for sure what's going to work

And if it does work, that person shouldn't be building their own credibility based on predictions they made.

— TRB (@teeaarbee) July 1, 2021
Social Media updates
I posted after quite a while on Instagram and it wasn't even planned. I just randomly felt like posting a meme and so I made it and posted 🥶 without much thinking
My secret plans for social media envasion
But I am planning to post more on social media now 😶 I know, I said a few weeks back that I will just focus on work and not social media but now my heart has changed, ever since I have seen the power of scheduling posts 🥶🦹‍♂️
And I feel like if I batch create posts for social media in a single day then I can create enough content for the next few days and not at all worry about the platforms for the rest of the days and it also gets easier to write tweets one by one when you are just brainstorming 🧠
What else did I work on
So, while I was researching for site ideas, I stumbled upon a blog on how to make your notion page as website here
I decided to try it out with my own domain and played around with a script-based method and made
What I basically did was, just reroute the notion page which I already have for my weekly memes and turn that into something that is on my own domain.
Pros: It's my own domain so kinda looks cool ig.
Cons: You can't use notion wale features like commenting 🤐
My Favourites from the Week
Blogs/Articles 📑
How to Maximize Serendipity by David Perell
This blog is more of for people who are into content creation.
Book Highlights📚
Life isn't fair. But if you use the unfairness of life as an excuse to have a victim mindset, to stop yourself from striving to achieve your goals, to make your dreams a reality, then you're only shooting yourself in the foot.
every disadvantage can have a corresponding advantage, and vice versa. Your circumstances and unfair advantages, whether apparently positive or negative, can be double-edged swords.
From The Unfair Advantage by Ash Hasan & Ali Kubba
VIDEOS 📼
Movies 🎥
Batman: The Long Halloween, Part One 2021
I liked the movie, assuming it's directly taken from the comics. I also liked the fact that Batman admits he isn't a great detective and makes mistakes, kinda felt ironic from the modern know it all interpretation of the Batman 😌
The animation style kinda felt a bit sloppy at times but the beautiful audio quality balanced it out.
Series 📺
App(s) 📱
I knew about the app but had never used it mainly because it was for businesses and teams and so I never had the opportunity of trying out this app, not until this week 😌
I finally got a chance of using the app and saw how it is so much better than discord or some simple messaging app as it has different channels for different things but unlike discord you can only open one group at a time and so you don't have to worry about getting a ton of notifications on your face.
I also realised how running your own business can lead you to use and be whatever you want unlike working for someone, where you have to follow their set protocols 📏
This is a sort of all-in-one website for performing simple tasks which would otherwise take a while if you tried doing them using traditional softwares.
I came to know about this website after watching one of Jay Kapoor's Video
Songs 🎶
Podcast(s) 🎙
So this was their 3rd last podcast ever 🤧 and they are going to end it after 2 more episodes 😭 I only started listening to them like 3 months ago T_T
Rip my eyes


Yeh thoda advance ho gya 🥶
I did not understand a few concepts not because they were too advanced but because of the audio quality 🤧
XDD, Jk.
But for the ones that I did understand, I enjoyed the interpretations and mostly agreed, hopefully I will understand most of it in the future 😌
Memes/Edits from the last week 🐒
---
Goal(s) for the next week 🥅
The goal is simple
And it is to make the website for our business along with updating my own portfolio and maybe making a new website for it too 😈
---
So, all in all, quite excited for the next week as I will have a lot of work to do but at the same time a bit worried too about the blogs becoming boring for y'all
As if they weren't already.
Quote(s) from the week📃
Relationships are like ambient music. Staying in touch with people isn't about being loud and aggressive.
It's about subtle, regular connection.
From How to Maximize Serendipity by David Perel
---
Thanks for reading this week's blog. 
I hope you found something of value from it.
To leave a comment signup or comment as a guest using any random email.
How to Get notified every time I post here?
Join my community on
Telegram Discord Email
(Enter your favourite Email below)
Subscribe to get a new email from me every week, along with the link to that week's blog


Receive these emails in your gmail primary tab,
Android and ios: Download this file on your phone and select the email id using which you've subscribed
Download from Google Drive
PC: Just drag and drop it from Promotion to Primary tab.