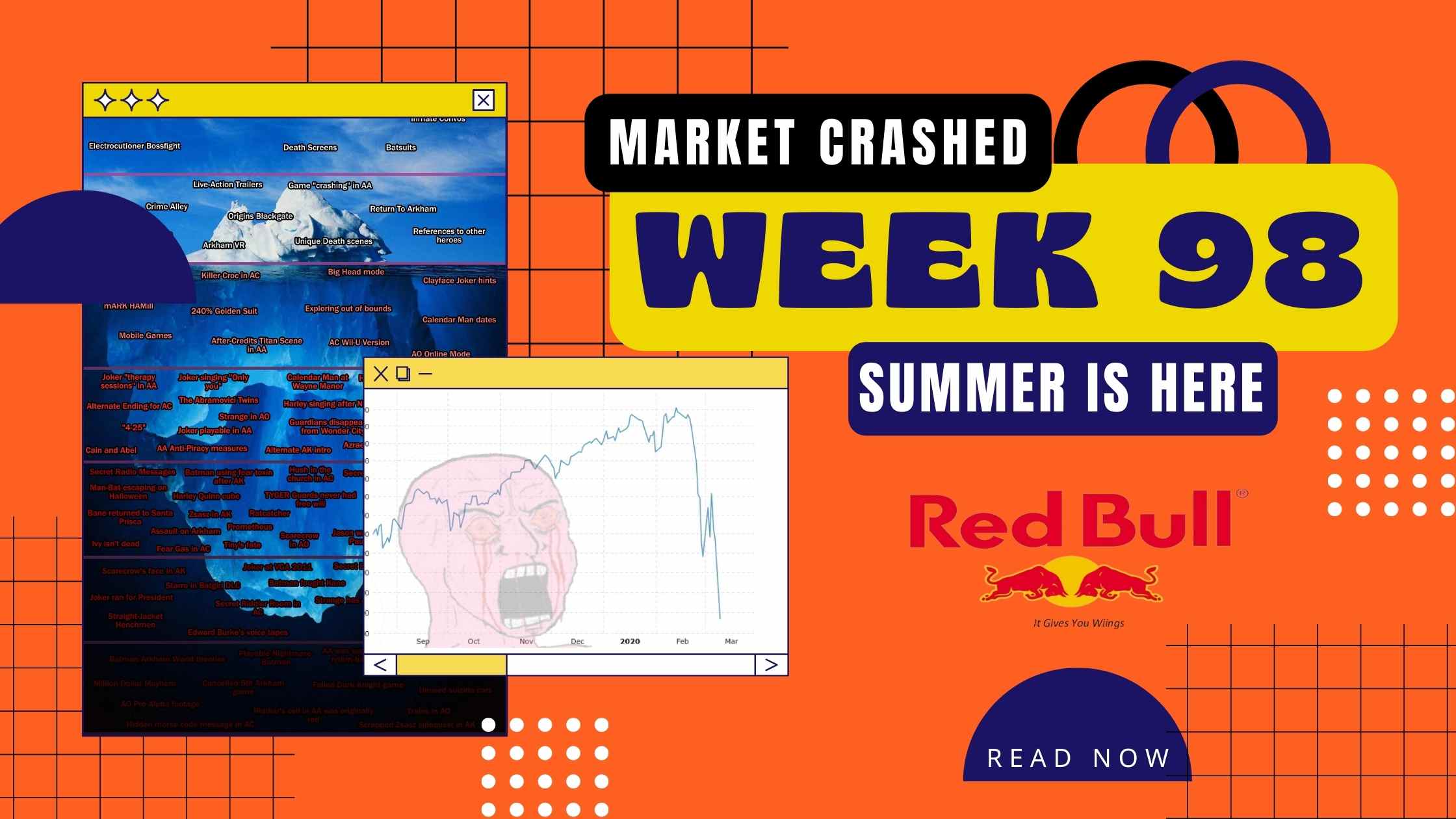 It was a nice week but filled with a lot more work than usual.
Also, my intensity of playing Batman Arkham Knight dropped this week after like wasting 2 weeks on it. 🦀Gaming addiction is gone 🦀
Also, one more thing is gone and that is my money which I had invested in crypto. 🙂
Personal Highlights
Fitness
Gym: Better than last week and for some reason my band shows that I burn more calories now compared to before not sure how accurate that is but I am glad that I haven't lost my consistency so far.
Morning Run: Took a small hit but my distance has increased so I am averaging out roughly the same distance despite lacking frequency but this is not how I want to make progress. I always prefer consistency over intensity when it comes to fitness or anything in general that compounds over time🤧
Learning
Reading: Last week, I switched to reading spark over the psychology of money because I wanted to make more sense of exercising and working out but then the markets crashed and now I am back to reading the psychology of money because it seems more relevant
Optimization and Organization
I got these two desk organizers sort of to arrange objects which would ideally lie on top of my mini shelf and take a lot of space and make everything seem cluttered.
So yeah, getting these organizer did solve the neat looking issue and my physical environment is cleaner than ever, but I haven't been making such progress on digital front, meaning I haven't been cleaning and organizing my PC's files and folder 😖
Job Update
A bit more than usual. On top of that I am not even sure whether the work that I did got approved or not 🤧 And I don't know I don't even feel like knowing it's not like it was going to make any difference 😓
Business Updates
Ocus closed a deal with Redbull to make some animations for their new gaming youtube channel and this is probably the first big client which we closed this year.
Finna use Redbull to give wiings to our portfolio and flex 😈 Even though it is a one time project only but if we can deliver good output, then maybe we have a chance of getting future similar gigs 😋
---
Thoughts on Journaling
A lot of people don't start journaling because they think they can't write well or they dread writing but in my experience with journaling, I have found that it is more of an exercise of thinking than writing. Nobody cares about the quality of the sentences you form while journaling. What matters is if we are thinking clearly while writing them.
Recently I started treating journaling as a writing exercise and slowly realized that if I treat it as a writing exercise, it won't serve its purpose of getting real thoughts out.
Writing does help us think clearly and that is why journaling is much better than just venting because whatever we say isn't permanent. We can always erase/cut it out and re-write our thoughts.
Opinions
You can't sell skill, you can sell value or get used for your skill by someone selling value.

— TRB (@teeaarbee) May 13, 2022
Social Media updates
Posted a meme on a coin that crashed leading to a lot of people losing their money and trust in cryptos, I personally lost around a thousand rupees, and I honestly don't feel bad or anything because 1. I fucking deserved it 😝