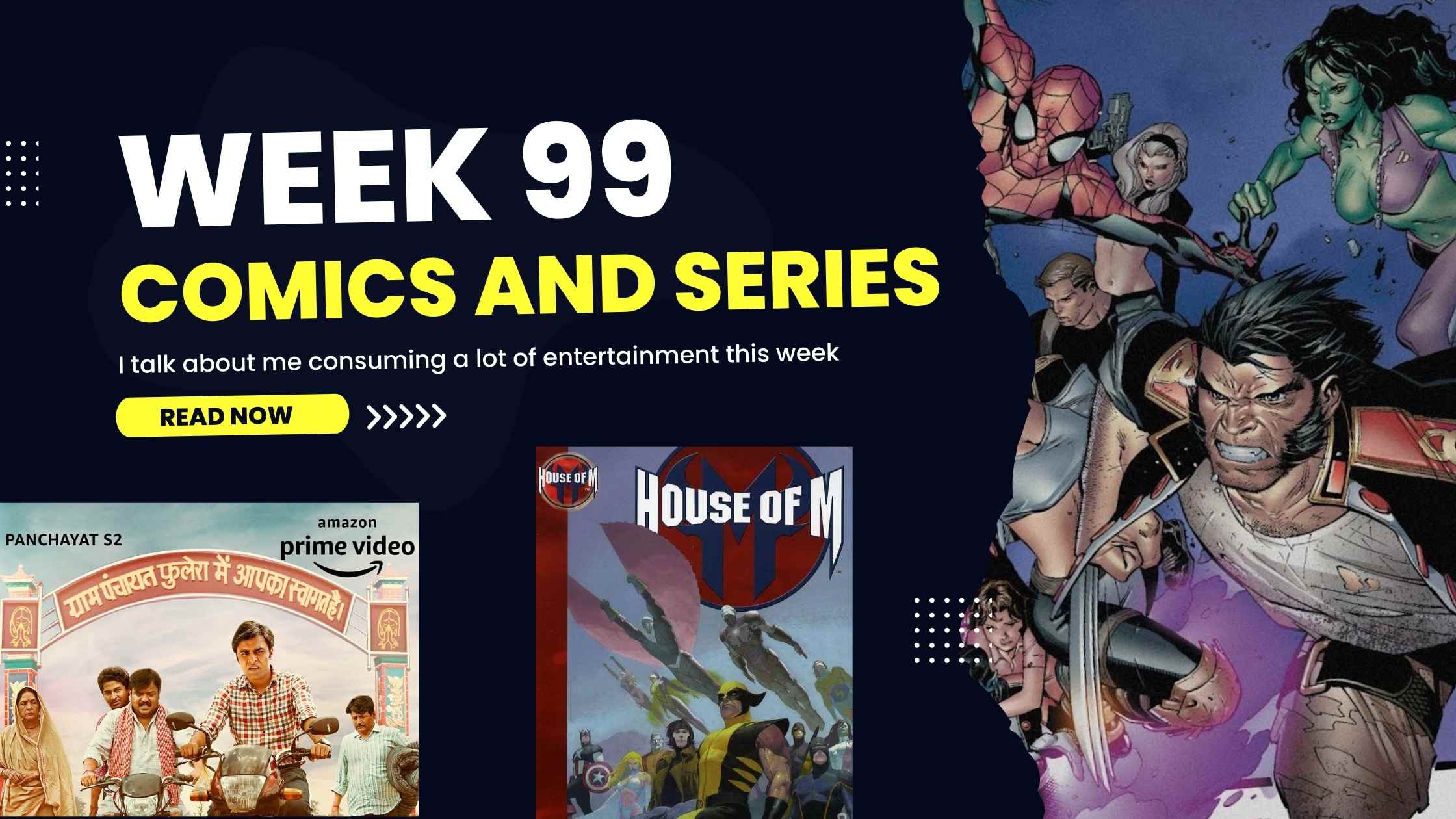 With Batman Arkham Knight having gone from my life, it was time to try out some new form of entertainment, and that's where the heroes of this week come in. All say hi to
House of M [Comics] &
Panchayat S2 [Webseries]
Both of which I have been enjoying for the past couple of days [Intentionally consuming them slowly], more on them below.
Personal Highlights
I have started adding back some old daily habits to my to-do list, liking coding practice and lead generation. Both of them went missing from my daily routine a couple of months back but now seemed like the right time to bring them back, even though I haven't started working on them in full steam yet.
Mindfulness
Focus has disappeared from life, and I don't know if it's a good thing or bad.
Fitness
Gym: went great as usual. Last week I had moments of weakness in between, but this week I felt strong almost every day throughout the week and not to mention I have also slightly increased my average workout time per gym session.

Morning Run: Going downhill despite having increased my total distance, has to do with the fact that I wake up just late enough till the sun comes out

PS: the sun comes out very early here. 😭

I think I will have to start sleeping at 10 if I want to go for a run on time.
Learning
I wouldn't really consider this week's consumption as "learning" because it was mostly entertainment.
Reading: I started reading House of M

It's free for Amazon Prime users and the kindle app is just amazing for comics. Just make sure you turn on guided mode and let your phone screen autorotate as per the comic panels.

Listening:

I bought an audiobook of Marvel's Secret Wars from audible. It turned out to be the older secret wars and not the 2015 one 😭

But anyway, I think I will be listening to it.
Optimization and Organization
My mom complimented me for keeping my desk and surrounding clean 😁
All thanks to these.
Job Update
I might lose my job soon 😳😦
Again not 100% sure (like Dettol) but the odds of it happening increased last week when the agency where I was working decided to say goodbye to one of its clients for whom I used to edit reels. Now with the client gone [from 1st june], I might not have a lot of work to do , which might lead to me losing this job [worst case scenario]
Business Updates
This losing job stuff might be the push I need to start getting clients for octalancer XDDD. I don't know why I am so fixated on 'doomsday scenario' leading to me turning things around, must be my obsession with superhero movies 😓
---
Thoughts from the past week🤔
Haven't had any strong thoughts this week, probably because I was busy consuming entertainment smh maybe I will share something next week.
Opinions 🗣️
Yeh bhi tweet mein daalna tha na pic.twitter.com/yspFFv7FuY

— Anosher (@AnosherYT) May 20, 2022
My Favourites from the Week ⭐
Book Highlights📚
How am I supposed to share highlights from comics? 😓
Anyway here are screenshots of a few panels XD.
House of M
VIDEOS 📼
Movies 🎥
I don't think I have the attention span left to watch any movie.
Series 📺
Panchayat S2
Finally, the much-awaited show was released this week.
And I have to say the show did not at all disappoint me, at least not yet [I am on episode 6]
Best Hindi web series of 2022, no cap. Honestly, I don't see any other current Indian web series even coming close to panchayat in terms of relevance and true-to-life performance.
Everything about this web series is just so good, which also happens to be the phrase that was going through my head while watching the series.
I kinda wanna write more about it but I will let you be the judge, feel free to watch it with your family.
App 📱
This extension lets you take screenshots from restricted players like Netflix, Disney + and Prime video, very useful if you love sharing screenshots of scenes with your friends or in gcs.
Songs 🎶
Podcast 🎙
Did not finish listening any
Memes/Edits from the last week 🐒
---
How was your week?🧐
Coming up next week🥅
Wow just realized next week's blog will be my 100th blog 🤯
Damn kinda excited about it and hopefully I will be able to write it on time.
Let me know if you want me to cover something special in next week's blog.
---
Quote from the week📃
From Panchayat S2
---
Thanks for reading this week's blog.
I hope you found something of value from it.
To leave a comment join my telegram channel and reply to this week's thread.
How to Get notified every time I post here?
Join my community on
(Enter your favorite Email below)
Subscribe to get a new email from me every week, along with the link to that week's blog