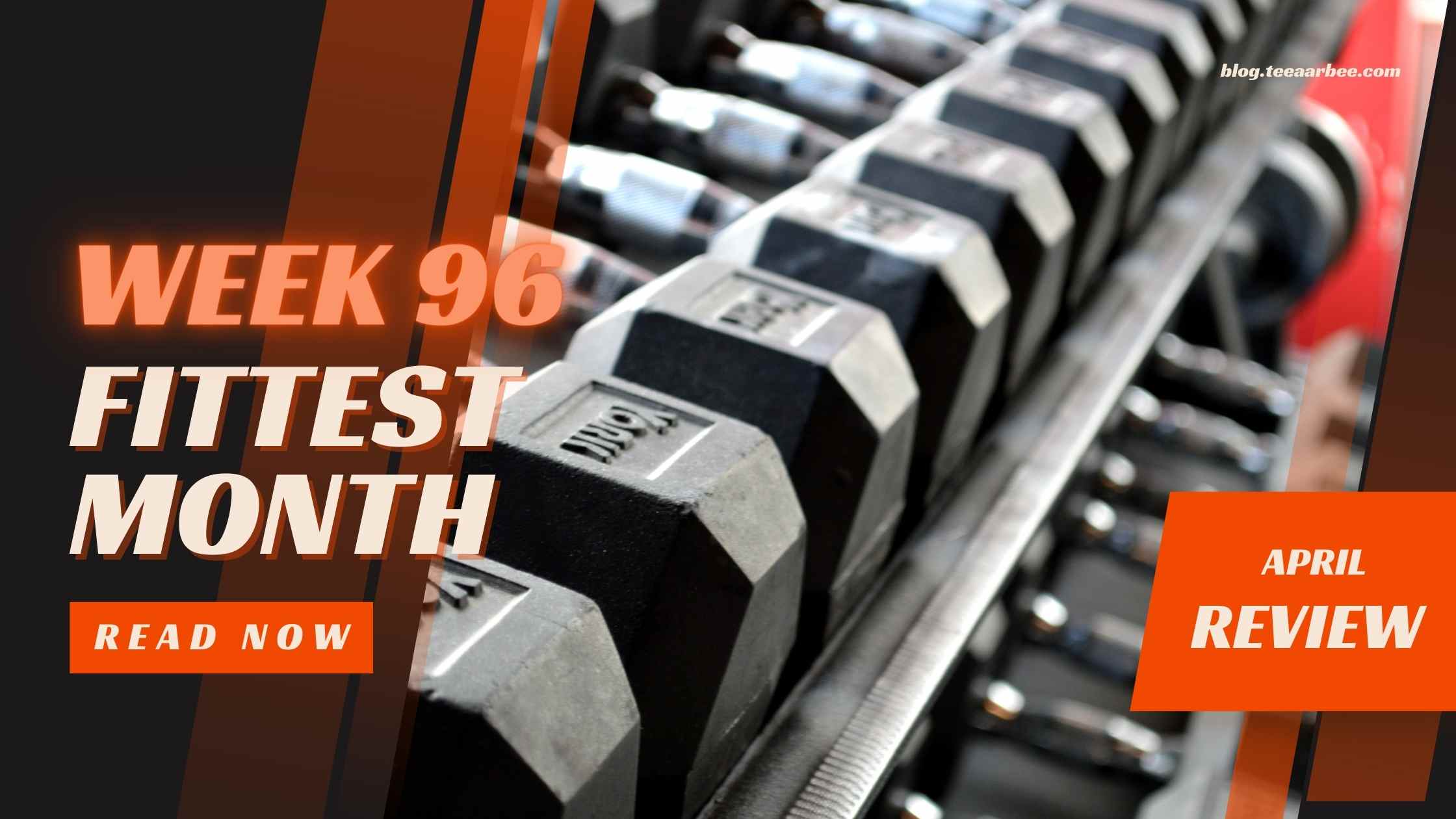 I guess we can consider 'this week's blog publishing time' an improvement if not a come-back.
Personal Highlights
Mindfulness
Journaling: The reason why this entry is back this month is that I accidentally skipped a day this week 😭

For the first time ever in 5 months 🤧 But hey, I won't let that sideline me. 😤
Fitness
Can't believe I went from WISHING all days were like this to wishing all weeks were like this to finally wishing all months were like this 😭
In the previous two years, April used to be the month when I stopped going for runs and usually the beginning of my summer slump, but I am so glad that things look different this year. 😌
Learning
Reading: I am halfway through Psychology of Money now and kinda getting bored of it. Maybe I will switch to Spark this coming week.
Optimization and Organization
Not much since the last week's blog, which came out on Thursday 💀
Job Update
Hmm got assigned some other work, but no complaints because the work I was doing previously has now been reduced. And any new work is great for my portfolio.
Business Updates
Ugh, I am tempted to say "same as last week" but I got work from a guy whose website me and anosher made in March.
So I guess we will have to work in a similar fashion once again on this new project but that doesn't change the fact that I haven't made any progress in getting new clients.
---
Thoughts on Life-Changing Things
The best things in life often take time to become a part of our life, and it is rarely an all-of-a-sudden moment. But yes, some decisions are life-changing, but usually, a life-changing decision needs a lot of context to be chosen at the right time, and then again, context building is not a one-time thing.
I wrote this a few weeks ago in the context of app recommendations. What I meant was oftentimes, the best apps get missed from being mentioned in the blog because I don't discover their importance over the course of a week but over a longer period. Sure I might have recommended them earlier in a blog, but that description is no longer valid because now that I have spent more time with the app or service, I have a different perspective on that.
Opinions
So much of what we like is psychology, yet I often find people correlating their choices with 'taste'

— TRB (@teeaarbee) April 29, 2022
My Favourites from the Week ⭐
Blogs/Articles 📑
The P.A.R.A. system and the importance of folders - RescueTime Blog
I came across this term last month but didn't fully understand it. Then I stumbled upon this blog from rescue time and realised this is some other productivity BS XD.
Idk for sure tho. Systems like these are tailored for the personal use of the person who made this, so I don't think I will be able to organize my files and folders using the PARA system.
Twitter Threads 🧵
Itna lamba tweet likha sidha bolta tax evasion karo 🤣🤣
itna confidence kaise hai yrr ke badi following ho ke Twitter pe tax evasion promote karo 🤐 https://t.co/q05PdKq1Or

— Anosher (@AnosherYT) May 1, 2022
Book Highlights📚
From Psychology of Money.
VIDEOS 📼
Series 📺
Moon Knight E5
Great episode, also quite unexpected. Loved the acting. I am not someone who understands acting, but this felt like art to me smh.
Game 🤹🏻
Batman Arkham Knight

🥶 Been playing Batman a bit too much. Maybe I need to reconsider the usage of my time a bit more deliberately.
Songs 🎶
Southern Nights - song by Glen Campbell
Sorry Khushal no new indie song this week 😫
Podcast(s) 🎙
Memes/Edits from the last week 🐒
---
How was your week?🧐
Coming up next week🥅
Doctor Strange : MOM 😳
Really excited for this one, idk why I feel like marvel will let me down this time 😢
Even if it does, I would be just happy to see a glimpse of Wolverine in the main MCU🤧
Ok, maybe I do have my expectations set too high, along with the fact that marvel is spoiling its own movie by releasing new TV spots every day. 😔
---
Quote from the week📃
Being angry online doesn't intimidate people or add weight to your arguments. All it does is show people you lack self-control, which makes you even less convincing.

— Gurwinder (@G_S_Bhogal) May 1, 2022
---
Thanks for reading this week's blog.
I hope you found something of value from it.
To leave a comment signup to disqus OR comment as a guest using any random email.
How to Get notified every time I post here?
Join my community on
(Enter your favorite Email below)
Subscribe to get a new email from me every week, along with the link to that week's blog