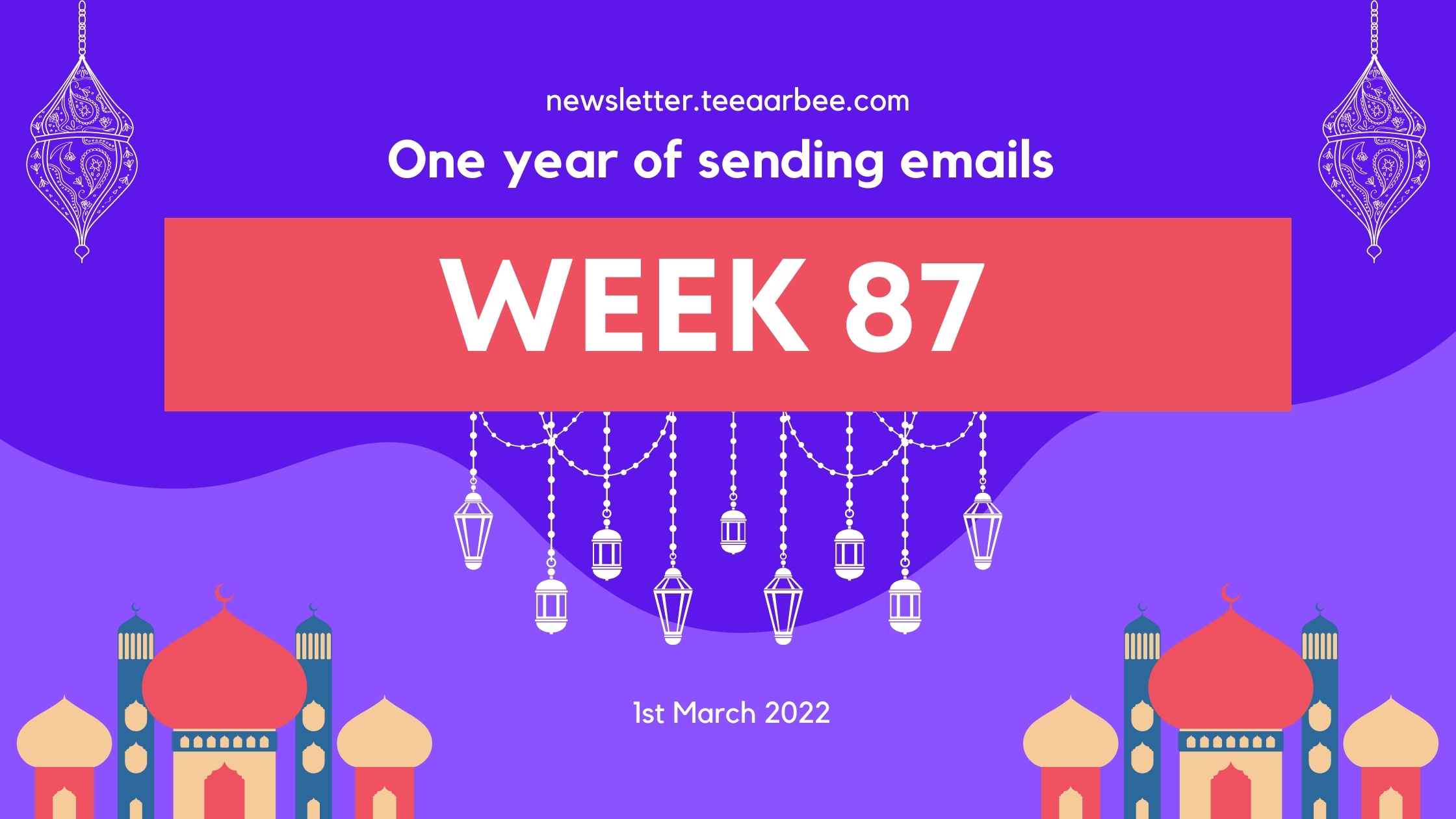 Writing this on 1st of march [2 days delay], the reason being well …. I procrast…
Today is one year anniversary of my Email newsletters 😎 &
Also, a year anniversary of blog switching to Hugo framework [The blog looked different prior to this day last year because it used Gatsby]
Anyway, it's a nice thing that I delayed writing the blog for 2 days because now I get to publish it on a special day 😌 Quite unexpected, honestly.
Personal Highlights
Last week wasn't great in terms of me finishing my to-do list items. I actually only did the things that I added to the list every day and not the pending stuff 🤐
Mindfulness
Journaling: Kinda addicted to it. I can't do anything other than writing my journal first thing in the morning, anything excluding getting distracted because getting distracted is more natural than following a habit IMO, and so distractions are what I always try to minimize.
Fitness
Morning Run

Didn't go out very regularly this week but will do in the coming week 🤧
Learning
Reading: Did not read enough this week tbh :( Idk why I don't feel like reading in my free time, I just take up my phone instead of kindle. It is hurting the wannabe productive image of myself in my head 🤧
Coding: I finished the photos project which I was doing at the time of writing last week's blog but I haven't yet started on the website which I was supposed to do 2-3 weeks back 😓
Optimization and Organization
Did not do quite a lot / deliberate efforts of organizing or optimizing my system but it is something I will reflect on much more deeply today and see what changes I can bring to my system.
Job Update
Company got rid of a clothing brand client this week, so now I am just in one team 🧘‍♂️ but will probably be given more responsibility once they sign other clients.
Business Updates
I talked with Ocus on discord regarding starting a business agency and shit and he wants to start one with me, so does this mean the death of Octalancer? Maybe 🥶 or maybe we can rebrand octalancer 🤔
---
Thoughts from the past week
It goes without saying that I had a lot of thoughts and opinions about war, but I don't feel like sharing them yet because I haven't thought clearly about it yet.
---
Watching reels on our own feed is more addicting than watching reels that others have sent us even though those are the refined items from their feed (they went through a lot of them and shared the best)

— TRB (@teeaarbee) February 27, 2022
I think the reason behind it is Instagram deliberately shows us a few videos that aren't that interesting, in-between other reels, in order to give it the poker machine effect wherein a person gets addicted not to the wins but to the chances of winning.
Opinions
If you are struggling with something just start giving advice about it on Twitter 👍 #reverse_psych your way out of problem empic style 😎

— TRB (@teeaarbee) February 22, 2022
Even tho this tweet, in particular, was a joke. It could be a good idea to teach something as you learn it.
It sort of is a double-edged sword tbh, wherein it might help other beginners a lot but there is also a chance of you spreading misinformation because you are very new to the thing.
Social Media updates