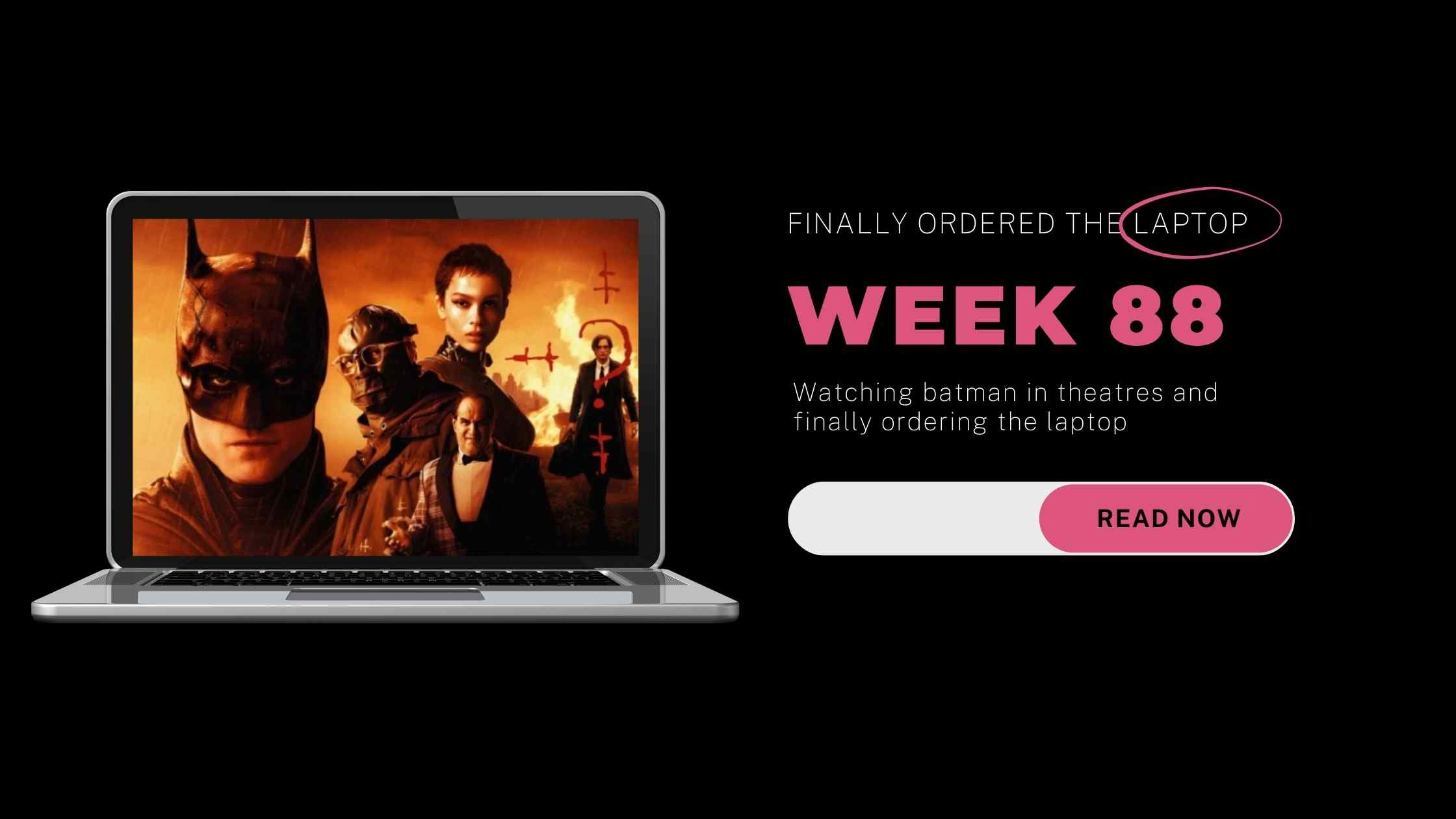 So I finally ordered the laptop this week, putting an end to my quest of finding a good laptop by watching review videos all day long.
By the time you are reading this, chances are I have already received my laptop. 🙈
Personal Highlights
I tried to keep up with my to-do list, and it was like last week, but this week I had a lot more room to breathe and wasn't consistently overwhelmed with work.
Mindfulness
Journaling:

Went better than usual in terms of capturing my thoughts but not very much in terms of me recording my work.
Fitness
Morning Run
Learning
Reading:

Slightly better than last week, chances are it will get worse this week as I will be spending a lot more time with my laptop 🥶

Coding:

So I did start working on the website project but my speed is very slow. I failed to commit to working every day on it, usually because I had some work excuse to throw at it but this is what I need to change this week and use my laptop ka superpower to finish the project 😤
Optimization and Organization
I was supposed to write a monthly habit review in my journal but I wasn't able to do it mainly because I had some small work excuse to throw at it but I need to take it a bit more seriously.
In terms of optimization, I don't know if I did anything but yes, in terms of organization, I did organize some of my habits and finance tracking database this week.
Job Update
Lately, I have realized that I am getting too comfortable with the job and the fire in my eyes of getting international clients has gone down by quite a lot.
I can now relate to a lot of people who are targeted by consumer companies, and not only that I can also relate to a lot of people shitting on self-help community wale log because you know in your job you have some role to play in order to make money for the company you are working for and thus bring value compared to the self-help bros who only make assumptions and talk about experimentations. I don't know if you understand what I am trying to say, but I will surely expand on the topic in the future.
Business Updates
So like I said last week, I was in talks with Ocus and he joined Octalancer. Together we will take this to the next level😤
Which btw happens to the first floor!
Because octalancer has been stuck in the ground for far too long and I realized it is better to let someone come in and help me take it up rather than just simply sitting on it with the safety net of backing me.
I also talked with Harlaksh on the call asking him for tips and we had a nice 30mins long conversation
---
Thoughts from the past week
Honestly, I was tired of wasting more time on this laptop purchase, yes it is the most costly purchase that I have made in a while. Actually, it's the first time ever XD
But nothing to be super proud of as I bought it on EMI and I could have avoided the EMI trap had I waited for a few more weeks but that would just result in me wasting more of my time and just waiting for it to arrive and change my life, I don't know why I feel like it's going to make a significant impact in my life I know it's just a laptop but yeah I feel like I will be way more productive after getting it. But will it? Let's wait till next week to find out 🧘‍♀️
And I could have waited for a day to write this blog and covered my first impression but I think that would spoil all the suspense which I have been building for the last 3 weeks😈
Opinions
Design institutes in India overwhelm their students with all the assignments in the world (at once) and then tell them to be creative 🙏

— TRB (@teeaarbee) March 3, 2022
Social Media updates
Once again, this week, I offered my Instagram followers 'nothing'. Next week? Probably the same.
My Favourites from the Week ⭐
Twitter Threads 🧵
How my Dependence on Facebook cost me my startup, $100M, and 110 jobs

It's the first time I've publicly spoke about this in 4 years.

A 🧵...

— Joe Speiser ⚡️ (@jspeiser) February 22, 2022
Book Highlights📚
From Spark
VIDEOS 📼
Movies 🎥
The Batman
I watched the movie not the day it was released but the day after because I had to go with my old IRL friends and they had jobs on Friday 🙄
But anyway less about me, more about The Batman.
I personally quite liked the movie and loved the slow pacing of the movie even though I totally understand how some modern superhero movie fans might find it boring but this is the type of Batman man movie the long-time fans have been waiting for.
#TheBatman is the most beautiful looking movie I have ever watched 🎥

— TRB (@teeaarbee) March 5, 2022
The movie is a treat to your eyes the color palette is so consistent and vibrant 🤩
But imo good superhero movies need a long if not strong base to stand on for example the marvel movies have such a long line of movies and stories that they can just keep referring to the events that have already happened and can make a movie out of it but in case of batman that won't be possible because it's a new universe, and so there is not only a lot of character development but also a lot of story development that needs to happen before normie fans can start enjoying it.
I however am no normie😎 kya matlab YouTubers ka opinion copy kar k main cool nahi ban sakta 🤬
Bottom Line: Loved the movie, plus batman is my favorite No.1 Superhero, so even if they made a shit film I would still defend it. So yeah, thank you for reading my biased movie review of The Batman.
App 📱
Don't remember any this week but next week there are gonna be a lot of them 😋
Songs 🎶
Podcast(s) 🎙
Is the fight for Future Retail finally coming to an end? by Finshots Daily
Memes/Edits from the last week 🐒
---
How was your week?🧐
Coming up next week🥅
LAPTOP 1 WEEK USAGE REVIEW
This will be my life's first personal laptop, I have always been a desktop user and so this is quite exciting for me NGL 😋
Btw I just realized that I haven't shared which laptop I brought because most of the people reading this blog are from my telegram group so they already know XD
But this is the one that I brought.
---
Quote from the week📃
"You can't double your intelligence in one hour, but you can use one hour to write something twice as clear. And ideas that are easy to read and easy to understand will make you seem smarter. The better you communicate, the more intelligent you appear."
From 3-2-1 by James Clear
---
Thanks for reading this week's blog.
I hope you found something of value from it.
To leave a comment signup to disqus OR comment as a guest using any random email.
How to Get notified every time I post here?
Join my community on
(Enter your favorite Email below)
Subscribe to get a new email from me every week, along with the link to that week's blog