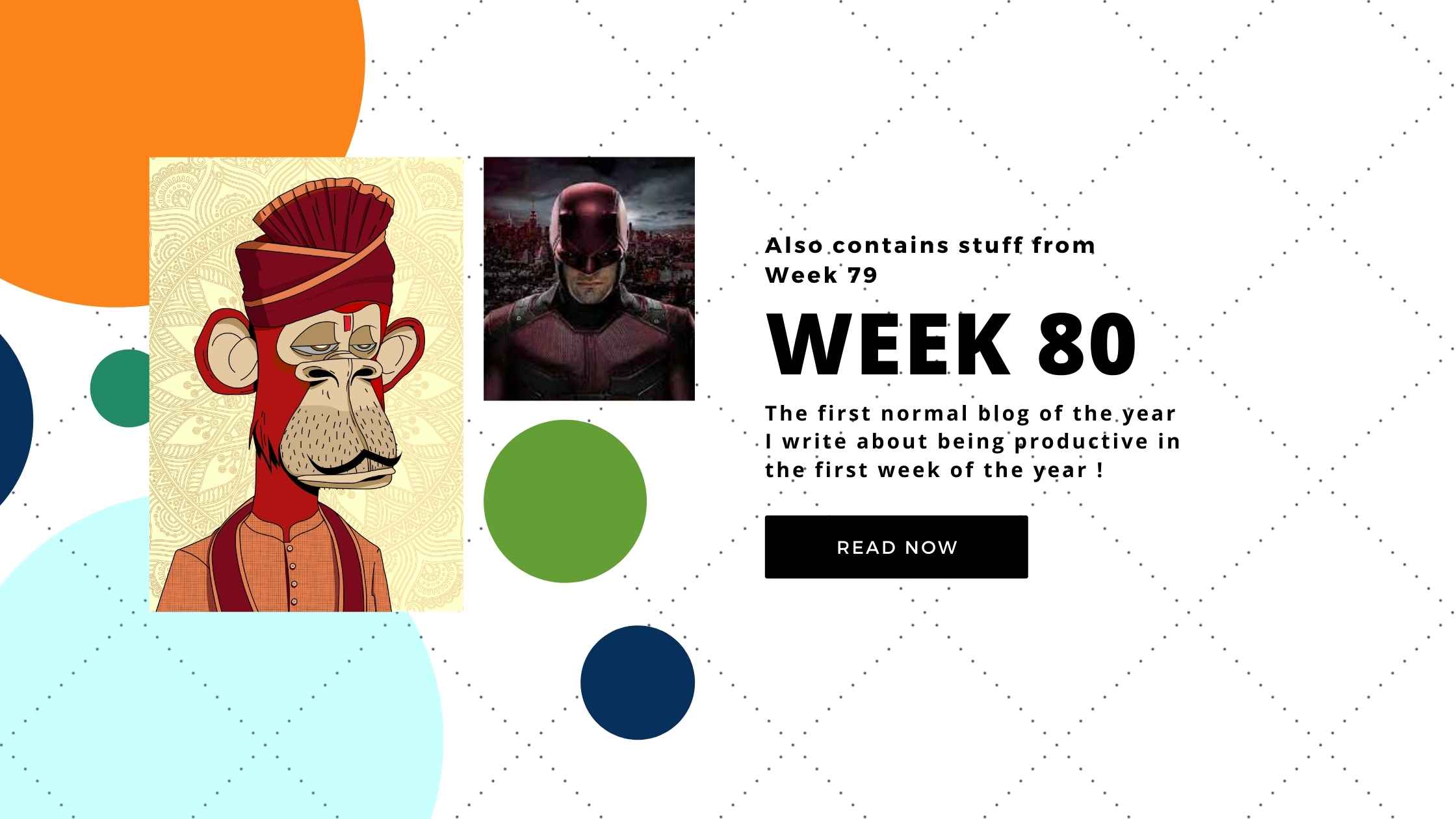 Welcome to the first official normal blog of the year 2022.
I just realised that I had forgotten to wish you a Happy new year in the last blog, so here it is
I will summarise the last two weeks in this week's blog because my previous blog was a yearly rewind, but I still named it week 79, just to maintain the streak(ego).
Personal Highlights
I haven't been hitting all the items in my checklist lately and me procrastinating on my review blog was a big part of it but now that I have finished writing it, I think I can finally get back to the new normal and focus a lot more on my personal productivity and business side of things.
Mindfulness
Journaling
I have been very consistent with it, and have made a few small changes like I turn on the full-screen mode in chrome while writing my journal by pressing F11 because I was getting distracted mid-way while writing my journal and I also keep my mouse a bit further away.
Meditation
🙂
Fitness
Morning Run

I will summarise the last two weeks in this week's blog because my last blog was
Learning
Reading
I finished reading all the old pocket articles that I had saved in my kindle and now have started reading a book called 'Getting things done'.
It's a very productivity-centric book. I know I told you all that I was done with reading more productivity non-fiction books but since I am very much into getting things done these days, I felt like giving it a try. Let's see if I can extract some actionable insights from the book.
Coding
Have been doing the bare minimum because of a conflicting schedule but I am glad that I haven't given up on it yet. Btw you can check my freecodecamp profile to see if I am still maintaining my practice streak.

Optimization and Organization
I haven't been deliberately organizing my files as a habit like I tried doing a month ago. Now it is more spread out and random. I am not sure which approach is better. I just want to end up with an emptier disk T_T
I have been trying to adjust the way I approach certain things and eliminate potential time-wasting stuff from my day-to-day activity. I also installed two apps from a company called cold turkey, which have helped me not get distracted while working in the last week. I will share those in the app recommendations section below.
Job Update
Been getting work on the weekends too but it is not a lot and so I am fine with it.
I also got paid my first salary of this job this week (50% used already 🤐)
Business Updates
The salary wasn't supposed to be enough anyway, so my quest of finding a few high-paying US clients continues.
I sent out a few batches of cold emails this week from the new email ID and it got a 50% open rate (last time it was 9%)
And I got a few replies too, but getting a client takes more than a few replies smh, so I will be spending a lot more of my time and energy into prospecting and sending cold emails in the coming week.
---
Thoughts from the past week
I shared a lot of my thoughts in the 2021 year review blog, which I just published yesterday. So feel free to read that out. Yes, it's a bit long but has a lot of my thoughts, both fresh and old.
Opinions
Most new year resolution tweets that I have seen so far are kinda dumb because they go against our biology,

Please educate yourself first and then maybe try to set a resolution if you are actually serious about it.

— TRB (@teeaarbee) January 2, 2022
Social Media updates