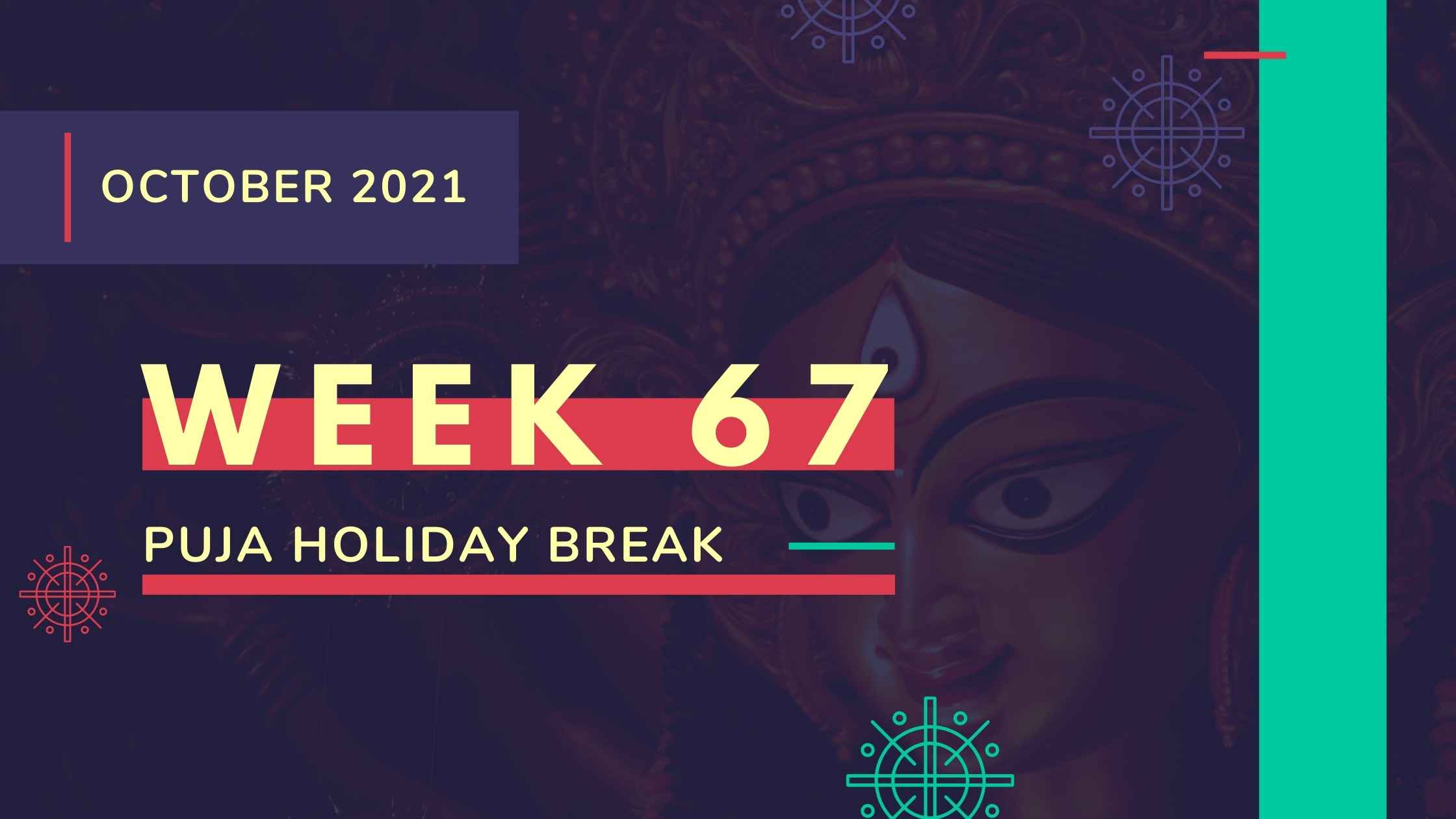 It's funny how I titled last week's blog as it's coming back and I meant morning runs by it but instead something else came back this week.
That too after 1.8 Years ❗
Can you guess what it is?
It's sore throat followed by runny nose 🤧 aka attack of the common cold virus or idk what it is called, but I somehow managed to get infected and it sucks, esp given that it's festive season here in West Bengal 🤒😷 and I won't get to enjoy it to the fullest, curse for being an atheist, I guess 😿
Anyway, let's move on with the blog.
Personal Highlights
So after I finished The unfair advantage last week, I put up a poll on twitter asking which book to read next
So I finished reading 2 business books back to back, now I want to go back and read something about ourselves

Which book should I read next

— TRB (@teeaarbee) October 4, 2021
And unsurprisingly Why we sleep won.
But obviously I wasn't going to read the book that won but instead the one that I wanted and so I went ahead with
The Elephant in the Brain: Hidden Motives in Everyday Life by Robin Hanson
And I have to say even though the book started mentioning whatever I previously thought was true, I mean the core idea, It still managed to scare me, esp with the warning at the end of the preface 🥶
It has a classic Red pill Blue pill moment where the author tells us to make a choice if we want to continue reading, and he mentions The Matrix movie too, obviously.
Now I know all these might sound funny but it is actually quite scary and you would know why if you read it, but I wouldn't recommend anyone to read it, at least not until I finish it first 🤓
I finally went out for morning walk on Tuesday and Wednesday, after a really long time.
And I would have continued it, if not for this cold and sore throat.
I also managed to change my sleep cycle by waking up at around 6-7am in the first half of the week but then …. sickness😔
However, cold did not stop me from working, I think, I did work on like 4 small videos for a client (minimum wage T_T) and also figured out how to use Apollo.io which I will be using more next-to-next week once I come back from my week long vacation.
Yes, that's right I will be going away for a week to my relative's place for a week, starting tomorrow. I'll come back next Sunday.
So, next week's blog is pre-delayed already I guess 🥶
Business Updates
Nothing special just made the page of page of Octacast live.
It is out podcast post production service which I will be marketing over cold emails once I return from my short holiday.
---
Thoughts from the past week
No podcast again this week as my throat isn't fine 😷
Also because I don't have much time in hand to record and edit.
But here's a thought inspired from my switch of books this week
So like I mentioned above, I started reading Elephant in the brain but then once I got a bit sick I switched to reading
Body: A Guide for Occupants by Bill Bryson, especifically the chapters covering throat, immunity and lungs.
As I would relate to it more and learn the contents inside more effectively compared to reading something not related to body.
Also because I would staying with my relative's for the next couple of days and in that context elephant in the brain isn't a very friendly book as it is a thought altering book and sure it will stimulate me intellectually but it won't help me in socializing in anyway.
Opinions
No one should be changing their fandom because of trends, if you liked someone for their work then stick to it. People are not black and white you don't have to dislike them just because a few people are doing so.

— TRB (@teeaarbee) October 10, 2021
Social Media updates
I also got to know that windows 11 isn't compatible with my CPU 🙂
I installed win 8.1 on 1gb ram and a single-core processor back when everyone was bullying yo ... and this is how u pay me 8 years later 😢💔

— TRB (@teeaarbee) October 5, 2021
Just randomly combined two memes that came up in my feed and posted


Link to post
My Favourites from the Week ⭐
Blogs/Articles 📑
It's written with the perspective of finance but I think it applies to our life too, on a philosophical level 🤪
Book Highlights📚
From The Elephant in the Brain: Hidden Motives in Everyday Life by Robin Hanson
VIDEOS 📼
Movies 🎥
Yo Idk why I re-watched it but I did before the last episode of What If.
Series 📺
What if S1E9
Nice finale episode, liked it.
Would have loved if I got to see the Tony Stark wala ep too🤒
Party thor is mood ❤#whatif pic.twitter.com/9npAEbs50c

— TRB (@teeaarbee) October 6, 2021
Creators 🤹🏻
Like I said above in the video section I watched one of his video as instantly became a fan, doesn't happen usually but I liked his content and his profession too, in someway I guess.
Songs 🎶
Podcast(s) 🎙
Just listen to the last 15mins if you don't want to listen to the entire thing, way too good
Great discovery by me 👉😎👈
Idk how I stumbled upon this podcast but I loved it and will be listening to more of the episodes soon.
Memes/Edits from the last week 🐒
---
Poll of the week❎
H888. Last week I did not get a proper response in my email so no poll this week 💢
Goal(s) for the next week 🥅
Enjoy vacation
Read a lot on my kindle in free time.
---
Quote from the week📃
Confidence is comfort due to repetition.

— Prakhar Gupta (@prvkhvr) October 5, 2021
---
Thanks for reading this week's blog.
I hope you found something of value from it.
To leave a comment signup to disqus OR comment as a guest using any random email.
How to Get notified every time I post here?
Join my community on
(Enter your favourite Email below)
Subscribe to get a new email from me every week, along with the link to that week's blog