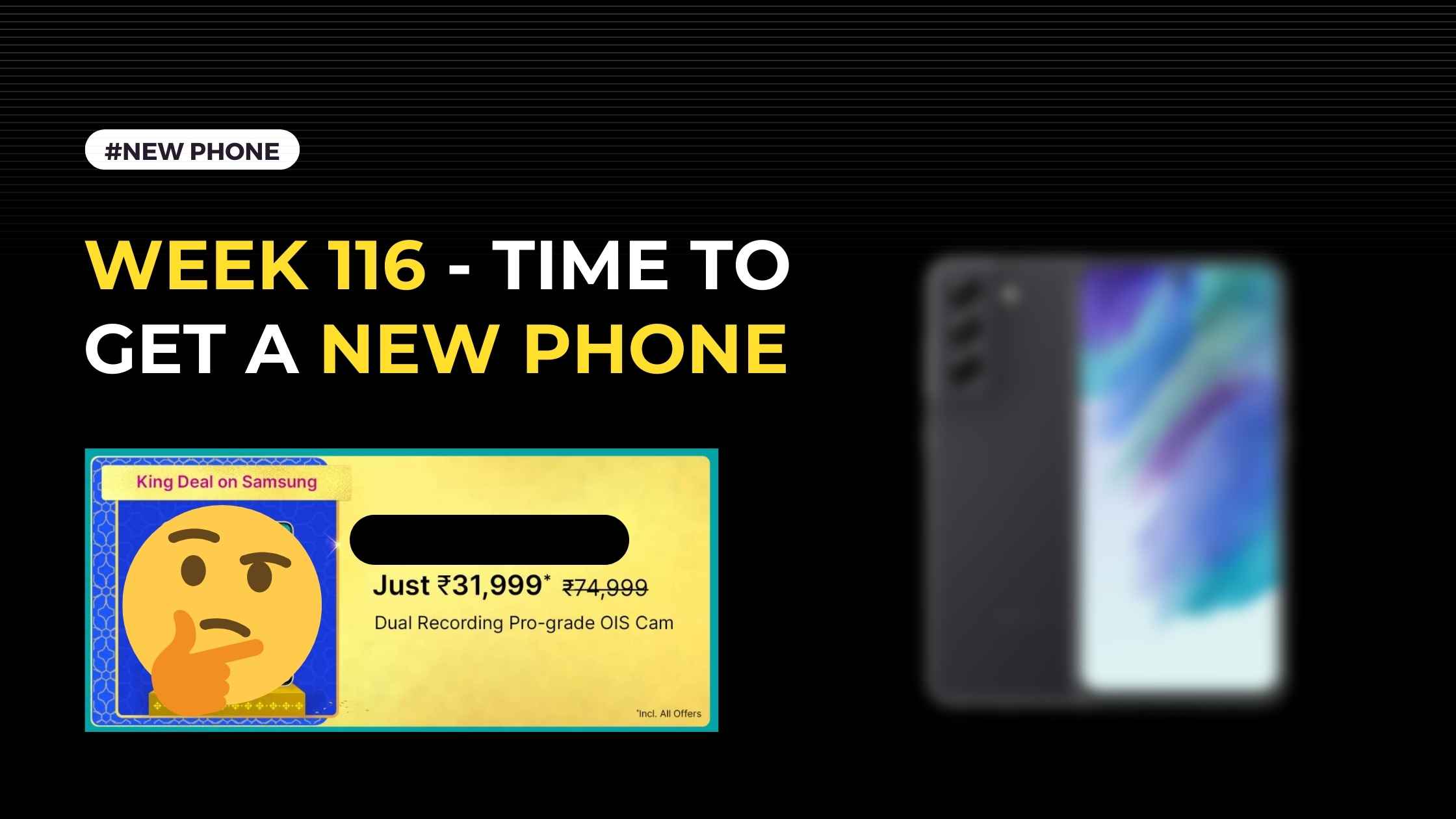 Every week I get closer to not writing the blog, as I experiment with the idea of putting a full stop to my weekly activity of writing here.
But that sort of goes against my idea of starting the blog, but then again I am not someone who marries an idea indefinitely.
So I don't know, will I stop writing blogs soon? Will I stop writing them someday? Yes that's for sure. I don't think I will always keep writing here. A day is going to come when I write my last blog here, I just wish when that day comes I am aware of it.
Personal Highlights
Nothing much this week other than working and getting to know about upcoming smartphone deals.
Fitness
Lacked energy this week, except for the days when I drank caffeine before my workout.
I don't like coffee but the gym is the only reason I drank it a few times this week before going for my workout. Mostly in cold water with no additives just coffee mix 😶‍🌫️
Also, this is the first time in my life that I have had black coffee, before this I have always had my coffee with milk and sugar.
Job Update
The first half of the week was quite light but then in the last half of the week, we got bombarded with work, mostly flipkart-related because of their upcoming sale.
So in a way, I don't mind the work because their sale is the reason I am going to get my phone at such a discounted price.
Business Updates
All the un-responsive clients who kept us on hold came back, all at once, and everyone wants their website before the end of the month and even if they don't I want to make it😤
---
Thoughts from the past week🤔
So I am finally getting a new phone and this will be my 2nd phone ever since starting this blog.
Why get a new phone?
Because my current phone is are become kharab.
Quick Recap of my POCO X3's condition:
Front and Ultra-wide cameras don't work
2nd Sim Slot doesn't work
Speakers don't work 💀
So getting a new phone is the only logical thing that I could do, however, it kinda makes me sad to get a new phone because performance-wise this phone still works great with barely any lag, unless I'm multitasking but even then the experience is very smooth.
However hardware wise it's kinda fucked up. I don't know what's the reason behind it, prior to this I used a redmi device for almost 3.5 years with no issues whatsoever.
Anyway, my next phone won't be of a Chinese brand, instead, I have decided to go with Samsung.
I will be getting the Galaxy S21 FE, mainly because of its great compatibility with my galaxy watch and also because I kinda wanna try ONE UI of Samsung.
A year ago if someone would have told me that I would be getting a Samsung device I would have laughed at them lmao, because not only I have always hated the brand but also because I did not like their UI at all.
But after some research this year I have come to the sad realization that Samsung is the only reliable option in the Android world that is in the upper mid-range/ flagship section.
Would have preferred iPhone over this but not only is it 15k extra but also my watch wouldn't work with iOS, so yeah Android Master race 🥶✌
Opinions 🗣️
It's always the year when we first started discovering and listening to songs that we consider as the best year

— TRB (@teeaarbee) September 14, 2022
My Favourites from the Week ⭐
Twitter Threads 🧵
I just discovered a 1-man company that pulls in $13M/yr selling the most basic software you've ever heard of.

I was curious so I went full Sherlock Holmes to figure this out.

Here's the story 🧵

— Jon Davids (@realjondavids) September 18, 2022
VIDEOS 📼
Series 📺
Rick And Morty S6
I forgot to mention it last week but I also started watching the new season of Rick and Morty.
I liked the first episode a lot, felt like a classic but at the same time also like they were cleaning their slate.
E2 was slightly less enjoyable but it could be because I was in a bad mood that day.
Anyway I am excited about the upcoming episodes of the series
House of the dragon S1 E4
Yo they started doing it😳
I mean I don't know what else, 'it' was the only highlight of the episode for me.
She-Hulk E5
Dear Marvel,
Please end my suffering marvel, please just introduce Matt Murdock and give me a reason to not hate this series 🙏
I keep waiting for daredevil to show up in every episode and it keeps breaking my heart 😔
Creators 🤹🏻
Time to give shoutouts to a few of my favourite fitness influencers
Indian
SHIVAM DUBEY - yourfitnesstories
Great shorts
Arpit Mangal - All About Nutrition
Good protein review
Firangi
Noel Deyzel
Great personality
Sean Nalewanyj
Good reaction and explainers
Songs 🎶
Memes/Edits from the last week 🐒
---
How was your week?🧐
Coming up next week🥅
New Phone Oye 🥳
---
Thanks for reading this week's blog.
I hope you found something of value from it.
To leave a comment join my telegram channel and reply to this week's thread.
How to Get notified every time I post here?
Join my community on
(Enter your favorite Email below)
Subscribe to get a new email from me every week, along with the link to that week's blog