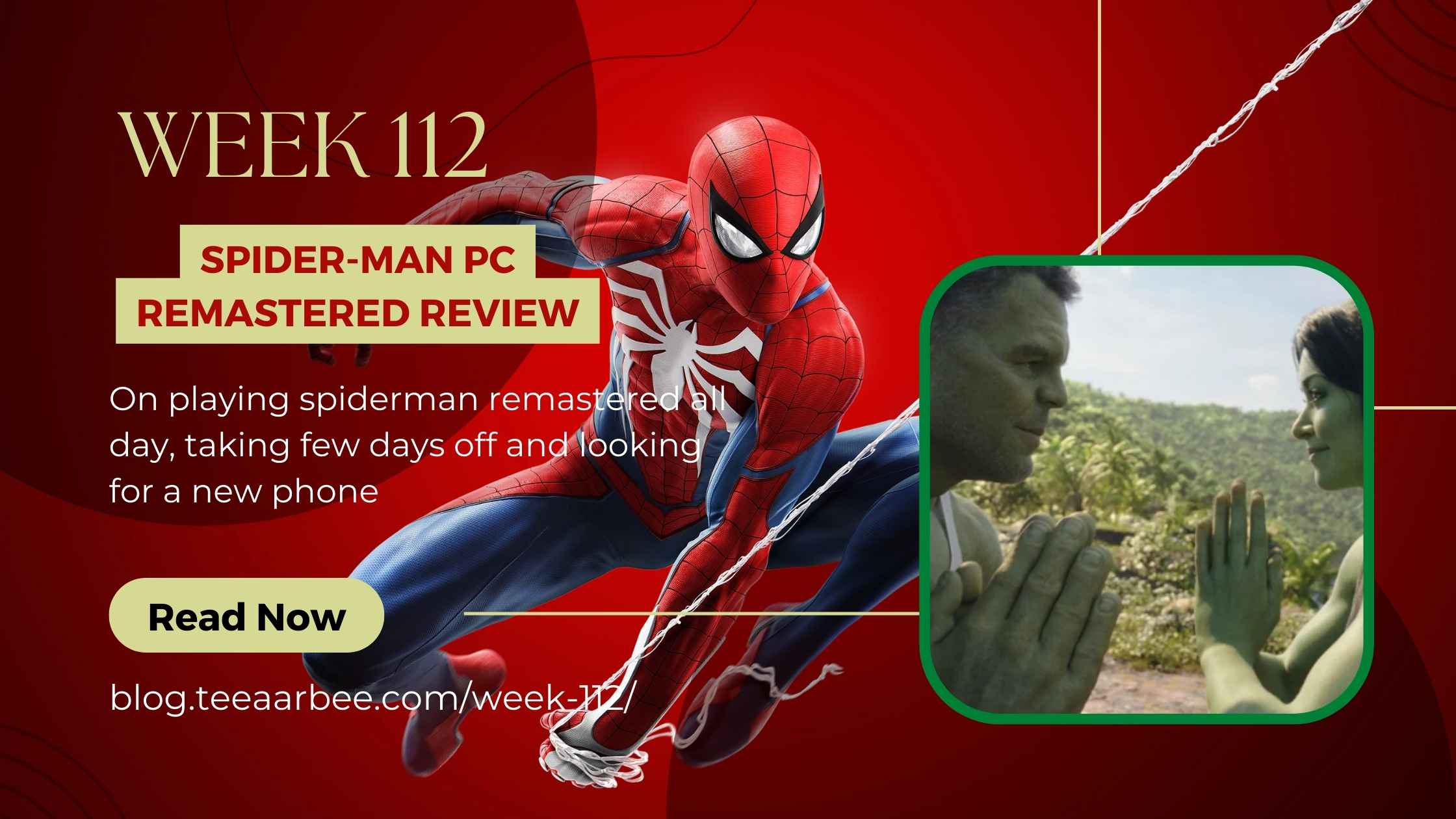 Writing this blog on time after spending the entire day browsing smartphones 👻
Phone Update
Last week I mentioned that the front and ultra-wide cameras of my phone aren't working, this week the 2nd sim card slot of my phone stopped working, so even though it was a dual sim phone, now it's a single sim phone 💀
This new sudden damage got me kind of spooked and I started browsing for phones with exchange offer so that I can get rid of my current phone.
However, a part of me wants to wait for a bit more before ordering a new phone. And so all I have been doing lately is browsing phones 😷
Personal Highlights
Nothing significant this week, just that I took 3 days off gym and work and visited my relatives around the weekend. Ate a lot of food and watched a lot of mobile phone videos.
Fitness ****
Gym: The new routine in the gym went better than expected but I missed a day at the end of the week. I need to spend a few more weeks with this new workout style to get used to it.
Even on the days when I missed working out this week, I walked a lot of steps and I think that sort of justifies the almost similar calories burnt numbers.
Learning
Reading: Did not read much this week, enough though I had taken my kindle with me I used all my time to watch yt on the phone 😿
Job Update
Same as last week.
Business Updates
Might have gotten a new client but an uncertain client is as good as no client.
---
Thoughts from the past week🤔
Opinions 🗣️
Not posting is as addictive as posting consistently.

— TRB (@teeaarbee) August 18, 2022
My Favourites from the Week ⭐
VIDEOS 📼
I watched a bunch of shorts this week [Might be getting addicted to them]
But I will try and exclude most if not all of them from this section.
Purchases 🛒
Bday cake for mom 🥶
Series 📺
She-Hulk
Kinda disappointed but also not at the same time.
I don't know what I was expecting from the show but it sure wasn't Hulk saying "BRUH".
Anyway, this episode felt like a short film showing us the origin of she-hulk and I am not excited for future episodes.
But at the same time, I am excited to know about the message carrying sakarian ship.
I am still going to watch the next episode, just in hopes of catching a glimpse of daredevil🤒
Game 🎮
Spider-Man PC Remastered
Finally a spider-man game!
In fact finally a PC game worth playing because as you might know I rarely play PC games these days and whenever I play it's usually an old game that I am re-playing but this is the first time in a very long time that I am not only trying but also playing a new game on PC.
I spent a bit chunk of my week playing this and this has been an absolute delight.
I had heard in some reviews that the fighting style was copied from Arkham which I was kinda disappointed about but now that I have played the game I found it to be quite unique and not at all like Arkham style.
My favourite part however is swinging across the skyscrapers of new york it's just so beautiful even on low graphics settings 😓
PS: The only spiderman game that I played (made significant progress) before this was
Spider-Man: Return of the Sinister Six
I loved playing this in my video game as a kid, it was also my first encounter with villains like Mysterio
PPS: I found a link to play it online
Might give it a try next week
Songs 🎶
Did not listen to many songs this week 🤐
Podcast 🎙
Not Overthinking | Taimur got Married: Life Update
Memes/Edits from the last week 🐒
---
How was your week?🧐
Coming up next week🥅
Spider-man PC game progression
Hunt for the smartphone will take a pause because I ain't buying a phone before the sale.
---
Quote from the week📃
30. Gurwinder's Theory of Bespoke Bullshit:
Many don't have an opinion until they're asked for it, at which point they cobble together a viewpoint from whim & half-remembered hearsay, before deciding that this 2-minute-old makeshift opinion will be their new hill to die on.

— Gurwinder (@G_S_Bhogal) July 8, 2022
---
Thanks for reading this week's blog.
I hope you found something of value from it.
To leave a comment join my telegram channel and reply to this week's thread.
How to Get notified every time I post here?
Join my community on
(Enter your favorite Email below)
Subscribe to get a new email from me every week, along with the link to that week's blog