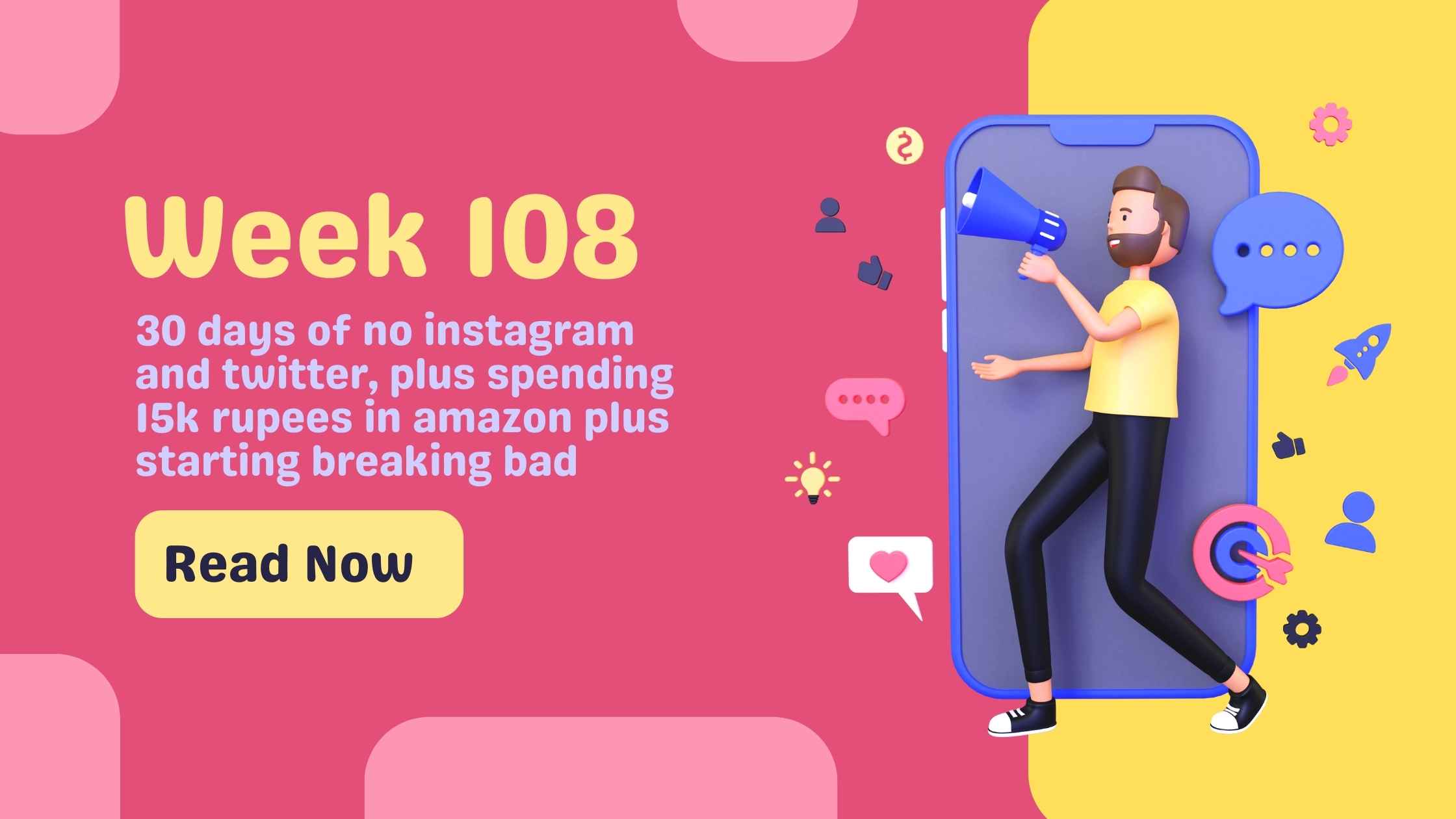 It was the last week of my month-long social media detox which btw was intended to last for like only 7 days. More about the week and detox in the 'thought section' of this blog.
Personal Highlights
This week was quite different from last week esp because the weather changed this week from scorching heat to being rainy and cloudy once again.
Fitness
With cloudy weather comes the rainy morning .😔
And guess what that led to?
Me skipping my morning runs 😭
Gym: I did go to the gym regularly [5 days a week]

This week however I felt a bit low on energy compared to the last week maybe because I am getting used to a new workout routine or maybe because of the weather, I don't know.

Could also be because the gym is much emptier these days compared to a few months back, now you would expect someone as introverted as me to enjoy the solace but guess what workout psychology is different 🥹
Learning
Reading: Almost finished reading Psychology of money [will be finished by next week]
Listening: Cancelled my audible subscription, because I have bought most of the audiobooks from my audible wishlist using the monthly free credit. On top of that, I don't listen to audiobooks these days so cancelling the subscription made sense.
Job Update
Very much like last week but first half was switched to the second.
Business Updates
Started working on two of the websites, and installed WordPress on both of them, but haven't been getting feedback from clients. Hope they don't ghost us.
---
Thoughts on taking a break from Social Media
So I just completed my social media detox and logged back into Instagram after 30 days and as predicted I did not really miss on anything[not that I would know of anyway XD] but also my mental abilities like paying attention did not change… Maybe it did slightly but honestly, I can't tell a difference between then and now, which is disappointing because some youtube videos say that a detox rewires your mind 😶
Not that I trust them but it could also be because I continued browsing the internet normally and maybe that is what stopped my brain from changing I don't know.
But the best part about this whole detox was I got a lot of extra time which I wouldn't have gotten otherwise.
I don't really have any other thing to vouch for this detox other than getting time. Now how you use the time is what actually matters, in my case I think I used most of it to relax and stay calm which sort of feels like a wasted opportunity but it is what it is.
PS: I don't feel like installing Instagram on my main phone. I installed it on my old Redmi phone, that way I will use it less often and will also not be tempted to click the app when I am checking something on my primary phone.
However, I am not sure how long I can keep up with it so we will see and I will let you know about it in my future blogs.
Opinions 🗣️
Teenagers who are very pro-culture are the ones who rebelled early and took the "I told you so" thing very hard.
VIDEOS 📼
Purchases 🛒
Lmao it's embarrassing, the amount of money that I have spent this week on Prime day is just … I don't know I kinda feel a sense of guilt in me for buying things that I don't really need. I mean I kinda do but that sort of need is called want.
Anyway here's a list of things that I might have brought [Scroll to Jul '22 if you are reading this in the future]
Series 📺
Breaking Bad
Yo… that's right I finally started watching breaking bad 🤯
And I don't know I just finished season one the show is as good as I expected it to be.
More on it as I watch more episodes.
Songs 🎶
Podcast 🎙
Listened to a podcast while Sunday evening walk and did not understand jackshit maybe because the content was crap or I wasn't paying attention, so no recommendation.
Memes/Edits from the last week 🐒
---
How was your week?🧐
Coming up next week🥅
Breaking Bad binge-watching ses. 🥶🧪
---
Quote from the week📃
Yeah science - Jesse Pinkman
---
Thanks for reading this week's blog.
I hope you found something of value from it.
To leave a comment join my telegram channel and reply to this week's thread.
How to Get notified every time I post here?
Join my community on
(Enter your favorite Email below)
Subscribe to get a new email from me every week, along with the link to that week's blog