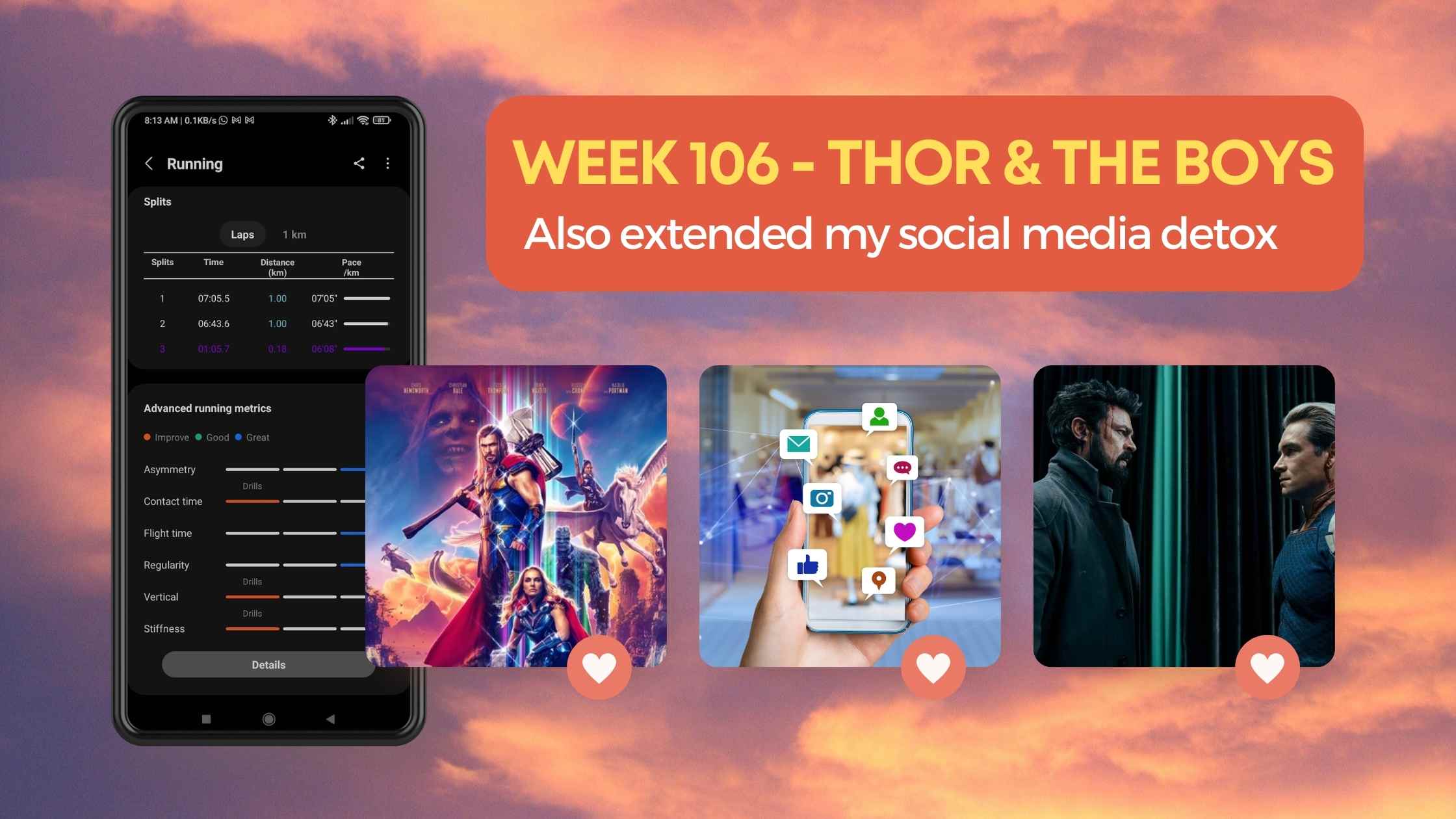 The week was okayish for the most part, I did not miss social media but I don't think my time was any better utilized, but for now, I still choose this over social media and with that I would like to extend my detox to 2 more weeks, making it a full 30 days detox.
Personal Highlights
I don't know, I feel like skipping a few weeks of weekly blogging but then again I don't think I would really be using that time to do something meaningful and it would also lead to me breaking the 2 years of the streak.
Fitness
Very intensive week in terms of working out.
Gym
Went to the gym 6 days in a row for the first time, because I had a change in my daily gym workouts, prior to this week I was doing 2 muscle groups per day but from now I will be focusing on one muscle group every day.
Morning Run
Hey, I even went for a run in between out of nowhere and to my surprise it didn't suck despite taking a month off my running my VO2 max level seemed the same, which is very strange because 14 days of no running will 100% decrease your VO2 max.
I think I somehow maintained my VO2 max by working out in the gym regularly 😳


Well now that I think of it this week was great in terms of fitness because I also started a sort of challenge with friends from my telegram group

Learning
Reading: I finished reading the Ravana comic which I had mentioned in my last blog
Ravana: Roar of the Demon King by Abhimanyu Singh Sisodia

My rating: 4 of 5 stars


Very short but understandable, writing at times felt like it was written for a noble and not a comic book but love the art style very mature and aesthetic 🙌

Makes me want to explore more campfire graphic novels.
View all my reviews
I actually looked for other campfires graphic novels in a nearby Crossword and was impressed by their art style but none of them matched that of the Ravana book and so I decided not to get them for now.

I also read a bit of Do Epic Shit by Ankur Warikoo and I have to say I am quite disappointed I don't know why but I expected more than just random vague unrelated tweets compiled in the name of a book, wouldn't even call it a book tbh.
Job Update
The first half of the week had work + calls.
The second half was relatively light
Also, one of my edited reels got posted on Swiggy's Instagram 😁
Business Updates
Octalancer got a new web dev [Wordpress] client 😳
And I am just confused about which direction to go with the whole octalancer thingy 😔
---
Thoughts from the past week🤔
I kinda have some thoughts but I don't feel like sharing them this week maybe next week, sorry if you open my blogs just to read my thoughts 🤧
Opinions 🗣️
You can't really expect disappointment.
My Favourites from the Week ⭐
Blogs/Articles 📑
Twitter Threads 🧵
I got to know GS Bhogal Tweeted another mega thread,
too bad I am off Twitter or I would have read it.
Also, me who hasn't finished his last mega thread.
Book Highlights📚
From Psychology of Money
VIDEOS 📼
Movies 🎥
Thor: Love and Thunder
So, another Marvel movie, and I wasn't excited for it at all but still you know it's a major character's movie, there's no way I was gonna miss it.
After watching however I wish I had missed it 🤧
I did see a couple of bad reviews before I went to watch the movie and boy were they right😩
I had very low expectations from the movie but even then I got disappointed, which made me think about expectations and thus the opinion that I shared above in the blog.
Series 📺
The Boys S3 E8
The final episode of the season
Well they did not deliver what I had predicted and it makes me like them even more 😿
The episode wasn't as good as 'herogasm' episode but even then def. not disappointing.
This video showcases my exact thoughts on both boys and thor 👇
The Boys S3 / Thor: Love and Thunder - Cosmonaut Quickie - YouTube
App 📱
Health Sync For Android
With this app, you can sync exercise data between multiple apps quite easily and it's quite affordable too, just 70 rupees for 6 months 🏃‍♂️ after 7 days of free trial.
Songs 🎶
New
Classics [Repeat]
Podcast 🎙
Memes/Edits from the last week 🐒
Once again no memes because detox
---
Coming up next week🥅
Nothing
---
Quote from the week📃
Saw this tweet in Shubham Thakur's Whatsapp story 😁
2. Procrastivity
We often avoid work by doing something else that feels productive so we don't feel guilty. For example, endlessly researching productivity hacks instead of actually being productive. Beware that your brain can justify procrastination by disguising it as progress.

— Gurwinder (@G_S_Bhogal) July 8, 2022
PS: Literally me
---
Thanks for reading this week's blog.
I hope you found something of value from it.
To leave a comment join my telegram channel and reply to this week's thread.
How to Get notified every time I post here?
Join my community on
(Enter your favorite Email below)
Subscribe to get a new email from me every week, along with the link to that week's blog