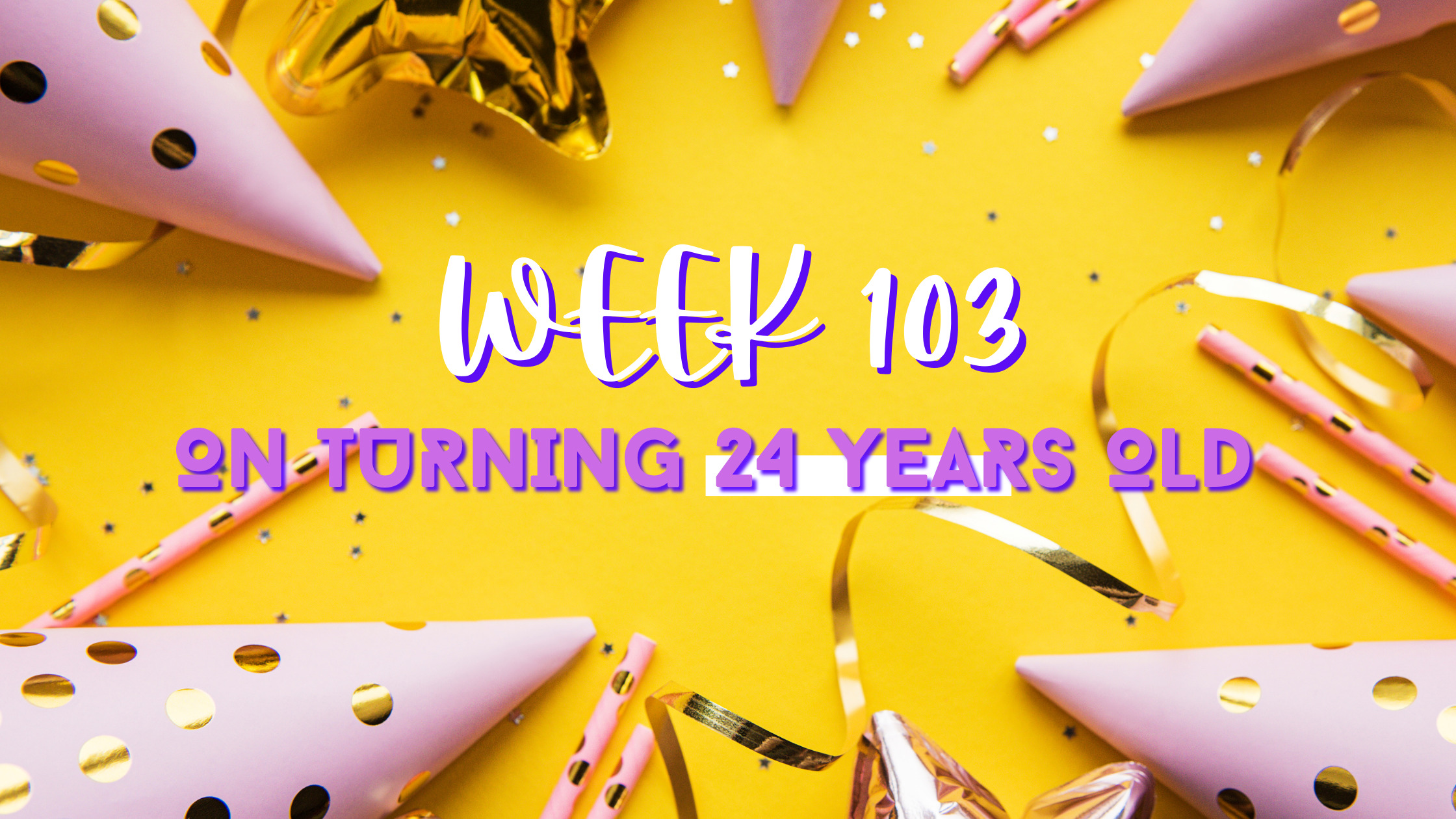 Hey so it was my birthday week and as the title of the blog reads, I turned twenty-four years old.
And I have mixed feelings about the number. More on that below but first I gotta finish the blog because I am running late, guess nothing has changed other than the number. 🥶
Personal Highlights
For the most part of the week, I was sick and resting almost every day.
Fitness
Gym: Since I was sick I wasn't able to go to the gym regularly and for the first time in almost 3 months my consistency broke 😥

Also, this is the last time you are seeing this screenshot because from next week on I will be switching to the Samsung health and I am not sure how its interface is going to look.
Consumption🌾
Optimization and Organization
Still stuck in the not optimizing phase.
Job Update
Thankfully I did not get a lot of work in the first half of the week 🤸
PS: Things are looking very different this week T_T
Business Updates
Paused hain ⏸️
---
Thoughts on turning 24🥶
The number 24 is quite significant to me because humans don't change much after the age of 25, so the way that I see this is that it's my last chance of trying and being hopeful because after this year I don't think biology will support me in terms of neural wiring 😫
Like, it will get harder for me to form new habits and learn new things, it already has gotten to some degree but damn I just have one year of change left in me after that I will be who I am with very fewer chances of becoming someone else.
So I think I will try to optimize a few more things in the coming weeks and try to try my best at least for one more year and after that, I will just give up and go with the flow, that's my plan for now.
Opinions 🗣️
Replying to birthday wishes is a waste of time esp when done on the birthday. I mean it's your special day you should do something other than being nice to others, that you can do every day but irl fun you might not be able to do everyday 🫡
Social Media Updates 🐒
Hate when they use emotions instead of good communication.

— TRB (@teeaarbee) June 16, 2022
This was me talking about movies and TV shows but I soon observerd it fits with human communication too.
My Favourites from the Week ⭐
VIDEOS 📼
Purchases 🛒
I did not purchase anything but got lots of birthday gifts 🤧
And unlike last year most of the gifts this year were real and not virtual.
I kinda wanna share all of them but it kinda feels weird also I am not sure if my friends would approve of it so I will just default to not sharing 🤒
Series 📺
The Boys S3E5
Loved the slow buildup of the episode, got really excited for the next one only to realize that the next episode is going to be about "Herogasm" and have been having mixed feelings about it since then.
Songs 🎶
Podcast 🎙
Memes/Edits from the last week 🐒
---
Coming up next week🥅
My blog will be completing its 2 year anniversary 🥳
Herogasm episode of Boys 🥶
Btw I got a smart watch as a birthday gift from a friend and I am sharing it because it will have its impact in the upcoming blogs as I share my activity stats which will be tracked using the watch and not my old mi band 4.
---
Quote from the week📃
Learning makes you feel smart, so it's possible to feel smart after learning something stupid.

— Gurwinder (@G_S_Bhogal) June 17, 2022
---
Thanks for reading this week's blog.
I hope you found something of value from it.
To leave a comment join my telegram channel and reply to this week's thread.
How to Get notified every time I post here?
Join my community on
(Enter your favorite Email below)
Subscribe to get a new email from me every week, along with the link to that week's blog