Got a Kindle 📖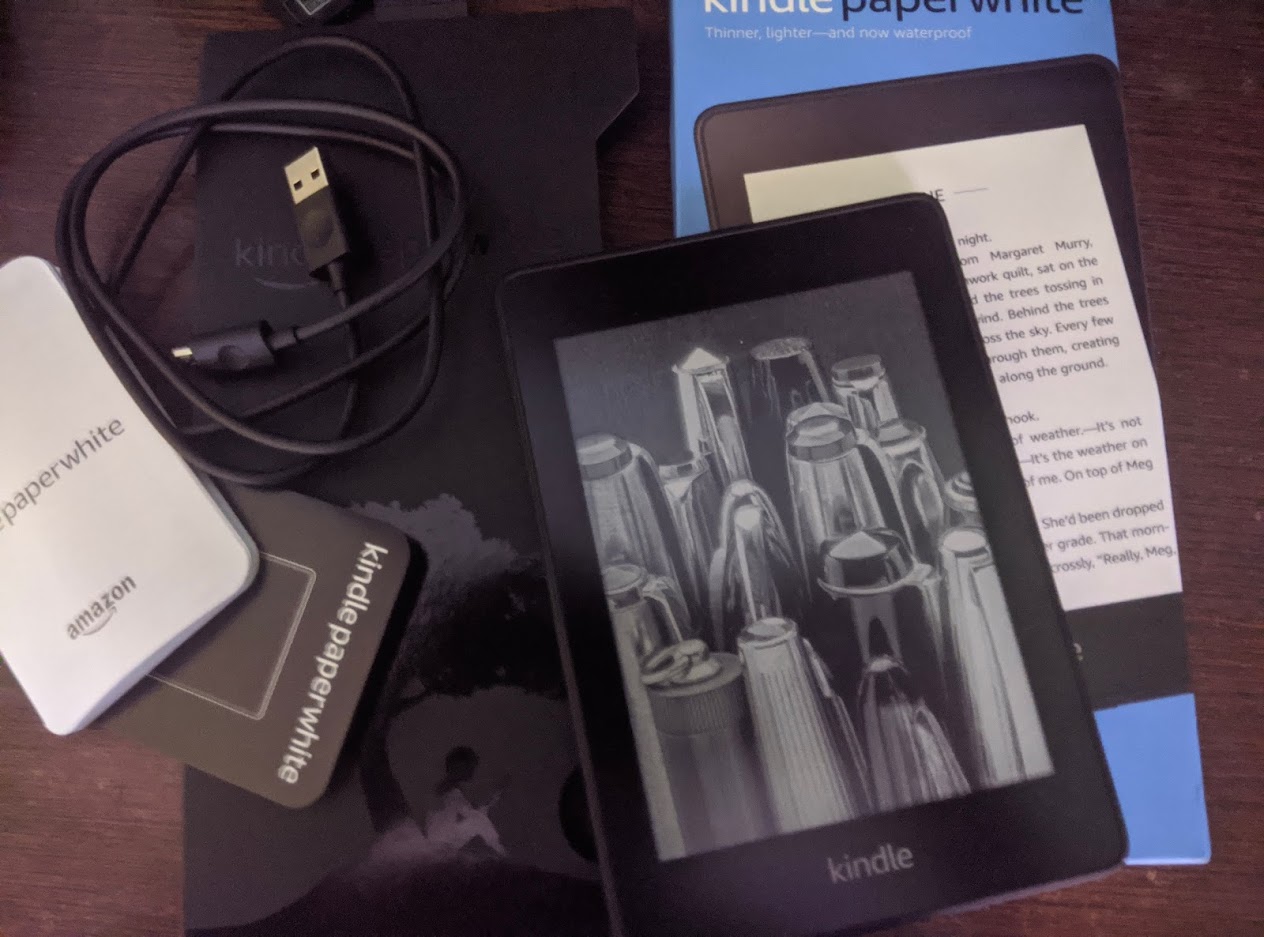 This week was a bit of a downer.
Not only was I not able to complete my previous week's goal, but also failed to keep up with existing habits and also on top of that performed quite poorly at work.
Idk why all these happened one of the reason behind this can be overwork that I did in the past week.
Like I usually take a break after editing big projects / lot of videos but lately I haven't gotten any rest from work, I have been working non-stop for almost 25+ days and that has sort of started taking a toll on me.
Either way I am going to use today's blog to vent it all out so y'all are in for a wild ride XD
Personal Highlights
So like I said this week was pretty bad in terms of me following my usual habits.
Here's a screenshot of my tracker from this week
But I will start off this week's blog with the one habit which came back to track and that is my habit of reading and it's obviously because I got my very first kindle.
Also I went for the paperwhite version instead of the base variant as it has higher dpi🧐
The first problem that I faced was deciding which book to read XD
After long halts of confusion and mindlessly switching between books I decided to settle for So good they can't ignore you by carl Newport
And this is the 3rd carl Newport book that I am reading. Weirdly enough this is the 3rd format in which I am reading his book.
I listened to deep work and it was my first audiobook ever,
I read digital minimalism in print [paperback]
And now this one in an e-reader.
All these info is quite useless idk why I decided to share all of these xddd
Anyway I am happy that reading is back and its here to stay because I love reading on my kindle it feels like looking at paper and is more awesome when I read it under daylight.
This went to bermunda triangle this week.
Fr it disappeared out of nowhere I have no idea why I didn't write even a single journal this week because this week there was a lot more to write about like me getting my kindle, then getting salary and then buying dogecoin again.
Which reminds me in last week's blog I got quite a few complaints from people asking me why I sold my coins and to them I want to say that I rebought the coins and I will keep it in my wallet for a very long time.
Even this too didn't happen 🤒😥
I think I did it only once and that too yesterday, I will have to bring it back 🤧
Last week I had gone out for only 3 days and I wrote that i need to fix my consistency and guess what happened this week
2 days only 💀💀
That too with such long gap😭
Damn even this suffered my work ka bojh which is kinda sad because I had started enjoying playing keyboard😔
This was better compared to other things I mean I slept for almost 7:30 – 8:00 hours almost everyday. But my timing got messed up by a bit.
This can be improved next week if I get all other things right or if I get this one right😳 let's see
This is a new section of my blog where I will be sharing updates of my work life be it personal or professional
So this week I wasn't very efficient with my work.
I mean I wasn't completing my shit on time and also there was a feedback delay from their side which caused things to go even more haywire.
Like I wrote above all these I suspect has happened because I wasn't able to handle work in a more timely manner.
This coming week I will try and get my work done as soon as possible so I can dedicate the rest of my time to resting and saving my ass from potential burnout.
I wish I was just a freelancer so I could have taken a week off but I don't think that will be possible for the next 3 months.
The thing is I don't want to look at work like how other normies look at it.

I remember loving editing videos idk why lately it has started to feel like a chore :(
Thoughts from the past week
Ok rant over now comes the good part of the blog.
So this week I have been thinking a lot about different skills and how having a bit of diverse skills can make anyone a super human.
Like one weird example of this is … well idk how to relate it but its like ….
People who sell fake courses on youtube by fake I don't mean actually fake but like not of much value like digital marketing people or people selling dropshiping tutorial or people selling the idea of positivity… They might be dumbfuck retards but one thing they are very good at is their ability to speak to a camera and their confidence.
The same can be seen with a lot of dead channels like the channel might be dying but the person has very good skills of conveying his or her message or
The way their video is edited it's very clean and professional looking.
With that I concluded that relevance might die over time but the skill acquired does not.
And those same people can use those skills along with a few new skills to kickstart a diff project or to get a job or some shit like that.
Hence, yer mum gay.
Opinions
Oh damn I was going to write about the fact that how I don't know anything about the rihana twitter thing and how I have successfully managed to keep myself away from all those and how not giving a shit about it is the best thing one could do
But then fucking Sikandar returned after 6 fucking years 😭😭
Bruh how could I not watch his video 🤧😍
Social Media updates
Oh shit forgot to post
I think I had an idea but had no time or energy left to execute.
How I improved my blogs
Included the #work section above.

Not really a major thingy tho as I was sharing my work update before this anyway, it was just not set under any category but now it is.
My Favourites from the Week
Blog/Articles 📑
Was busy reading books so didn't get time to read any blog/article.
VIDEOS 📺
Creators 🤹🏻
I have been listening to his music for over 2 years now. Thanks to smmn (one man succ) for recommending it to me, back in the days.
But I recently watched / listened to this podcast and came to know that he is almost of my age and the guy hosting the podcast is a lot younger to me damn idk it just felt like …. idk
Apps 📱
Installed these 3 softwares on my pc today after watching this video:
Recommend y'all to check this out.
Songs 🎶
Podcast 🎙
This was I think the first matt dievela podcast that I listened to and I like his style and how he kept things to the point.
Quotes from the week📃
"An artist is not paid for labor but for vision." — James McNeill Whistler pic.twitter.com/i6bmvStlyk

— Visualize Value (@visualizevalue) February 5, 2021
Choices that compound:

- Integrity
- Kindness
- Eating healthy
- 8 hours of sleep
- Exercise/walking
- Spending less than you make
- More water / less everything else
- Going to bed smarter than you woke up

— Shane Parrish (@ShaneAParrish) February 3, 2021
Top Memes/Edits from the last week 🐒
Memes got cancelled again thiw week! What? No way!

😔😔😔
---
Goal(s) for the next week 🥅
Same as last week.
Also obviously didn't do even a single pushup this week 😭
---
Ok gonna do some additional rr before I call it a day
So idk feel quite sad today esp after seeing my week long bad performance condensed in number today.
Idk this week was really sluggish and its Monday tomorrow, sort of feels like school 😶 which I don't quite like.
Anyway I wanted to do a bit more randirona but now I don't like doing it so I guess that will be it for today see you all again next week oh and also
I am getting a new phone tomorrow 😏
After almost 3 ½ years of using the same phone I will be using a brand new phone from tommrow on, so I am kinda excited for it.
See there are quite a few upsides to capitalism afterall 😌
Haha and on that note I would like to sign off from today's sad blog.
Thanks for reading this week's blog, hope you found something of value from it.
If you are a weekly reader and if you read from the same browser/Device then signup to Disqus below and you will be able to comment on any of my blogs whenever you want. Also ping me on discord and use the code "BR" to get #blog-reader role in my server XD
Subscribe to get these blogs delivered to your email inbox