What happened to old site?
If you are old visitor of the site you might be wondering why does the site look different?
Well it is because my last site got zucced XD Jk
I wasn't being able to publish any new blog to my old site because the site was based on Gatsby and there was some sort of module error with the template upon which we built the site.
Why new Design?
Even after a lot of help from GRohit the site didn't seem to work, we tried contacting the dev but no response.
So we decided to ditch the site and build a new one based on a different framework and so Rohit built this site for me using a nice template which I picked 😌
This new blog (3.0) is based on the HUGO Framework and it's a lot more faster however it does lack a few react based feature which the old site had ☹
But still overall this site deploys a lot faster and is more reliable.
However shifting isn't all sunshine and roses the old blogs had a different archival structure and a different permalink generator, this new site is a lot different in many aspects so each of the old blogs needs to be manually fixed and it going to take a bit of time.
Can I read your old blogs here?
For now I wouldn't recommend you to check anything before week 31 as those blogs need a bit of fixing not just content wise but also for the old comments to appear I need to change a few stuff.
Subscribe to my weekly newsletter and I will keep you updated on how I manage to change all the 30 blogs and will also notify you via email once its done.
How do I check the old design?
Also I am trying to make a subdomain where I will keep a old version of my blogs alive that is till week 31, however for that to happen the Gatsby issue needs to be fixed and idk if that will ever happen if that happens then I will notify yall or update the link below, it will be something like old.teeaarbee.com or…. Idk something of that sort but it wont have any past comments as those will move here,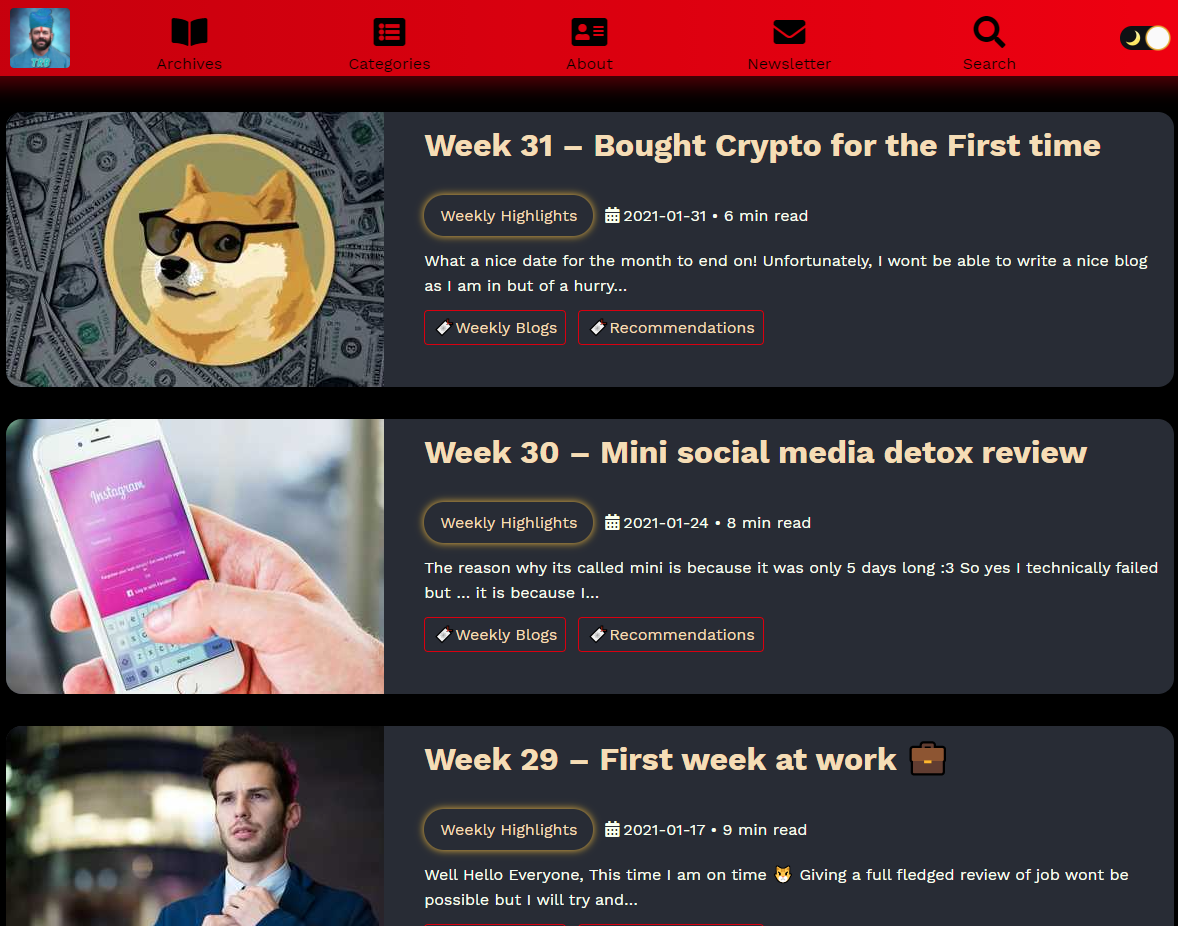 For now If you want to see how my blogs before this you can use the wayback machine
Aight that's about it for this short update blog.
Update: You can check old blog here
Thank you for taking your time to read this one